Police Scotland officers to 'withdraw goodwill' in pay row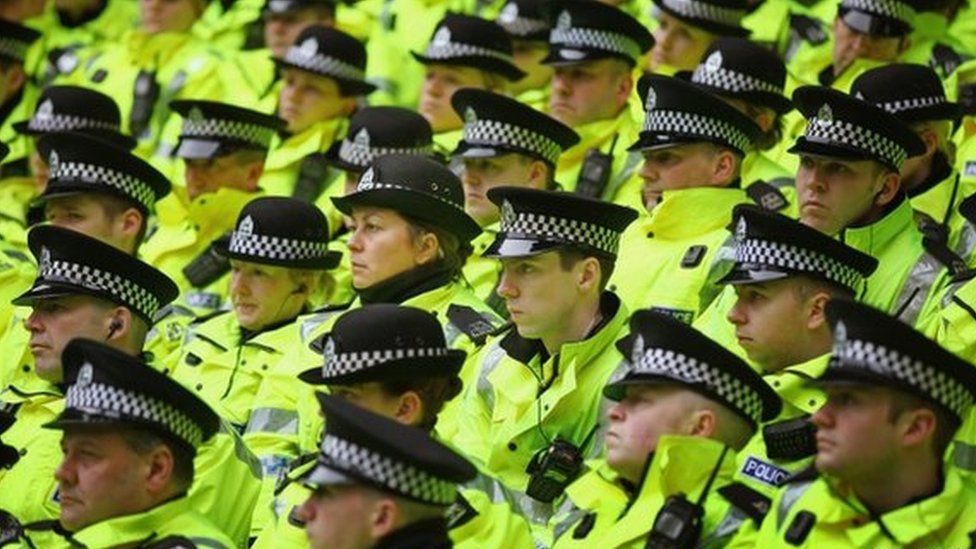 Police officers in Scotland will withdraw "all goodwill" after they were offered a "derisory" £565 pay rise, the force's chief constable has been told.
The Scottish Police Federation said members would claim payment for any overtime they were ordered to work.
"The many thousands of police hours that are currently provided for nothing will simply come to an end," its general secretary told BBC Scotland.
By law, police officers cannot take industrial action.
Police Scotland said it was committed to seeking a pay settlement through the Police Negotiating Board.
A pay offer made to officers was rejected by the governing body of the Scottish Police Federation last week.
Calum Steele, the general secretary of the federation representing rank-and-file officers, said the action would begin at 17:00 BST on Friday.
In a letter to members, he said the action was not taken to "frustrate any investigation, or further aggravate any victim's experience".
"It is simply to demonstrate to our employers just how much discretionary effort, and free policing hours, they ordinarily take for granted," he added.
He said the action was necessary to persuade their employers to "return to the negotiating table with a fair pay offer".
In a letter to Chief Constable Sir Iain Livingstone, Mr Steele said further action would follow over coming weeks.
He said that initially the withdrawal of goodwill would amount to:
Police officers will not begin their shifts early
They will end their shifts at the rostered time unless expressly told to work late
If they are lawfully ordered to work additional hours, every period of overtime will be claimed for payment
Officers will not take personal protective equipment home at the end of the day, regardless of where they are due to start their next shift
They will not take police equipment like Airwave radios home. "Police officers can ill afford to be adding to their domestic energy costs by charging items of police equipment at home," Mr Steele said.
The general secretary said the action had not been endorsed by the federation lightly.
"It is nonetheless a manifestation of the strength of feeling of our members of the utter contempt this pay offer represents to them," he added.
"It will not be lost on you that this is the most significant discontent in the police service since the 1970s, and the most overt demonstration of action by our members in over 100 years."
A Police Scotland spokesman said they were committed to seeking a pay settlement.
He added: "We recognise the considerable goodwill officers bring to their roles on a daily basis as they keep people safe across the country, and this is also valued by the communities they serve," a spokesman added.
The Scottish Conservative's justice spokesman Jamie Greene said the action showed relations between the Scottish government and police officers had hit "rock bottom".
"These measures may seem limited but given that officers cannot legally go on strike, this is a powerful indication of how furious the police are with the SNP government, who are shamefully trying to take advantage of their limited industrial-action rights.
"It's no wonder that frontline officers feel compelled to act when the SNP government have offered them a derisory pay offer and handed them a real-terms budget cut of over £100m."
A Scottish government spokesman said: "Police officer pay has been negotiated for many years through the Police Negotiating Board (PNB), which includes police officer staff associations, the Scottish Police Authority, Police Scotland, and the Scottish government.
"The PNB process is ongoing in relation to pay for 2022/23, and we await the outcome of those discussions."