Police Scotland chief constable warns of cut in officer numbers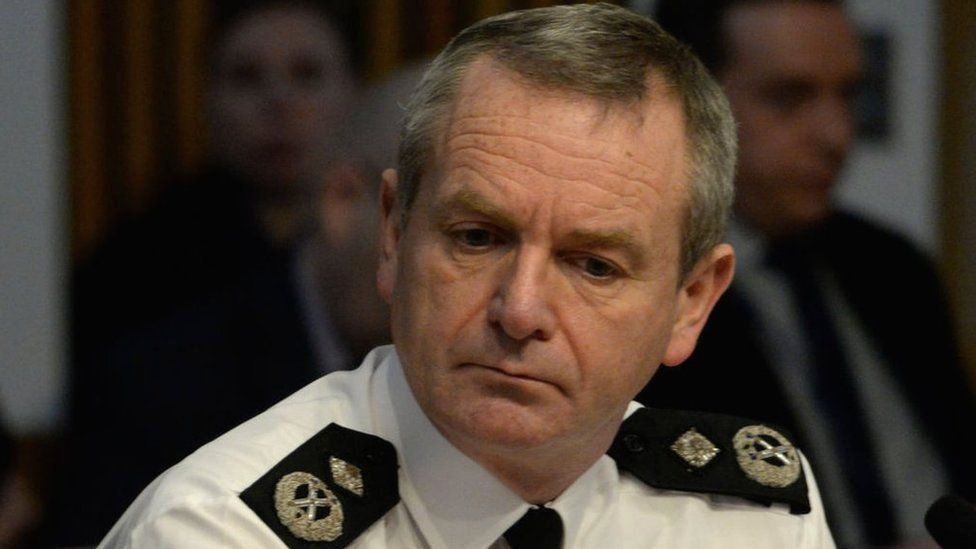 The chief constable of Police Scotland has warned the force may have to reduce officer numbers as it struggles with budget challenges.
Sir Iain Livingstone said policing was "not one of the priorities" of the recent government spending review.
He warned plans to create an electric vehicle fleet and the introduction of new technology could also be affected.
Sir Iain told a meeting of the Scottish Police Authority (SPA) he was concerned about the financial pressures facing the force.
"The position outlined is not the real-terms revenue protection that we expected and had been committed," he said.
He added that the force had already been forced to make £200m worth of savings every year.
Martyn Evans, who is the SPA chair on the Scottish government spending review, said the force's "multi-year revenue and capital plans have been thrown into disarray".
Mr Evans said: "The double whammy of no real-terms protection to our future budgets plus inflation levels unseen since the 1970s will result in some really hard choices having to be considered.
"We will be evidence-based and measured in our planning as both our financial teams in the authority and the police service work closely together in the coming months to present a budget at the appropriate time to the authority for the next financial year."
Citing the cost of living crisis, Sir Iain said he believed it could lead to greater demands on policing.
He pointed out that 86% of revenue spend is on officer and staff pay, and said it was "important officers and staff are rewarded fairly particularly when their own household costs are rising".
The chief constable told the board: "I'm deeply concerned about the position in which policing may be placed if the spending review is implemented.
"For example, funding future pay awards may only be possible by having a far smaller workforce, fewer officers."
Police Scotland has already outlined capital investment needed to progress improvements to technology, buildings and vehicles.
Over the next five years, capital funding is anticipated to be £26m less than required for the fleet, £20m less than required for the estate, with £20m required for the digital division as they seek to digitalise policing.
Sir Iain said this would lead to not being able to build a fully electric fleet.
He added: "Our technology improvements will take longer - or won't happen at all."
The Scottish government said it was awaiting the outcome of police negotiating board discussions.
A spokesman said: "The resource spending review sets out the Scottish government's high-level resource spending plans for future budgets, providing a basis for financial planning.
"The resource spending review is not a budget - future Scottish budgets will be presented to the Parliament for scrutiny and a formal vote each year.
"The police resource budget has been protected in real terms since 2016-17, which led to the elimination of the police budget deficit.
"We remain committed to working closely with both SPA and Police Scotland to ensure we continue to have a safe, protected and resilient Scotland."
The Scottish Conservatives' justice spokesman Jamie Greene said "vital upgrades to policing might now not go ahead at all".
He added: "The SNP's real-terms budget cut could run to over £100m, which clearly will hamper their efforts to invest in infrastructure to keep Scots safe."