Victims abused by referee Hugh Stevenson say the SFA is blocking justice
By Chris McLaughlin
BBC Scotland sports news correspondent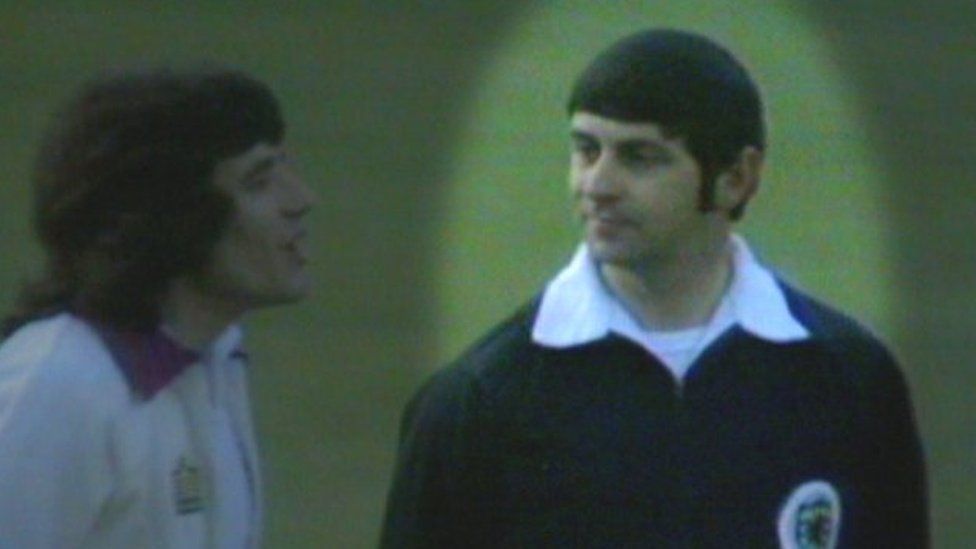 Two men who were sexually abused by an assistant referee in the 1970s have said Scottish football's governing body is standing in the way of justice.
Peter Haynes and Stuart McMillan said the SFA was refusing to accept any liability for what happened to them.
The men were children when they were targeted by Hugh Stevenson.
He was an SFA-accredited top flight match official between 1963 and 1984, as well as a youth football coach. He died in 2004, aged 66.
Mr Haynes, who was 12 when the abuse began, and Mr McMillan, who was 17, said Stevenson used his official position to befriend, groom and abuse them.
Both have been pursuing a civil case against the Scottish Football Association but the governing body's lawyers have told them they can't accept any responsibility because Stevenson wasn't an SFA employee.
Mr Haynes, now 56, said his abuse started in 1979 when Stevenson appeared at his door with his SFA blazer on and an offer to take him to the Scottish Cup final between Rangers and Hibernian at Hampden Park.
"That was the day that my life changed," he said.
It was on the way home from the match that the abuse started and it lasted for years.
Mr Haynes said: "I find it difficult to talk about what he did in great detail but it was about every depraved sexual act that you can think of, including rape."
He was too confused and ashamed to tell anyone at the time but he finally alerted the SFA and the police in 1993.
Jim Farry, who was in charge of the governing body, apologised and told Mr Haynes they were aware of Stevenson but that he had moved on.
He was then given a tour of the SFA offices at Park Gardens as some form of compensation, Mr Haynes said.
Police Scotland confirmed that Stevenson was the subject of two investigations in the 1990s but he was never charged.
Stuart McMillan was 17 when he was abused.
"I contacted the SFA about becoming a referee and was told to attend an event in Paisley," he said. "That's when I first encountered Hugh Stevenson."
At a later event, Stevenson abused Mr McMillan in his car after offering him a lift home.
"I was scared and confused," he said.
"After it happened, I grabbed my bag, ran out of the car and never looked back but it's always with me."
Both men have since struggled with mental health issues and with maintaining relationships.
Following the release of an SFA review into historic sexual abuse within the game, both men were encouraged to pursue a legal case against the SFA.
The basis of the claims centred around the accusation that the SFA failed to monitor Hugh Stevenson and, subsequently, failed to protect those he abused.
But in a letter to Peter Haynes's lawyer, the SFA's legal team said "we have not seen any evidence that Mr Stevenson was an employee of our client, nor that he held a position which was akin to employment".
Recent case law means it is now difficult to prove vicarious liability when the offender is dead but Mr Haynes and Mr McMillan have no doubt the SFA must take some responsibility for what happened to them.
"I was taken to a corporate event at Hampden Park, the home of Scottish football, groomed and within half an hour of leaving, I was raped," Mr Haynes said.
"Their get out, in the letter I received, was that because I was abused on the way home, Stevenson was not their employee," Mr McMillan said.
"It was disgusting and it made me sick to even read it.
"The SFA can't hide from this and they must be held to account," he said.
The SFA have apologised for what happened to those affected by historic sexual in Scottish football.
They said they had also made progress in implementing a number of recommendations that followed the publication of the independent review.
SFA chief executive Ian Maxwell said he had sympathy but could not say much more for legal reasons.
"I've apologised a number of times and I can only do so again," he said.
"We have continued to offer support to those affected and that offer of support remains.
"Unfortunately we are going through a legal process and it's not something I can talk about.
"I don't want to look like I'm hiding behind that but that's the reality of where we are."
Maxwell's predecessor, Stewart Regan, commissioned the independent review in 2016 but he said he understood the frustration of men like Mr Haynes and Mr McMillan.
"I know I was frustrated, even after I left the SFA in 2018, that the review continued," he said.
"I know it took a long time for the findings to be made public.
"I hear from people like Peter and I know he feels like it takes a long time for progress to be made, so I do understand that.
"I feel that could be softened by bringing people like him, and others like him, closer to the football family and having regular meetings and discussions."