The Glasgow vegan who teamed up with Kourtney Kardashian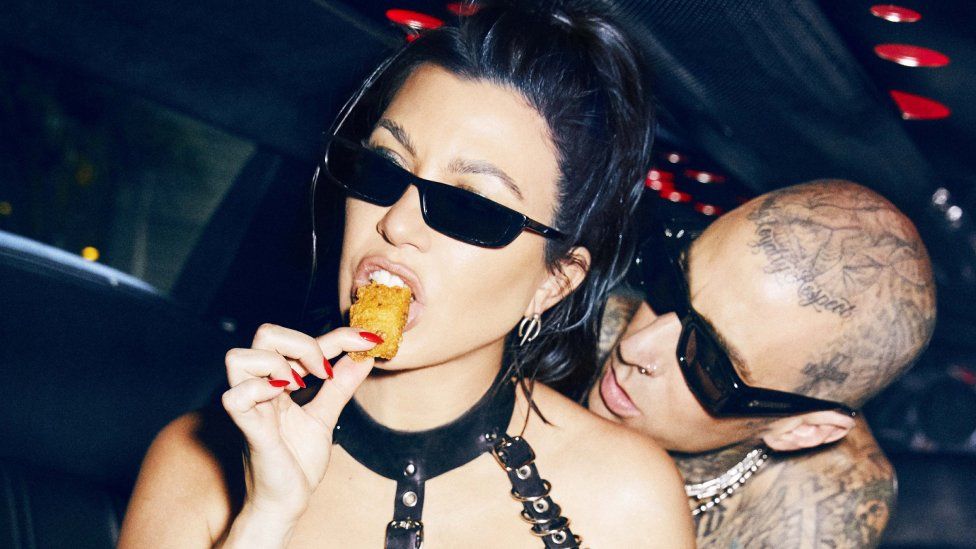 Ross Mackay set up his plant-based chicken substitute company in Glasgow four years ago but he is now based in California and working with famous influencer Kourtney Kardashian and her rock star husband Travis Barker.
Ross says it has been two-and-a-half years since his mum and dad dropped him off at the airport and he went to the US in a bid to break into its lucrative meat-free food market.
He had founded Daring Foods in 2018 but told BBC Radio Scotland's Mornings with Kaye Adams he was not finding much success in the UK.
"It was maybe a little bit too early if I look back now but the US is obviously advanced in many areas and the consumer demand for plant-based meat had already started," 30-year-old Ross says.
He says that past couple of years have seen a rapid expansion for his company, which now has its products stocked in thousands of stores across America.
And last week it resulted in a collaboration with Kardashian and Barker being posted to their millions of social media followers.
The connection came about after a mutual friend told Ross that Barker, the drummer in rock band Blink-182, was a big fan of the Daring brand.
The 46-year-old rocker went fully vegan 15 years ago although he says he has not eaten meat since he was 13.
It was Ross's fiancée who had the idea to run a campaign featuring Barker and his new wife.
Images in the photoshoot, taken by renowned photographer Ellen Von Unwerth, show Barker and Kardashian in a series of poses such as snacking on a bucket of fried breaded plant chicken in the back of a limo.
Another has Barker feeding his wife spaghetti by hand as she sits on a room service table pressed against a window at the Chateau Marmont in West Hollywood.
The pair posted the images to their Instagram accounts and the worldwide reaction has been massive, Ross says.
Kourtney Kardashian has 185m Instagram followers and her husband almost eight million, which dwarf the 59,000 on the official Daring foods account.
Ross says he cannot claim to have spent a lot of time with the couple but he respects their work.
"I'm not going to sit here and pretend we hang out all the time," he says.
"But we have nothing but great words to say for them. They showed up with great energy and did a great job."
Ross, a former competitive tennis player, started the company in Glasgow in 2018, with ex-corporate banker Eliott Kessas.
He has previously said he grew up as a "steak and eggs for breakfast kind of guy" but became a vegan after a fellow athlete "dared" him to try a vegan diet for a week.
He says what started as a dare a decade ago has become his absolute passion and business.
The company got early deals supplying venues in Glasgow's west end and some distribution deals to supply schools and supermarkets.
But despite the huge growth in the market for meat-free products, which even saw high street baker Greggs launch a vegan sausage roll, Ross decided to relocate his business to the US at the start of 2020.
He has since raised more than $120m from high-profile investors and rapidly expanded retail distribution from 200 to 9,000 stores.
"It's a great place to do what we do." he says.
"People in America eat a lot of chicken and our mission is to rethink chicken and bring them something potentially more healthy and better for the planet."
He looks to the success of plant-based milk products in recent years and hopes to achieve the same kind of penetration for his chicken substitutes,.
But he said it would take a lot more innovation, investment and brand awareness to bring in more consumers.