Active travel push but roads in the slow lane
Douglas Fraser
Business/economy editor, Scotland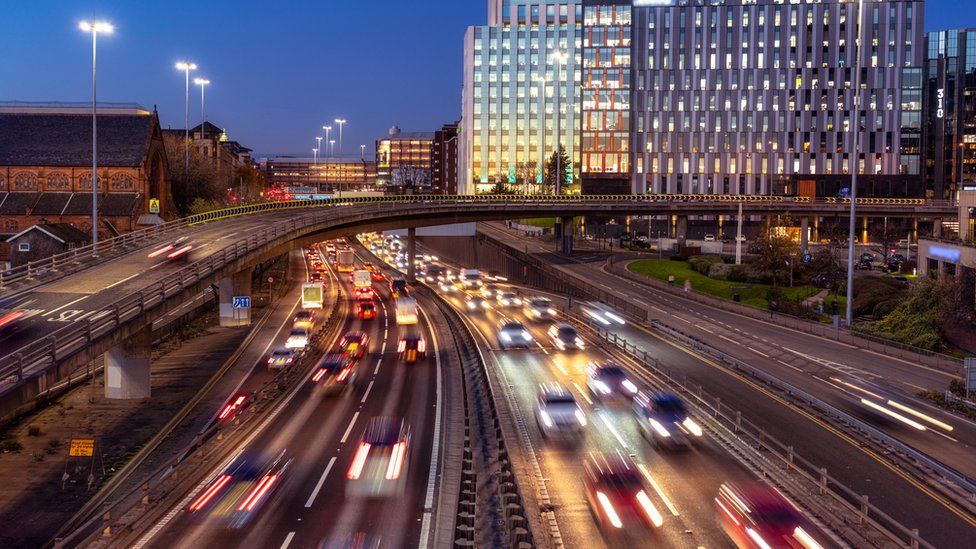 The shift from private cars into public transport, cycling and walking is now taking shape, and public funds are shifting with it.
It's unclear how much budget cuts will delay major road improvements, but several prominent bottlenecks are taking a long time.
Replacing the school run with pedal-power and scooters is among the priorities for big spending to push the car off the road.
Climate change is forcing several grand transitions. Energy is the most obvious, and linked to that is transport.
The pace of that change for Scotland has picked up with the latest plans from the Scottish government agency Transport Scotland.
It is showing the impact of a changed agenda since Green ministers joined the team at Holyrood, followed by pledges made at the COP26 summit in Glasgow in November.
Six months on, the rubber, to coin a phrase, is hitting the road. But the road is becoming a very much lower priority. Pledges to existing programmes for improvement remain, but it's not clear if they're on the right road or parked some way off it.
Transport Scotland has, however, offered more detail on some of the major road projects:
Users of the A83 across the Rest and Be Thankful pass, which is a vital link for much of Argyll and often blocked by landslips, have to wait until some time next year simply to find out what the solution might be. It could be a tunnel. Whatever it is, building it will take longer.
The main road link for the west Highlands, winding for 11 miles along Loch Lomond-side south of Crianlarich, has a preferred solution of widening the existing road. It was selected seven years ago, but the project seems a long way from being ready to start. It still seems to be at the 'community engagement phase'.
The dualling of the A9 between Perth and Inverness has already seen £400m spent, but the remaining eight stages are under review. While the commitment to complete it remains, "work to determine the most suitable procurement options... is ongoing". Factors include industry capacity to take on the work, and "helping to support economic recovery post-Covid". The only sign of progress this year looks like awarding of a contract for one of the eight remaining schemes within it.
The A96 road between Inverness and Aberdeen is to see dualling to and round Nairn, but the timetable depends on a budget being available. The longer stretch from Nairn to Aberdeen is in doubt while it is tested against climate change constraints on new developments. It might, at least, get more bus lanes. Expect the review by the end of this year.
Junctions at the Sheriffhall roundabout on the Edinburgh ring road, and at Laurencekirk, south of Aberdeen, face objections and look likely to require public inquiries.
The A737 at Beith in Ayrshire had improvements identified seven years ago, and was ready for work five years later. But procurement has been halted until funding is available.
To read Transport Scotland's delivery plan, however, road improvements are a minor part of its thinking.
As the capital spending review set out, the budget for 'active travel', such as cycling and walking, is soaring from £114m this year to £259m next year and the year after.
Meanwhile the motorway and trunk roads budget is falling next year from £411m to £377m, and staying at the lower level at least until 2025-26.
Among the projects worth watching:
"We will undertake further exploration of options for demand management to discourage car use, including pricing." The last two words are important. Here's why.
a review of whether public transport fares are fair, across bus, train and ferry and including the various concession schemes.
The offer of free bikes to kids who cannot afford them in the first half of next year, as recent pilots are now being reviewed. There are measures a-plenty for 'Generation Active Travel' to encourage replacement of the school run in cars.
Moves to get freight shifting from diesel to electric.
Lower speed limit zones, and a pilot project to let members of the public upload their film of dangerous driving. Probably not their own dangerous driving, but you never know.
Tensions remain, however, between economic growth, consumer choice and the pressure or need to combat climate change.
For instance, "We will continue to work closely with Scotland's airports and airlines globally to help restore and grow Scotland's international connectivity, without restoring previous levels of emissions".
The tension between desired outcomes and unhappy experience is not even addressed when it comes to ferries. Some £580m is supposed to be allocated to the islands fleet, and that's ahead of a review of island connectivity.
But stating the broad intention of more hybrid-powered, low carbon ferries brings to mind the vast overspend resulting from a novel design of two ships being built in Inverclyde for use of both diesel and liquified natural gas.
Words can gloss over the tensions between different policy objectives. Words also need to address which lessons have been learned.