Airport passengers urged not to arrive early despite queues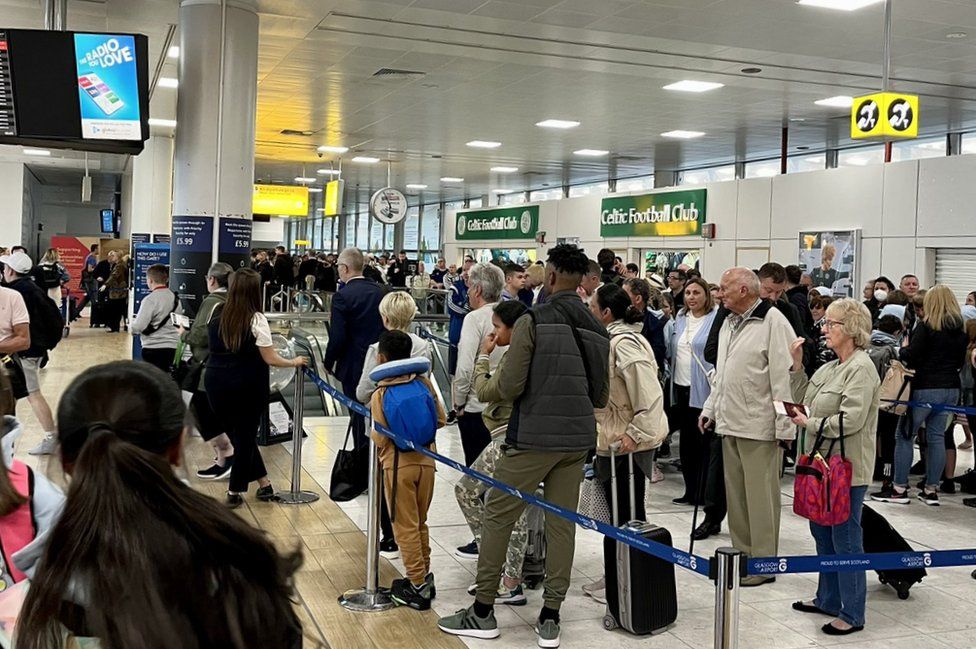 Passengers are being urged not to arrive early for flights after large queues formed at Scottish airports.
Ahead of the Jubilee weekend, Glasgow Airport said it was the busiest it had been since the start of the pandemic.
Similar issues have been reported at Edinburgh Airport where passengers waited outside the terminal building to check in luggage.
The appeal follows reports of major delays at UK airports linked to staff shortages and a surge in demand.
Former BBC Scotland journalist John Morrison witnessed "crazy scenes" before the security barriers at Glasgow Airport.
He tweeted: "Queue snakes it's way round the first floor shops and back into the car park. Never seen it this bad. Most people heading on holiday and in a good mood. If you're flying today, arrive early."
Mr Morrison later told BBC Scotland he had checked in online and arrived at the airport at 05:45, an hour before his scheduled departure to London.
He went straight to the escalator as he had no luggage for his day trip.
Mr Morrison said: "There were hundreds of people waiting to get through the barriers before security.
"The queue was snaking round the first floor shops all the way back to the car park entrance."
It would be disingenuous to suggest the issues in Scotland are anything like the recent chaos witnessed at airports such as Manchester and Dublin.
Although the industry across the whole of the UK and Ireland is experiencing the same challenges, the staffing crisis has not yet led to mass cancellations or passengers missing their flights in Scotland.
The country's international airports are not immune though.
There are pressures, which inevitably will lead to bigger queues and increasingly frustrated travellers as we edge towards the peak summer holiday period.
One senior source told me that while previously one of the problems staff were dealing with was drunk passengers, workers were now feeling the frustrations of those looking to get abroad for the first time in years.
The aviation industry continues to play catch-up in a bid to deliver the same experiences passengers enjoyed before the pandemic.
Despite the scenes, airport bosses have appealed for passengers to arrive at their airline's specified check-in time, not earlier or later.
A Glasgow Airport spokesman said: "This morning's average queue time at security was longer than usual, however, passengers moved through at a steady pace to reach their flights.
"The airport is busier than it has been for more than two years as passenger demand continues to increase.
"Our teams are working extremely hard and we would ask passengers to ensure they come prepared for security inspection and, crucially, arrive at the airport as per their airline's stated check-in opening time and not before."
The spokesman also thanked passengers for their patience while the issues were resolved.
Meanwhile, a passenger at Edinburgh Airport tweeted a picture of a large queue outside the terminal for the Ryanair bag drop.
An airport spokesman said: "An airline handling agent opened up a number of flights at the same time for check-in this morning instead of staggering them and that resulted in a build-up of people.
"We also had two self-service check-in machines going down but they were quickly brought back online and helped to clear queues quickly."
It is understood the disruption is not on the same scale as England and Ireland with average wait times at Glasgow said to be up to 38 minutes and Edinburgh less than 10.
Airports admit they still do not have the numbers of staff they need as they get busier.
Elsewhere in the country, there were no issues reported at Aberdeen or Inverness Airports.
Staff shortages have been a problem across the travel industry as thousands of people left the aviation industry during the pandemic.
In January, Scotland's airports warned it could be 2026 before passenger numbers recovered to pre-pandemic levels.
Disruption was also reported over the Easter break due to cancelled Easyjet and British Airways flights and problems with P&O Ferries.