ScotRail: Why have hundreds of trains been cancelled?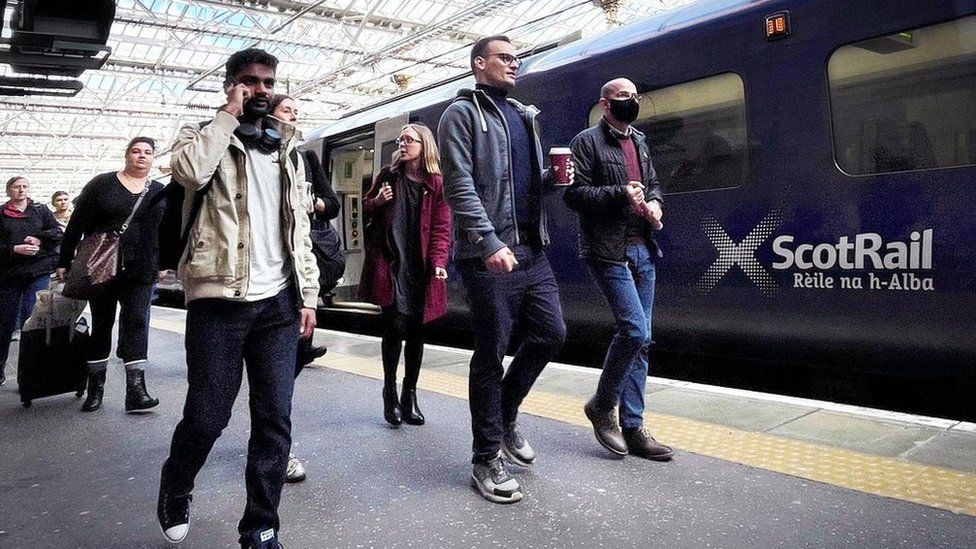 Hundreds of trains have been cancelled in Scotland, after operator ScotRail issued a temporary timetable that cut daily services by a third.
It comes amid a pay dispute between ScotRail bosses and railway unions, where drivers have declined to work overtime or on rest days.
ScotRail does not have enough drivers to run normal services, so without drivers working overtime, trains have been cut across the country.
How have services changed?
About 700 train services a day were axed on Monday 23 May. ScotRail's original Summer 2022 timetable had about 2,150 weekday services. This has now been reduced to 1,456 in the temporary timetable.
Under ScotRail's previous operator Abellio, services peaked at more than 2,400 trains every weekday. This was an increase of 9% a decade earlier.
But when the Covid pandemic hit in March 2020, services were reduced as passenger numbers plummeted by 95%. Thousands of people swapped their daily commute for home working.
ScotRail reinstated 150 services in its summer timetable, but said peak-time commuter services would not return to pre-pandemic levels.
What's the background to the cuts?
A Scottish government owned company took over the running of ScotRail last month. But this coincided with a driver pay dispute.
Train drivers' union Aslef is balloting members for strike action after rejecting a 2.2% pay offer. The RMT union, which covers other rail workers, then also announced it would hold a strike ballot over pay.
ScotRail began cancelling hundreds of trains from Sunday 8 May after many drivers chose not to work overtime or on rest days.
About 300 services had been cancelled on Sundays before the new temporary timetable was announced.
The operator had relied on drivers working extra hours, due to delays in training new staff during the pandemic.
ScotRail said that without the Covid impact on training, it would have trained about an extra 130 drivers.
Who will be worst affected?
Passengers travelling on the earliest trains of the day and using evening services will be worst hit. Evening trains on routes across the country now terminate hours earlier.
Last trains on many services now depart before 20:00, whereas before this could be after 23:00 or near midnight.
Hospitality and entertainment businesses have also warned the situation will affect their income, with passengers unable to get into towns and city centres.
The Night Time Industries Association Scotland described the cuts as devastating, and said it was a "cruel blow" while businesses were trying to recover after the pandemic.
How much does a train driver earn?
A typical ScotRail driver salary is more than £50,000.
With drivers being offered a 2.2% pay rise and the opportunity to participate in a revenue share arrangement, the Scottish government says this would take the total package to 5%.
Aslef rejected this offer. The RMT union, which had agreed a backdated pay rise of 2.5% in October, also declined the year's deal.
The union's Scottish organiser, Kevin Lindsay, said: "I appreciate other sectors and other workers may not be on the same salaries, but this isn't a race to the bottom, my job is to protect the terms and conditions of train drivers."
Scotland's employment minister Richard Lochhead urged workers to be "sensible" when asking for pay rises.
And ScotRail service delivery director, David Simpson, said the unions' demands were "just not sustainable in the current economic climate of the railway".
When will the cancellations end?
First Minister Nicola Sturgeon has said she hoped the train timetable would get back to normal "as quickly as possible".
But this would require a swift resolution to the pay dispute or new drivers completing their training - which is expected to take months.
ScotRail said a full timetable could return if drivers offered to return to previous levels of rest-day working.
It also said the training scheme was "going very well" with 130 new drivers going through the programme.
Scotland's transport minister Jenny Gilruth said she expected 38 new drivers to be qualified by the end of the summer, 55 by the end of 2022, and 100 by June 2023.
She also said rest day working for drivers was "outdated" and that as new owners, the Scottish government was seeking to phase it out.
What about trains to big events?
ScotRail have offered little clarity for passengers who have tickets to major concerts, festivals and sporting events.
But the RMT warned it would target industrial action around the Edinburgh Festival in August.
The union's Scotland organiser told The Sunday Post newspaper: "We would deliberately target the Edinburgh Festival because that's where the impact is going be."
During the month-long festival, passenger numbers from Edinburgh can increase by 50% during the week and double at weekends.
There is also concern about football matches at Hampden - with Scotland's World Cup play-off semi-final against Ukraine on Wednesday 1 June.
Scottish Conservative transport spokesman, Liam Kerr MSP, said: "ScotRail must ensure the tens of thousands of fans attending can get home that night.
"It's unacceptable that the last trains to Aberdeen, Dundee and Perth leave before the match has even kicked off."
ScotRail said travel advice for upcoming Scotland internationals would be issued in the lead-up to the games.
Do you have a question about the new ScotRail timetable? Use the form below to send it to us and we could be in touch.
In some cases your question will be published, displaying your name, age and location as you provide it, unless you state otherwise. Your contact details will never be published. Please ensure you have read the terms and conditions.
If you are reading this page on the BBC News app, you will need to visit the mobile version of the BBC website to submit your question on this topic.