Last train anger after ScotRail timetable cut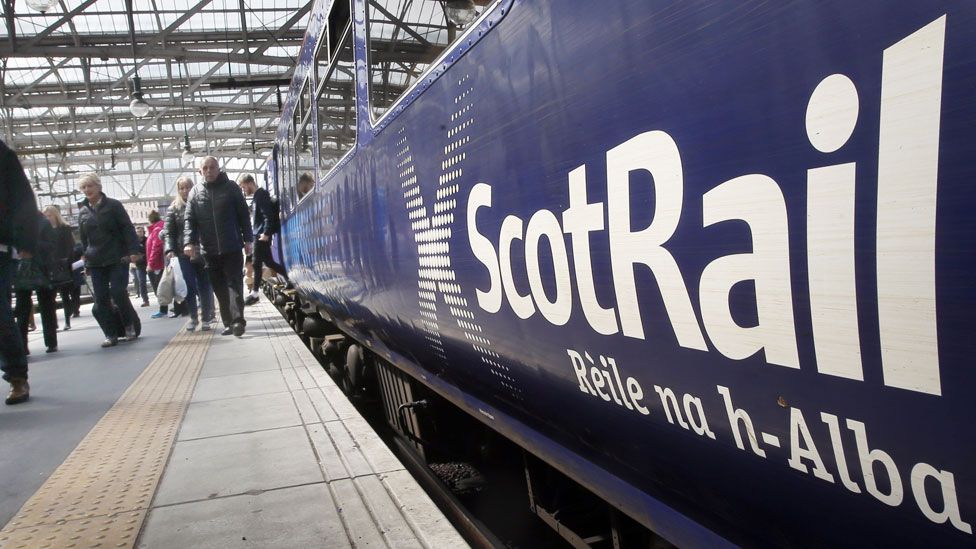 ScotRail's new timetable, which will see almost 700 fewer train services a day, has been rolled out as the deadlock over driver pay continues.
The move, which will see the last train on many routes departing before 20:00, follows a third Sunday of disruption.
Drivers' union Aslef has argued a 2.2% pay rise is not acceptable at a time of soaring inflation.
Employment minister Richard Lochhead said he understood the pressures but urged "sensible" pay claims.
Hundreds of trains have been cancelled since 8 May when many drivers opted not to work overtime.
Aslef and the RMT union are both balloting members for strike action after rejecting the pay offer.
Ministers insist that scaling back the number of services under the new temporary timetable will reduce the need for cancellations.
But hospitality and entertainment businesses have warned the transport situation will affect their income, while some commuters have also raised concerns.
The original May 2022 timetable had approximately 2,150 weekday services, but from Monday this will be reduced temporarily by a third to 1,456.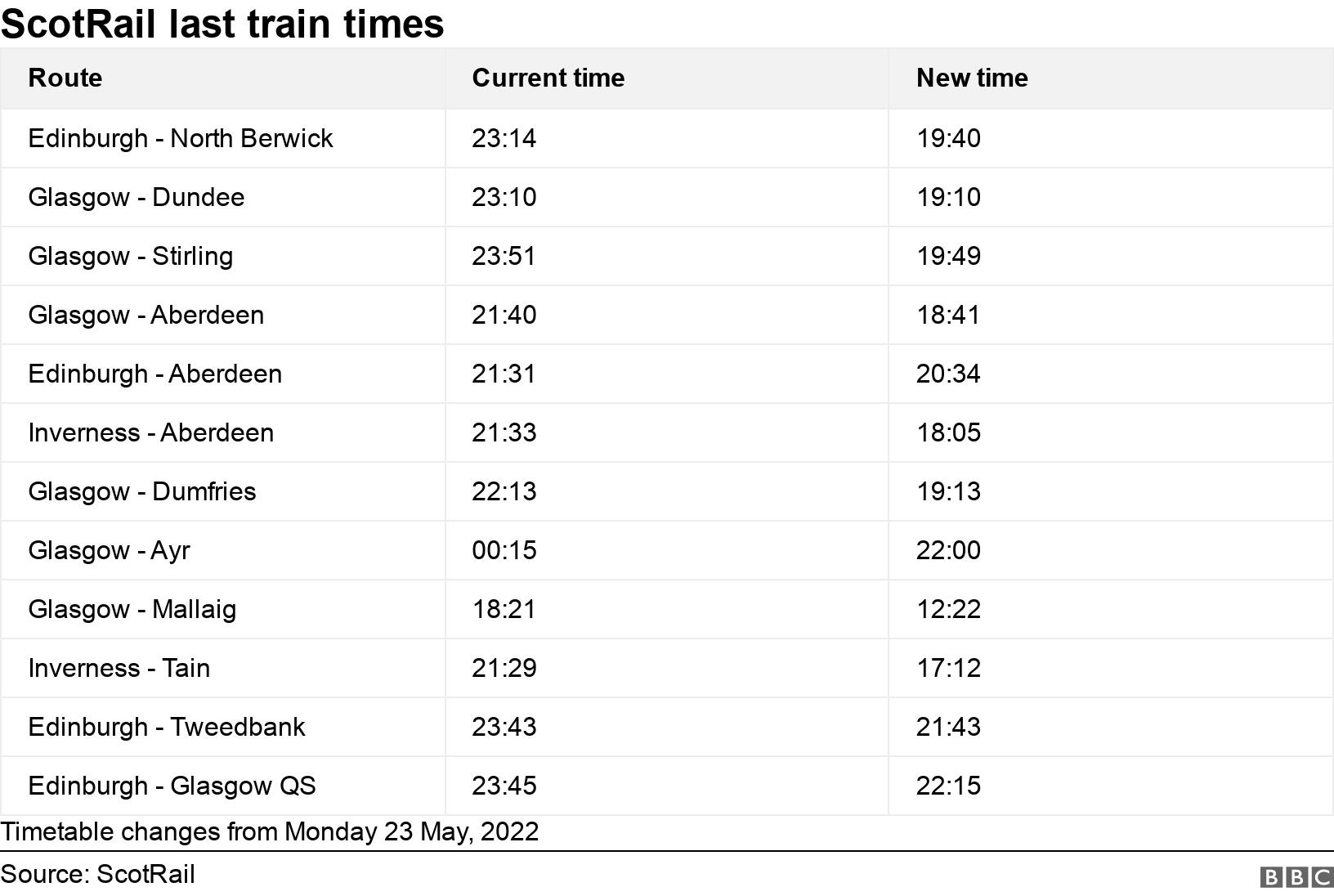 Opposition politicians have criticised the move which comes after a Scottish government owned company took over the running of ScotRail last month.
The previous operator Abellio had its franchise ended early amid criticism of the quality of the service.
More than 300 services were cancelled on Sunday before the temporary timetable came into place.
ScotRail's service delivery director David Simpson conceded that the temporary timetable would see a reduction in service but said it would also provide customers with "a level of certainty and reliability".
"I hope we have this in place for as short a time as possible because we recognise the disruption it is causing to people," he told BBC Radio's Good Morning Scotland programme.
"We need to sit down and talk against the background where everyone is clear that we need to compromise. The demands of 10, 11% are just not sustainable in the current economic climate of the railway. We need to find a way round that."
He said ScotRail needed to demonstrate "taxpayer value" in the way the company operated.
"We think the offer we have made is a strong one," Mr Simpson added. "It's 2.2% on basic plus 5% through the revenue share. We think that reflects the current economic position of the industry but also offers good package for drivers and other grades that allows them to share in the success of ScotRail as they move forward."
The operator has been dependent on drivers working extra hours, following delays in training new staff during the Covid pandemic.
Mr Simpson said ScotRail could return to a full timetable if drivers returned to the previous level of rest-day working, but added that its training scheme for new drivers was "going very well" with 130 new drivers currently going through the programme.
The Scottish government has said a train driver in Scotland typically earns more than £50,000 a year, and has urged the rail unions to negotiate with ScotRail.
But Aslef has said it was "not sensible" to offer a 2.2% pay increase with inflation running at the current levels.
'Positive political intervention'
Scottish organiser Kevin Lindsay has now written to the first minister asking her to provide "positive political intervention" in bringing ScotRail back to the negotiating table to end an impasse over wages.
He said: "We urgently need to see progress and a de-escalation of this situation. The Scottish public demand it. They need to get to and from work, leisure, and important cultural and sporting events satisfactorily and this needs a full service that is invested in, not cut.
"We have said repeatedly we want to return to talks - we stand ready whenever they are called to meet with ScotRail and the Scottish government anytime, anyplace and anywhere."
He added: "Sadly, up until now there has been negative political interference, it is now time for positive political intervention and leadership from you with an instruction to ScotRail to enter as a matter of urgency meaningful pay talks with the full intention to sensibly settle these pay negotiations."
Asked on the BBC's The Sunday Show if the unions were making reasonable demands, Employment Minister Richard Lochhead said: "My message to all workers in Scotland, in all these sectors, is that we have to sensible.
"Everything has to be affordable because the country is in a very precarious position at the moment and if we take wrong decisions we could end up with a recession."
Rest day working 'outdated'
First Minister Nicola Sturgeon said last week she hoped the timetable would get back to normal "as quickly as possible".
Transport Minister Jenny Gilruth has said she expects 38 new drivers to be qualified by the end of the summer, 55 by the end of the year, and 100 by June 2023.
She has previously described the practice of rest day working as "outdated" and that the Scottish government was looking to phase it out.
"I would encourage both partners to sit round the table today," she said on Monday. "We need to see negotiations move on and that means compromise on both sides."
She added: "We need to make nationalisation a success. I want the railway unions to be part of that success."
Graham Simpson, the Scottish Conservatives transport spokesman, said there were "serious questions to answer" about why negotiations were not taking place on Monday.
"Jenny Gilruth might have the luxury of her ministerial car to get around, but others do not," he added. "She needs to start showing leadership and ensure that passengers do not continue to suffer this miserable and disastrous service on our trains."
Please include a contact number if you are willing to speak to a BBC journalist. You can also get in touch in the following ways:
If you are reading this page and can't see the form you will need to visit the mobile version of the BBC website to submit your question or comment or you can email us at HaveYourSay@bbc.co.uk. Please include your name, age and location with any submission.
Related Internet Links
The BBC is not responsible for the content of external sites.