Scottish teachers' 2% pay offer falls short of union demands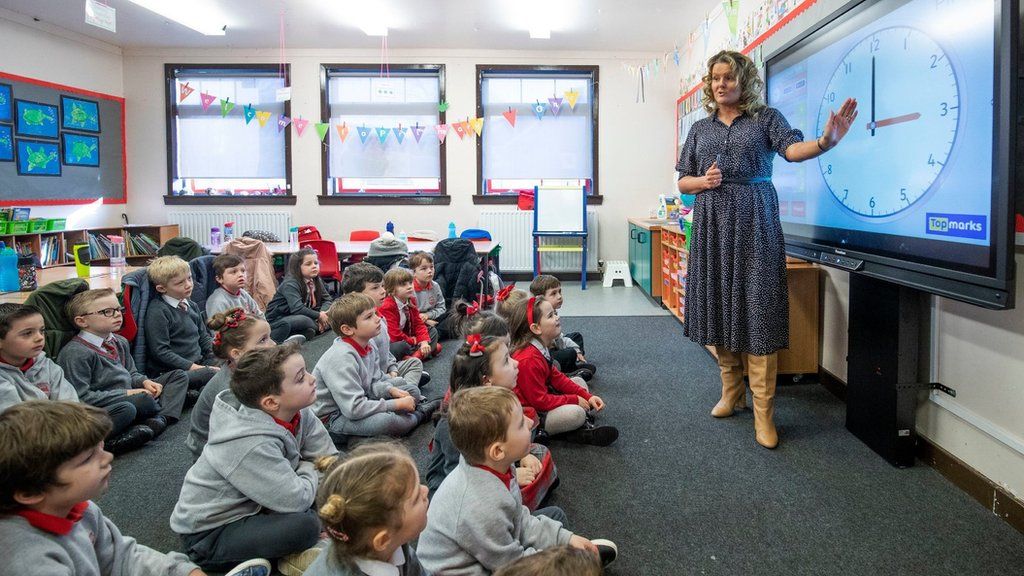 Scotland's teachers are being offered a 2% pay rise, well short of union demands for a 10% increase.
The proposal was submitted at the Scottish Negotiating Committee for Teachers (SCNT) - made up of unions, the Scottish government and councils.
It comes after one union warned that some of its members were turning to food banks to help make ends meet.
Teachers are among a number of public sector workers seeking pay rises to cover the increased cost of living.
Unions have warned of the potential for industrial action later in the year if they do not get a significant pay rise.
The claim for a 10% rise backdated to April was submitted in February by the main teaching union, the Education Institute of Scotland (EIS).
Local authorities employ teachers, but the terms and conditions of employment are consistent across Scotland with councils getting much of their funding from Holyrood.
The deal covered the period up to 2020-21.
The 2021-22 pay rise of 2.2% only took effect last month following a long period to reach an agreement.
The EIS said many teachers were still waiting for their year's worth of backdated pay.
Inflation is at levels last seen 40 years ago and set to get even higher.
There are forecasts that the rate of inflation will hit 10% later this year. And with high inflation, come the calls for high pay rises to help counteract its impact.
For those on a low income in particular, the rising cost of electricity, gas or petrol is a real problem. But it can be hard for employers to meet these pay claims, no matter how sympathetic they may feel.
If those who work directly for government or councils got bigger rises, these organisations would have to spend less on something else to balance their books.
It would also be difficult to justify giving one group of public sector workers a bigger rise than others unless there were exceptional circumstances - for instance an argument that those doing a particular job were underpaid.
For a long time, unions and politicians were haunted by images from public sector pay strikes in the 1970s.
With the return of high inflation is a cluster of public sector pay disputes now inevitable? Or can unions and employers find a way forward in difficulty economic circumstances?
Earlier, council umbrella body Cosla said it was in "active discussions with our trade union partners regarding their pay claim".
A Scottish government spokesman said: "We are committed to supporting a fair pay offer for teachers through the Scottish Negotiating Committee for Teachers, the body that negotiates teachers' pay and conditions of service.
"It is for local government, as the employer, to make any revised pay offer."
A number of other groups of public sector workers are also seeking significant pay deals citing rising inflation and energy bills.
The Scottish Trades Union Congress has warned of the risk of a "summer of industrial action" in the public sector without higher pay deals.
Unions representing council workers want to see an improvement on the current 2% pay offer.
The GMB says the current offer "wouldn't amount to a tenner a week for workers earning less than £25,000 a year".
Scotland's train operator ScotRail returned to public ownership in April when the previous franchise operator had its contract ended early.
Train drivers' union Aslef wants an improvement on the current 2.2% offer. Some services have been cancelled because of staff shortages with drivers declining overtime.