Rangers in Seville: Police say 100,000 fans expected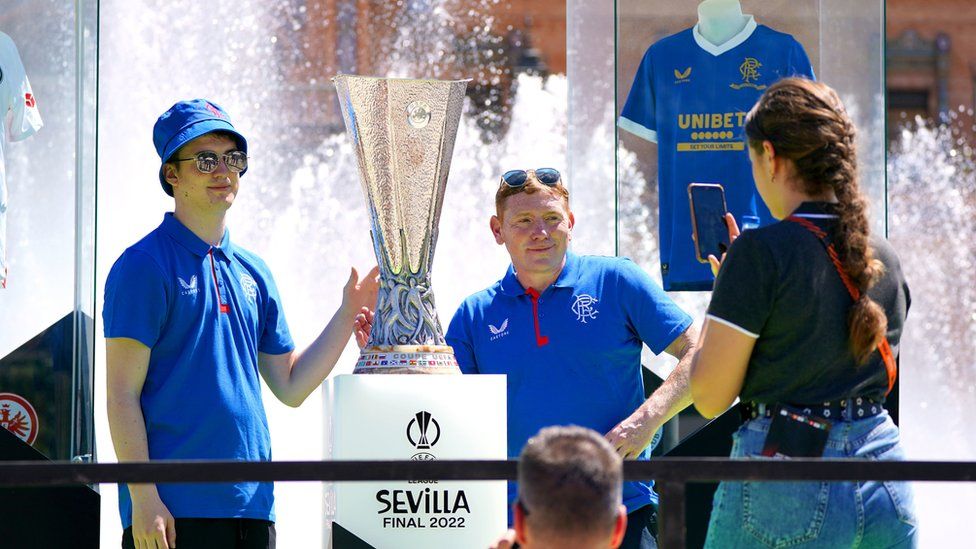 Police in Spain estimate that up to 100,000 Rangers fans will be in Seville for Wednesday's Europa League final.
They said they expected them to be joined in the city by about 50,000 Eintracht Frankfurt fans.
The capacity of the Estadio Sanchez Pizjuan, which is hosting the final, is just 42,700.
Seville's commissioner for citizen security said its police service was prepared for large numbers of fans descending upon the city.
Juan Carlos Castro Estevez said: "I am not worried at all. I believe our teams will be able to counteract any kind of problem that emerges, and obviously there could be some.
"Even if 150,000 fans don't come - if it's half that number or less - we will have substantial issues.
"From today there are going to be huge numbers of people in Seville."
At a press conference, officials said trains heading to the city from Madrid and Malaga were completely full with the same expected on Wednesday.
Roads around the stadium where the match is being held are shutting on Tuesday with a wider security perimeter being put in place on the day of the game - which will be Rangers' first European final in 14 years.
Seville's transport authority are adding extra bus services on the day of the game to take ticketless Rangers fans to the 57,000-capacity Estadio La Cartuja stadium in the north of the city - where Celtic lost the 2003 Uefa Cup final to Porto - where the match is being shown on a big screen.
Ticketless Frankfurt fans will be taken to watch the game on a big screen at The Prado de San Sebastián.
There will be 5,000 police officers on hand to ensure the whole event passes safely.
Uefa, football's governing body, had allocated just 9,500 tickets to the fans of each of the two clubs at the Estadio Sanchez Pizjuanin.
The rest of the tickets were given to sponsors and people from other clubs.
It is now thought that more tickets could be available to Rangers and Frankfurt fans but there will still be tens of thousands without tickets.
City officials have insisted Seville is ready to host the final - despite the huge number of visitors.
As well as transport arrangements, it has put in place a "special cleaning plan" that involves 200 workers washing down pavements and emptying litter bins.
They have also placed 110 urinals in the busiest areas of the city.
The previous two European finals involving Rangers have been marred by violent scenes.
Rangers were banned from European competition for a year after fans clashed with Spanish police on the Nou Camp pitch at the end of their 1972 European Cup Winners' Cup final victory over Dynamo Moscow.
There were violent scenes in Manchester city centre in 2008 after an estimated 200,000 fans travelled south ahead of Rangers' Uefa Cup final defeat by Zenit St Petersburg.
Thirty-nine police officers were injured during the trouble and a Crown Court judge later described it as "the worst night of violence and destruction suffered by Manchester city centre since the blitz".
Earlier, the mayor of Seville said the city was "completely ready" to welcome the fans of both teams.
Antonio Muñoz told BBC Scotland that the city was expecting a capacity crowd for the game, along with "many more" fans from both Scotland and Germany.
The mayor said he hoped fans would enjoy their time in Seville.
He said there would be two "massive screens" for the fans without tickets.
The weather in Seville is expected to be scorching this week, with temperatures forecast to reach 34C in the days before the match.