Police speak to Nicola Sturgeon over mask breach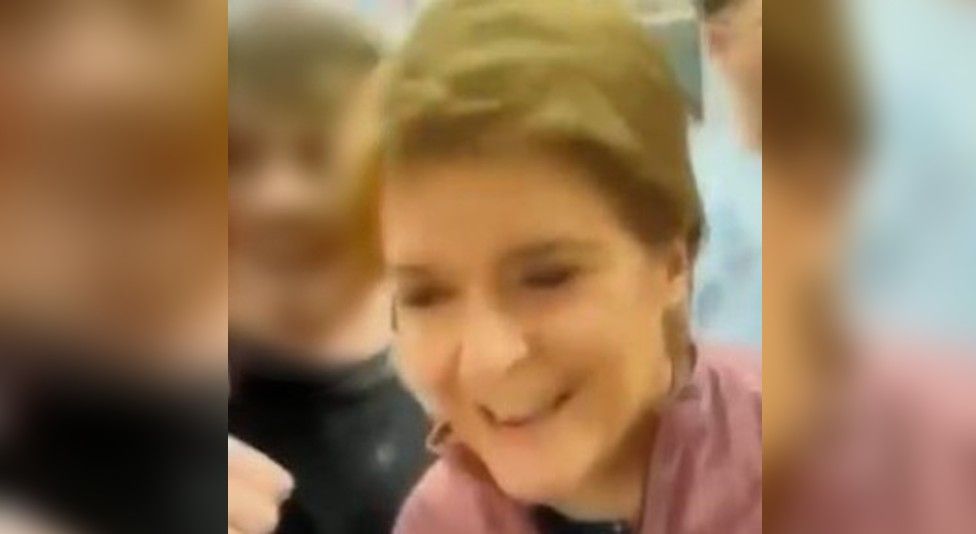 Police officers have spoken to Nicola Sturgeon after she was filmed breaching Scotland's face mask rules.
They reminded her of the importance of wearing a face covering when there was a legal requirement to do so, Police Scotland said.
The force added it was satisfied that no further action was necessary.
In a statement, Ms Sturgeon said she realised she had forgotten to put her face covering on "within seconds" of being in the shop on Saturday.
"I then immediately put it on," she added.
"However, I accept that not wearing a face covering even for a few seconds was an error on my part and I am sorry for that."
She said Police Scotland made contact with her after receiving complaints.
Ms Sturgeon said: "This is what they would have done with anyone else in these circumstances, and they were absolutely right to treat me no differently to any other citizen.
"I explained that the error was inadvertent and the police have confirmed that the matter is closed.
"While the law no longer requires face coverings to be worn, I will continue to do so in circumstances where this can help reduce the risk of infection, and I encourage everyone to do likewise."
The legal requirement to wear face coverings in crowded indoor places, and on public transport was lifted on Monday.
However, people are still being strongly advised to wear masks voluntarily while case numbers remain high.
It is ironic that on the day Nicola Sturgeon lifted the legal requirement to wear a face covering in shops and on buses, she is in the news for breaking her own rules.
For the second time in this pandemic, the first minister has apologised for forgetting to put on her mask when she should have.
It was a temporary lapse and the police have judged that reminding Ms Sturgeon of her responsibilities was sufficient to deal with the matter.
It is none the less embarrassing for Scotland's principal rule maker to have the police calling her out for being a Covid rule-breaker.
Her case is not equivalent to the multiple parties and gatherings held in and around Downing Street over which the prime minister has already been fined.
It does however provide Boris Johnson with a comeback to the SNP when he appears in the Commons on Tuesday to explain his behaviour and his previous claim that Covid rules were followed at all times.
During the visit to the barber shop on Saturday, Ms Sturgeon shaved a man's beard while journalists took photographs.
Further footage was later posted online showing her interacting with people without her mask on.
Police Scotland said its response to the incident was "in line with our proportionate approach throughout the pandemic".
Addressing MSPs shortly afterwards, she said: "I am kicking myself very hard - possibly harder than my worst critic ever could - but more importantly I'll be making sure I don't drop my guard again."
Prime Minister Boris Johnson and Rishi Sunak, the chancellor, recently rejected calls to resign, despite being fined by police for breaking lockdown rules in Downing Street in June 2020.