Ray Bradshaw: From council worker to playing arenas with John Bishop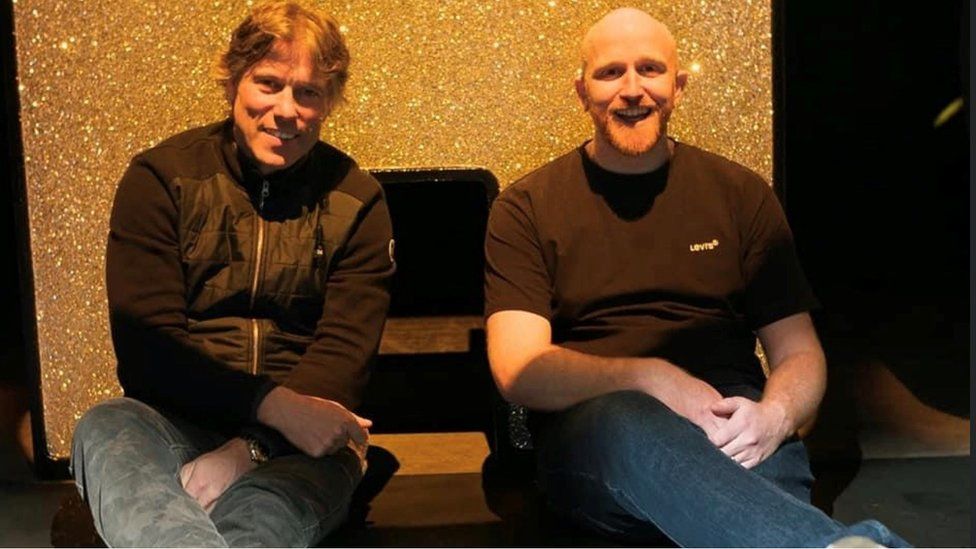 Heard the one about the up-and-coming comic who lost all his regular income during Covid and is now playing the country's biggest arenas?
Ray Bradshaw took a job offering people employment advice when the pandemic struck - and he's certainly enjoying the last laugh.
Last week he was performing gags in front of 11,000 people at London's O2 as the warm-up act for comedy A-lister John Bishop.
No wonder Ray, from Glasgow, describes the last few months as "brilliant and properly life-changing".
A year ago he was working for Stirling Council, providing help to people seeking work.
"I did a degree in it but I hadn't had a proper job for eight, nine, 10 years," he said. "The irony was I couldn't do my own work at the time, so it was good advice.
"I was working my way up in comedy, I'd just finished a tour with Frankie Boyle. I was over in Australia and life was good.
"Then Covid hit and it disappeared. I went back to eating fish fingers and potato waffles for dinner for a bit.
"I came home and lost all my work - the comedy clubs in Scotland were shut for 15 months. I was lucky enough to be doing some radio but at the end of the day I've got a mortgage and a wife and child."
Ray had been quietly establishing himself on the comedy circuit in the years leading up to the pandemic.
A regular on Radio Scotland's satirical quiz show Breaking the News, he also performed critically-acclaimed shows at the Edinburgh Fringe Festival.
But like many others in the arts and entertainment industry, he was forced to adapt and look elsewhere for work when coronavirus interrupted everything.
"It was really cool, the people I worked with were brilliant," he said of his year-long gig with Stirling Council helping others to find work.
"Lots of comics and people in the arts have done it. My tour manager - he does the big tours for Ricky Gervais and John Bishop, all sorts - went back to work as an electrician.
"People just had to do it because there was no alternative. It was a scary time."
As venues gradually started to open up again once restrictions were lifted, some established comedians - such as Bishop and Jason Manford - offered different support slots for their own tour dates to help other comics back into work post-Covid.
"I'd never met him before but we got on quite well. The next day he phoned me and offered me 12 dates in December and then another 20 in January and February and then a whole arena tour. So it just went from there."
Bradshaw has just finished a 62-date tour with Bishop, revelling in the chance to take his brand of humour to a wider audience.
"We did arenas all round the UK, it was incredible. I got to do the [Glasgow] Hydro, a couple of miles from where I grew up, with 7,000 people there.
"What's weird is how quickly you get used to it. You work out that because there are so many more people, sounds travels a little slower and you need to kind of wait for their laughs."
On such a lengthy tour, there was perhaps inevitably the odd bump in the road.
"Dublin was maybe my best gig, I loved it," he recalled. "I did amazingly, it was filmed… then at the very end I said, 'Thank-you Belfast' and got booed by 8,500 people.
"Honestly, in 14 years of comedy, that was potentially my worst moment."
His biggest audience so far - 11,000 - was the O2 Arena in London last Friday.
"My wife was there, and I got my friends back-stage at Wembley, and my mum and dad came to the Hydro. Being able to share all that with friends and family was just amazing."
Some industry movers and shakers watched Bradshaw at those huge London shows, and his diary is filling up fast on the back of it.
"I'm doing a 30- or 40-date UK tour later this year and next year," he added. "I'm doing a play at the Edinburgh Festival, I've got another work in progress, and maybe a couple of international trips as well.
"I am going out to New Zealand next year to do some telly out there. That's just the start of it. I think there's a few more things to come, hopefully. If not, I can always go back to the council."