Tree-planting driving up rural land prices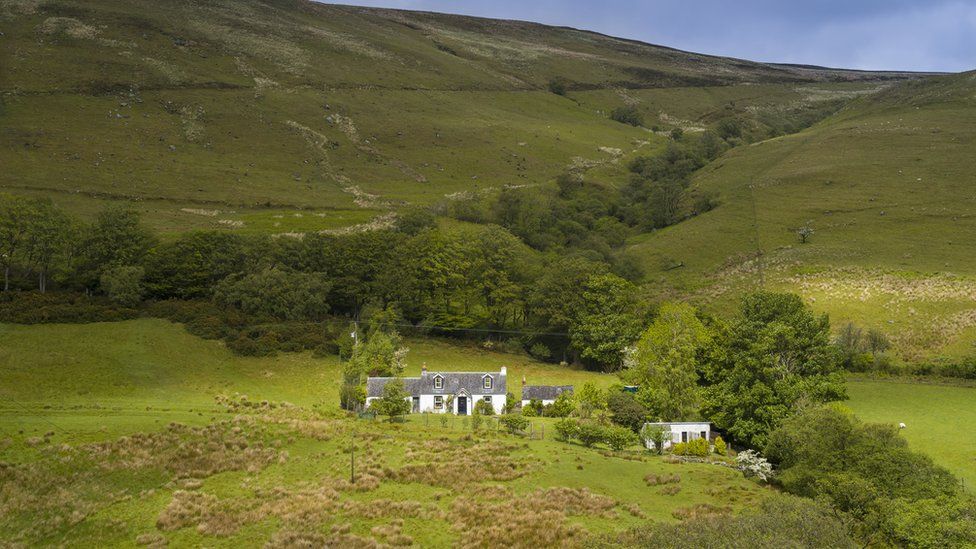 Land values in Scotland are booming because investors are putting cash into forestry and tree-planting to offset carbon emissions, a new report says.
The Scottish Land Commission said exceptionally high demand and low supply meant prices had risen sharply.
The report said there was more demand for smaller farms because of the lifestyle attractions.
And more corporate money - often from overseas - was looking for environmental investments.
The Scottish Land Commission (SLC) is a Scottish government agency which looks at the concentration of land ownership and its effective use.
Hamish Trench, from the SLC, said the report showed that demand for rural land from different types of buyer had increased significantly and was raising prices.
The report found a growing number of non-farming investors who were influenced by long-term investment potential as well as ESG (environmental, social and governance) considerations, which promote a more sustainable corporate approach.
It said farmland values had risen by 31.2% in Scotland in 2021 compared with 6.2% across UK.
The Scottish government has a target of 18,000 hectares (44,500 acres) of new woodland each year by 2024/25 in an attempt to offset the effects of climate change.
Land reform campaigners have warned of businesses buying up land in Scotland to offset their carbon emissions rather than reducing what they emit.
Green laird is a term that has been used to describe a business buying thousands of acres of land to plant with trees to help it achieve net zero - a balance between the carbon emitted into the atmosphere, and the carbon removed from it.
Scottish Land & Estates, which represents rural land-based businesses, said it was unsurprising that potential buyers were responding to clear government signals to plant more trees.
Land ownership is politically sensitive, in Scotland and in many countries around the world. That's partly because we all use it, but also because it has cultural, environmental and economic heft.
Yet for all the hopes of radical land reform when the Scottish Parliament started work in 1999, there remains little to discourage secretive corporate and foreign money from buying up large chunks of Scotland and doing, quite often, not much with it of any use to the wider community.
The legislated land reform we've seen is aimed at support for communities to get at least the opportunity to buy land when it comes on the market. But today's report points to a sharp increase in off-market deals, which give those communities no chance of putting their case and their finance together.
There are several reasons for doing deals without transparency, in addition to subversion of that legal intent; it works for brokers to shift assets on their books to known investors on their books: some farmers don't want their neighbours to know they are "selling out" for forestry, which carries social disapproval in some farming circles.
The buyers of estates used to want prestige and private lodges with bounteous space for hunting, shooting and fishing. Such owners tend to hang on to their land for a long time, and across generations.
Demand for property far outstrips supply, which is the simple explanation for prices soaring. However, this report suggests that there is "declining social acceptability of driven grouse shooting".
Investors in the 2020s, typically younger, are more focused on land as a means of getting to net zero - as investment for forestry planting or existing woodland, either of these mean owners can offset their carbon emitting activities elsewhere.
That's why a company such as Brewdog and its "punk" equity investors own a Highland estate, and new investment vehicles are joining it.
With land, the company or investor can get a certified store of carbon roughly equal, it is claimed, to the emissions from burning natural gas in the process of brewing beer in Ellon.
This follows the policy of Westminster and Holyrood governments to boost tree planting on a massive scale. And it helps that the poor quality of land across much of Scotland is of much higher value for forestry than for grouse moor and sheep grazing.
As the prices for upland farms rise relative to more productive agricultural land further down the strath, upland hill farmers can sell up to rich investors, and buy a smaller holding with which to change the way they farm. Part of the demand for Scottish farms is also coming from English farmers selling up at higher values and with tax advantages from doing so.
This could have profound implications for rural Scotland. A rapid shift in the market that could bring major changes in the way Scotland looks, and in the type of jobs to be found in rural Scotland.
One of the challenges is for communities, and the agencies that represent them, to engage with new owners to ensure there is a social dimension to their investing, which engages local people.
The other challenge is to those who set policy on land ownership, notably at Holyrood: how much are they letting this shift in the market determine the future of Scottish land, ownership and farming?
And what more do they need to do to have the policies, financial incentives and laws in place to achieve a broad mix of ownership and the best possible environmental and social outcomes for the nation?
The report recognises that there is an element of speculation in the land market as investors look for a safe haven in a turbulent global economy and gamble on future carbon values rising.
Strong growth in land values is expected to continue due to continued low supply and high demand driven by the long-term policy on climate change and increasing pressure on the global timber market.
In the Scottish estates market there was an estimated 87% increase on prices paid in 2020, and last year two estates sold for more than £20m, while five sold for between £10-£20 million.
About one third of buyers were from overseas.
Mr Trench said: "The way the land market functions is important to Scotland's ambitions such as net zero, nature restoration, repopulation, and community empowerment.
"Being able to participate in the market shapes not just who owns Scotland's land, but who is able to make decisions and who benefits from land and its economic, social and environmental value."
Sarah-Jane Laing, chief executive of Scottish Land & Estates, which represents rural land-based businesses, said: "It is unsurprising that potential buyers are responding to clear government signals to plant more trees and sequester more carbon as part of a global effort to tackle climate change.
"Long-term investment in forestry is attractive to landowners and farmers as there is less volatility compared with some markets for farming produce.
"However, as stated in the report, carbon is only the motivation for some buyers and it is clear that from this small sample of land sales that about half of buyers are acquiring estates and land for other reasons."
Related Internet Links
The BBC is not responsible for the content of external sites.