Brian Cox: Succession role makes me swear more
By Steven Brocklehurst
BBC Scotland News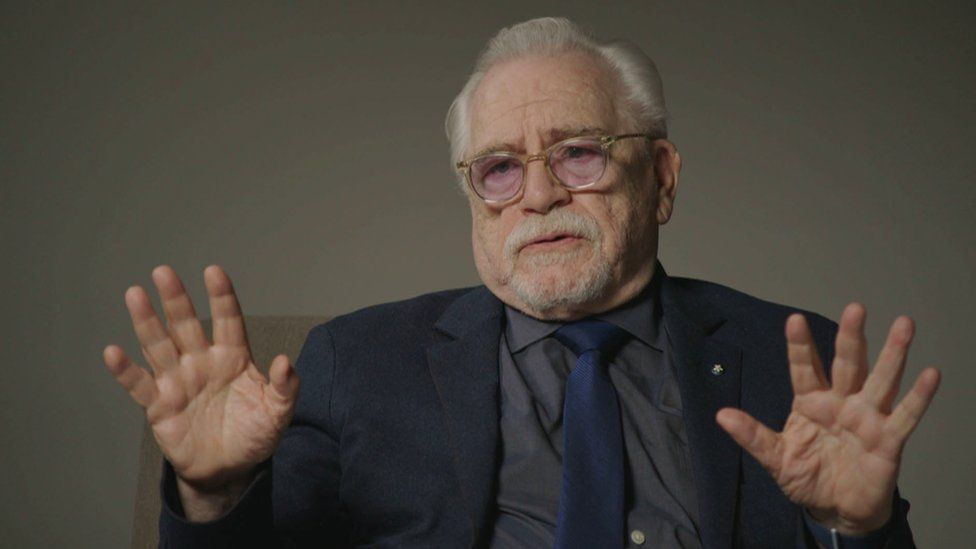 Scottish actor Brian Cox says playing billionaire media mogul Logan Roy in the hit TV series Succession has affected him in an unexpected way - he can't stop swearing.
In the HBO show, Cox plays the ageing patriarch of the Waystar RoyCo conglomerate who famously peppers his speech with curses and is particularly fond of dismissing underlings with a two-word epithet.
"The F-word, nobody does it like the Scots," he says.
The 75-year-old actor says he swore in the past, but now seems to be possessed by Logan's bad language.
Cox even accidentally swore on an episode of daytime TV show Loose Women, although he didn't use Logan's favourite word.
The role of Logan Roy, for which he won a best actor award at the Golden Globes in 2020, has been a late career highlight for Cox, who started acting in Dundee more than 60 years ago.
He tells the BBC show that his first taste of performing came at the age of three when he was woken at one in the morning to do Al Jolson impersonations - minus the black face - for his parents' Hogmanay party guests.
He says he was a natural performer and always loved the limelight, but his childhood was blighted by the death of his father when he was eight and his mother's recurrent mental illnesses.
"My father's death was beyond my comprehension," he says.
"They put me in front of a TV for my father's funeral. So I was entertained while my dad was buried.
"In a way, I have always found television a comforter. I am a great television watcher."
Despite a chaotic childhood and an educational record he describes as a disaster, Cox found himself at Dundee Repertory Theatre at the age of just 14.
Within a couple of years he was studying in London, returning to Scotland in 1965 to perform in the first shows at the the Royal Lyceum Theatre in Edinburgh, before moving to Birmingham Rep, where he performed many of the most iconic roles in theatre while still in his late teens.
Cox has also starred in dozens of TV shows and films, notably playing Hannibal Lecter in Manhunter in 1986, two years before Anthony Hopkins made the character his own in Silence of the Lambs.
Despite decades of roles in major films, he says the reception to Logan Roy has surpassed anything else in his career.
The previews of the third season were big in New York, but were like a rock concert in London.
"I remember walking on stage and I have never had a reaction like that in my whole career," he says.
While many view Logan Roy as a monster, Cox has a soft spot for the tycoon who he jokes is "the most misunderstood man on television".
"As an actor, you never judge who you are playing," he says.
Cox says all Logan is trying to do is find a successor to run his empire and he wants it to be one of his kids.
"Is that such a bad thing?" he asks.
He defends Logan from accusations of being a terrible father, saying that his grown-up children should take some of the blame.
"You can't blame your parents for everything," he says. "You are an adult and eventually you are responsible for your own life. You can't always make your parent the fall guy.
"My own kids are quite generous that way. They excuse me because they know what my life is.
"For Logan, it is a different thing. Those kids have so much and they are ruined by that. They are avaricious and they are spoilt."
Cox, who has two children in their late teens as well as older children from a previous marriage, says that like Logan his career can get in the way of being a good father.
"I don't think of myself as a particularly good father because I was absent for a lot of the time.
"In a way, like Logan, I was attending to my career. Like Logan, there is an element when he has been remiss at dealing with his children.
"But unlike Logan, I express myself more about being remiss in that area and I'm constantly apologising for it. Logan would certainly find me a bit boring. I feel that quite strongly."