Arran islanders struggle to get home after hospital appointments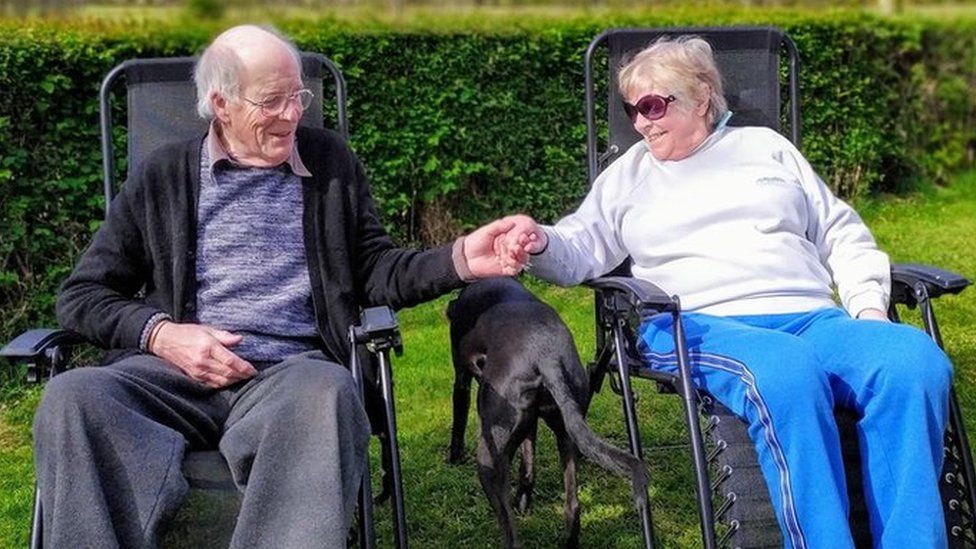 Arran lies just 15 miles off the Ayrshire coast and its residents are part of the same health board as their mainland neighbours but getting to and from vital hospital appointments can be a huge struggle.
Cancellations and capacity issues mean islanders dread being unable to return home on the same day because the ferries are full.
Betty Buchanan and her husband Ian, who are both 81, live in Lochranza, at the northern tip of Arran.
Last month, Mr Buchanan needed to attend Crosshouse Hospital in Kilmarnock on the mainland for an important brain scan.
Three weeks before the appointment, his wife tried to make a booking on the main Arran ferry from Brodick to Ardrossan so they could then drive the 17 miles to the hospital in Kilmarnock.
Ahead of making the journey she told BBC Radio Scotland's Morning programme: "We can't get a ferry on the day of the scan so we have to go before, nearly everybody does this and pays for overnight accommodation in a hotel.
"We can't get home on the day of the scan. It is in the morning and we can't get home that day. We can't even get on a ferry the next day or the day after that.
"So that is three days' accommodation to go for a half-hour scan on the mainland. This is with the boat working at full capacity we are told. We can't get back, so we have to pay money for hotels."
To avoid multiple hotel stays there was one way to get home on the day of the scan, but that meant a 94-mile detour involving three ferry crossings.
Following the mainland appointment, Mrs Buchanan drove to Gourock to take the ferry to Hunter's Quay near Dunoon. She then drove 50 miles over the hills of the Cowal peninsula to Portavadie to get another ferry to Tarbert on Kintyre.
From there the car journey saw them head to Clonaig where they were able to catch the small ferry to Lochranza.
It is not possible to book on these smaller vessels so the Buchanans had to take a chance that they would get on board.
CalMac told BBC Scotland that islanders who needed cancer treatment were welcome to use the company's "urgent medical protocol" which would ensure there would be space on board, along with taxi journeys to and from appointments.
'Cancer patients deserve better'
For more than 30 years, Arran Cancer Support, known as Arcas, has provided help to arrange transport and counselling for islanders affected by cancer.
Its secretary Mike Dobson said February was the worst month on record for missed cancer appointments due to ferry disruption, with half the consultations on the mainland - 16 out of 32 - being missed.
He said recent ferry disruption was "extremely bad news for people impacted by cancer" who live on the island.
Mr Dobson added: "People on Arran who are impacted by cancer deserve a much more reliable ferry service."
Many of the ferries in the CalMac fleet are ageing and the operator is struggling to keep them all in service.
Two new ferries - including one for the Arran route - are being built at the Ferguson shipyard in Port Glasgow but they have been dogged by repeated delays and overspending.
The new Arran ferry - the MV Glen Sannox - was originally due to come into service in the summer of 2018 to serve the Ardrossan to Brodick ferry route.
The current vessel, the Caledonian Isles, which was launched in 1993, has seen its sailings impacted by technical faults and severe weather.
In March 2020, CalMac introduced an urgent medical priority scheme. This covers bookable services and customers who cannot provide seven days' notice of an appointment.
However, the priority service does not cover those travelling home from hospital.
In September last year, Claire Johnson, her husband Thomas and their four-week-old baby had been returning from Crosshouse Hospital where Claire gave birth when they found themselves in a challenging situation.
Ms Johnson explained: "When my newborn and I were discharged from hospital the boat we were booked on was cancelled due to a fault with the sewage system and replaced by an unscheduled earlier sailing, with places on first come, first served basis.
"We had no chance of getting on and were told there was no medical priority given to passengers returning from hospital.
"So we had to abandon our vehicle and carry our newborn - who was born prematurely and leaving hospital after a prolonged stay - as well as a car seat and a week's worth of luggage. I was recovering from having had a C-section a few weeks earlier."
Tommy Gore, area operations manager for CalMac's Clyde services, said the company was "extremely sorry" for recent disruptions to the ferry route.
"Poor weather conditions account for the vast majority of disruptions and we cannot sail if there is a risk to passengers, vessels and port infrastructure," he said.
"Delays to annual overhaul schedules has also had a knock-on effect across the ferry network, as we are completely stretched and do not have any spare vessels to use whenever technical issues occur."
Mr Gore said he encouraged anyone with a medical appointment to book sailings as soon as possible.
He added: "Please also use our urgent medical protocol if a sailing is full and we will ensure there is space for you on board along with taxi journeys to and from your appointment."