Covid in Scotland: New record as one in 14 had virus last week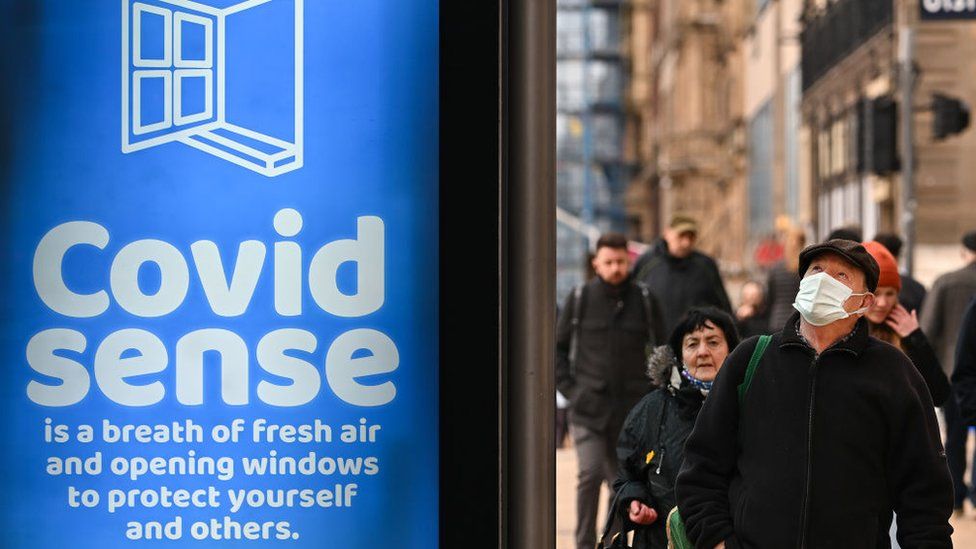 One in 14 people in Scotland had Covid last week, a new record high, according to the Office for National Statistics.
The latest weekly ONS sampling suggest 376,300 Scots had the virus in the week ending 12 March, and the highest rate in the UK.
The latest surge is believed to be driven the more infectious BA.2 sub-variant of Omicron.
The reproduction or R number in Scotland has also risen, and is now thought to be between 1 and 1.3.
The R number is a measure of how many other people will have the virus passed on to them by a single infected person.
The number of people in hospital with Covid now stands at 2,050, only just below the peak of 2,053 seen in January 2021.
The ONS weekly survey is increasingly relied upon for monitoring the spread of Covid because of suspicions that not all positive lateral flow tests are reported.
For the second week in a row, the ONS data indicates the highest level of Covid in Scotland since sampling began in autumn 2020, with the percentage infected at 7.15%, up from 5.7% last week.
National clinical director Professor Jason Leitch told BBC Scotland's Drivetime the record case rate was "not good news" but there was still an "interruption of the translation of cases to harm".
He said: "There will almost certainly never be a bigger wave of harm than the first wave.
"Think back to those who died - before we had antivirals, before we had vaccination, before we knew 30% were asymptomatic, before we knew how airborne it was - in those first few months.
"I hope we never have to live through anything like that again."
He said the high numbers of hospital admissions were not progressing to intensive care as in previous waves.
However, with 13,000 staffed hospital beds in Scotland, having more than 2,000 occupied by patients with Covid was putting pressure on the NHS, he added.
Treatments reduced mortality rate
Health officials believe the BA.2 Omicron variant has taken hold faster in Scotland than south of the border. Chief Medical Officer Prof Sir Gregor Smith said earlier this week it now accounted for 85% of cases.
While BA.2 is believed to be more transmissible, there is no evidence it causes more serious illness than the original BA.1 form of Omicron.
Scotland now has overtaken Northern Ireland as having the highest Covid rate in the UK, according to the ONS data.
Scotland - 7.15% of the population - one in 14
Northern Ireland - 7.12% - one in 14
England - 4.87% - one in 20
Wales - 4.13% - one in 25
Separately, the latest modelling on the epidemic in Scotland predicts that by the end of March, two thirds of Scotland's local authorities will have case rates above 2,000 per 100,000 population.
North Ayrshire is projected to have a case rate above 3,500 cases/100,000.
In late 2020, when the levels system was introduced for lockdown restrictions, the threshold for being in the top level was 150 cases/100,000, but vaccination and better treatments have substantially reduced the mortality rate since then.
Survey work suggests nearly a third (29%) of Scots now believe they have had Covid at least once since the start of the pandemic.
In the meantime, she has suggested that the most vulnerable people use thicker FFP2 or N95 face masks, as fabric or thin surgical masks may offer less protection against the latest BA.2 variant of Omicron.