Covid in Scotland: Mask rules will stay in force until April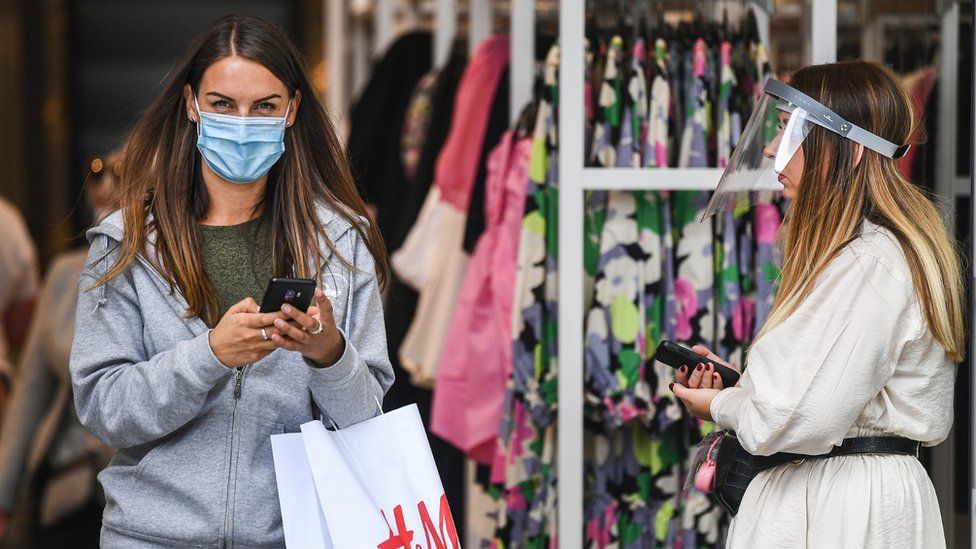 Scotland's rules on face coverings in shops and on public transport will remain in place until April due to a rise in cases of Covid-19.
All other restrictions on businesses and services are to move from legal requirement to guidance from 21 March.
But First Minister Nicola Sturgeon said it would be "prudent" to keep mask rules in place due to a spike in cases.
These will be reviewed again in two weeks, and are likely to be converted to guidance by 4 April.
Ms Sturgeon said a sharp rise in infections was putting "significant pressure on hospital capacity", but that vaccines were still giving people good protection.
She also told MSPs that mass testing will be wound down in April, with routine testing and contact tracing to end by May.
The average number of new cases reported each day in Scotland is more than 12,000, up from an average of 6,900 per day three weeks ago.
There has also been a rise in the number of people in hospital with Covid-19, from 1,060 three weeks ago to 1,996 today.
Ms Sturgeon said the BA.2 sub-variant of Omicron was now the dominant strain of the virus in Scotland, accounting for more than 80% of cases - adding that while it spreads much more quickly, there is no evidence it causes more severe illness than previous variants.
The rules for businesses will be dropped as planned, but Ms Sturgeon said she needed to "ask everyone to be patient for a little while longer on face coverings".
She said: "I know this will be disappointing for businesses and service providers such as day care services.
"However, ensuring continued widespread use of face coverings will provide some additional protection - particularly for the most vulnerable - at a time when the risk of infection is very high, and it may help us get over this spike more quickly."
The first minister stressed that the lifting of other measures marked "steady progress back to normal life and a more sustainable way of managing this virus".
Testing in England is being wound down by the end of March, but Ms Sturgeon said there would be no change in Scotland until Easter.
Asymptomatic people will still be advised to test regularly until 18 April - with tests free of charge - and people with symptoms should continue to get a PCR test until the end of that month.
However, the population-wide testing and contact tracing system will come close at the end of April, with people with symptoms advised to stay at home.
From May onwards, testing will be used on a targeted basis to monitor levels of the virus in society and to look out for new variants.
The Federation of Small Businesses in Scotland said changes were slower than many would like, adding that "the impression that Scotland has a first-in, last-out approach to Covid restrictions frustrates many".
The Scottish Chambers of Commerce said the announcement about face coverings was a "bitter disappointment".
Chief executive Dr Liz Cameron said: "Businesses cannot continue to operate with the start-stop lever being pulled just weeks apart."
And the Scottish Licensed Trade Association said the move will confuse visitors from England, where face coverings are no longer required by law.
It has become almost second nature - grab your mask alongside your keys as you dash out the front door. And in Scotland, unlike any other part of the UK, you will be doing it for a while longer.
Many in public health think this is not a big ask, a sensible move at a time when community transmission is so high.
It is a very visible reminder that Covid has not gone away, and they point to a growing body of research that suggests community mask wearing can offer some protection against infection spread.
However, others argue the evidence is not compelling and the reality is people don't wear masks in the places where they would make the most difference, at home with family and friends.
After all, Scotland is experiencing a surge in cases despite such measures being in place.
The Scottish Conservatives said the retention of the mask rules was "a blow for households and businesses".
Leader Douglas Ross urged Ms Sturgeon to trust people to manage their own risks, adding: "We can't get complacent with Covid, but we need to move forward - we can't stay stuck with Covid rules forever."
Labour's deputy leader Jackie Baillie said hospitals were "overwhelmed" with staff absences rising, and called for more information about testing for health workers.
Ms Sturgeon said health and care staff would continue to test twice weekly after the wider programme ends, and that the system would focus on high-risk settings like hospitals and care homes.
Meanwhile Scottish Lib Dem leader Alex Cole-Hamilton said it was disheartening that "despite the extra sacrifices that have been made in Scotland, our infection rates are still so stubbornly high".
Health Secretary Humza Yousaf later told BBC Radio Scotland's Drivetime he expects Covid hospital occupancy levels to reach record levels in the next few days.
He also defended the extension of the face covering rules and described the evidence for their effectiveness as "indisputable".
Asked if he was concerned about another wave of infections given the current case numbers, Mr Yousaf said he has been reassured by the success of the vaccination programme.
He told the programme: "If you have not had your first, second or indeed your booster dose then please get it because that is clearly and significantly been the difference in terms of severity of illness.
"If we had these case numbers that we are seeing today, and we have seen over the last number of weeks, without a vaccine we would be frankly in lockdown.
"Vaccines are the game changer."