Call for ban on wet wipes containing plastic
By Kevin Keane
BBC Scotland's environment correspondent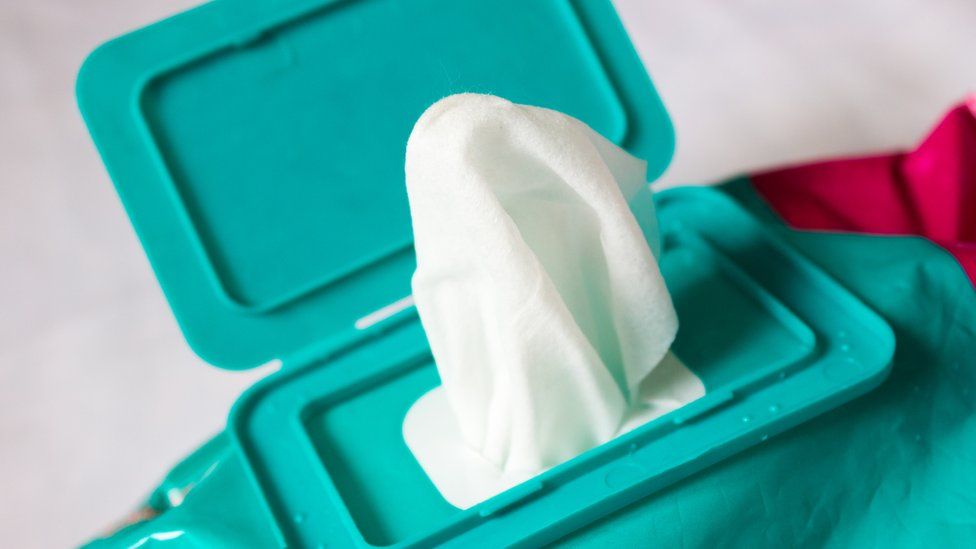 Scottish Water is calling for a ban on the sale of wet wipes which contain plastic.
The company says it responds to 36,000 blockages each year with the vast majority featuring wet wipes.
It comes as an advertising campaign is launched urging people not to flush wipes of any kind down the toilet.
The campaign is backed by the Marine Conservation Society which says they are found on beaches in huge numbers.
About 25 wipes were recorded on average for every 100m of beach surveyed in Scotland at last year's Great British Beach Clean.
Although those which are branded as '"fine to flush" do not contain plastic, it's estimated that about 90% of wipes still do.
Under new single market rules a ban would have to be agreed by both the Scottish and UK governments before it could be introduced.
Wipes cause 'horrific problems and dreadful damage'
Brian Lironi from Scottish Water told BBC Scotland News: "Wipes that get flushed down the toilet are causing horrific problems in our sewer network and dreadful damage to the natural environment. We're asking everyone to bin every type of wipe.
"We're calling on parliaments north and south of the border to ban wipes that contain plastic.
"There is absolutely no need for them. Better products are available and it's high time we took these things off supermarket shelves and made it easier for consumers to make good choices about the products that they buy."
Once flushed, wipes combine with fats, oil and grease to clog up the sewer network and sometimes lead to "fatbergs".
It costs Scottish Water about £7m per year to deal with the blockages.
Although the company says it supports the industry's "fine to flush" standard it would still prefer consumers to put all types in the bin.
Catherine Gemmell, Scotland conservation officer for the Marine Conservation Society, said: "Our toilets can still sadly be gateways to the ocean which is why incorrectly flushed items like plastic wet wipes can be found on beaches across Scotland.
"We need to stop plastic items, like wet wipes, getting into the sewer system and out in the ocean. That's why we're supporting the Nature Calls campaign to ban plastic wet wipes and help reduce the number of wipes mis-flushed."
Wet wipes are big business, with about 11 billion estimated to be used across the UK each year.
Calls for a ban on those containing plastic have been growing with the Scottish government and the UK's Department for Environment, Food and Rural Affairs both running consultations.
Scottish Water's Nature Calls campaign is due to run for five weeks.