One mother's story of 'broken' children's mental health service
By Georgina Hayes
BBC Scotland news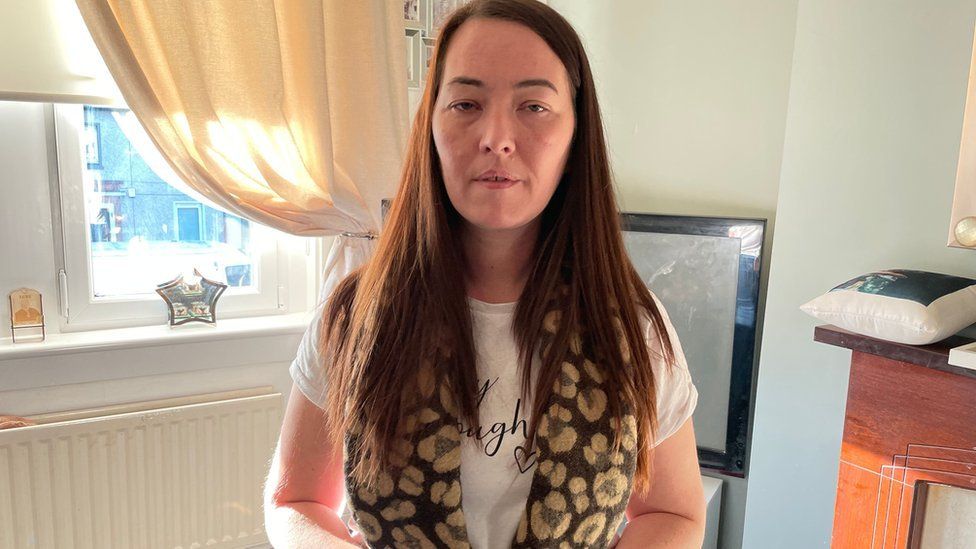 Children's mental health services in Scotland were at crisis point even before the pandemic, families, experts and charities have claimed.
When Karen McKeown's partner, Luke Henderson, took his own life four years ago she sought mental health support for their two children.
However, on turning to the Child and Adolescent Mental Health Services - better known as Camhs - she was told they did not meet the criteria.
Karen explained that her children had to be shielded by police as they were taken past the body of their father.
"It's had quite a big impact, where I would say their self-esteem is very low. A lot of the time they don't want to be here," she added.
The family GP had referred the children to Camhs following their father's death, but they were initially told they did not qualify.
It was only after the mental health of both youngsters deteriorated that they were finally offered support from Camhs.
She says the system is "broken" and "not fit for purpose", adding: "I would actually say that Camhs would probably be one of the worst services there is."
And Karen's experience appears not to be an isolated one.
According to the Scottish Association for Mental Health (SAMH), about 8,000 young people in Scotland are rejected for support from Camhs every year.
The chief executive of that body, Billy Watson, told BBC Scotland: "I think it's reasonable for people to say that we are at a crisis point. The facts are undeniable.
"Today there are 12,000 young people waiting to start their support or treatment and 2,000 of those have been waiting more than a year."
Like Karen's case, the majority of referrals to Camhs come from GPs. But SAMH say that about one in four of these are rejected by the service.
Mr Watson questioned: "Where else can you think of in a health system, both for physical and mental health, would a GP make referrals and have them rejected at that rate? There's something wrong with the design of this system."
'Takes time to train people'
The Scottish government's target is for 90% of young people to start their treatment with Camhs within 18 weeks of a referral, but this target is routinely missed by most health boards.
Mr Watson believed that 18 weeks was "far too long" for anyone wanting to access mental health services.
Karen agreed, arguing that it was "torture" for any youngster to have to wait for help.
So why are services so stretched?
Dr Helen Smith, Camhs chair for the Royal College of Psychiatrists in Scotland, said the situation had resulted from "years and years of under-investment in Camhs service", and because "it takes time to train people to be a child and adolescent psychiatrist or a nurse".
She added: "A lot of young people are seeking care elsewhere, such as attending in A&E because they have had to resort in self harm. So the pressure is increasing, increasing, increasing and we don't have the capacity to meet that demand."
For Karen, her concern is that other families will have the same experience hers had.
She said: "No parent wants to see their kids suffer. We just want them to have the best in life, and how are we meant to give them the best in life if services are failing us?"
To address the problem, the Scottish government said it had invested £40m to improve Camhs and clear waiting lists by March 2023, and was "continuing to work directly with health boards with the poorest performance to ensure the 18 week waiting time standard is met".
A Scottish government spokesperson added: ""We have also provided an additional £15m to local authorities to deliver locally based mental health and wellbeing support for five to 24-year-olds in their communities, providing alternative treatment options and pathways to Camhs and ensured access to counselling support services in all secondary schools."
They said they had also started work to implement a "National Camhs Service Specification", which aimed to set out the levels of service that young people and families could expect.