Covid in Scotland: 'Crunch week' as latest data awaited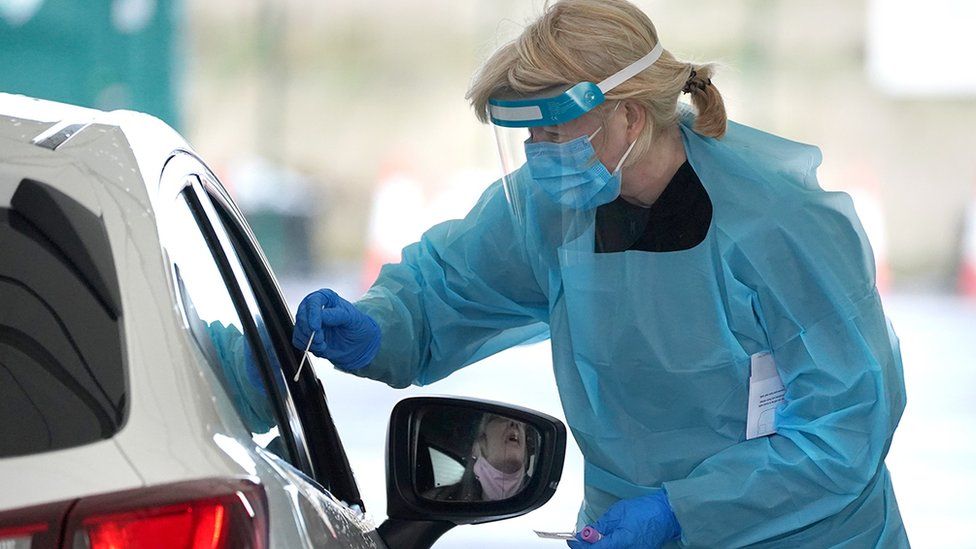 The impact of the Omicron Covid variant is expected to become clearer this week as data on cases over Hogmanay emerges.
No figures have been available since 31 December but headline statistics will be released later on Monday.
NHS Grampian's head of health intelligence Jillian Evans said data from her region suggested cases were still doubling every three days.
She said it would be a "crunch week" for understanding the variant's impact.
The most recent figures showed there were 11,962 cases reported on New Year's Eve, but that may be an underestimate due to the volume of positive tests leading to delays in reporting results.
The previous day 16,857 positive tests were announced, the highest daily figure since the start of the pandemic in early 2020.
Ms Evans told BBC Scotland's Seven Days: "It will all change this week because schools will go back and it will become very obvious in terms of case numbers and their impact.
"I think this is the crunch week for us as we begin to see the impact of those high cases and schools going back, the intergenerational effects of mixing over Christmas - all of that will start to be shown now in the data.
"It will become very real to people not just in their health but also in possible disruption to their ways of life."
Headline figures for cases, deaths, positivity and hospital numbers will be published on Monday and Tuesday, with fuller data released on Wednesday.
Scotland's Education Secretary Shirley-Anne Somerville has urged pupils and staff to take a lateral flow test before returning to school, and if it comes back positive to isolate and book a PCR test.
"It is our absolute priority to keep schools safely open and minimise further disruption to learning," she said.
"To achieve that, we need the help of the whole school community. Taking lateral flow tests before returning to school, and continuing to test regularly will help prevent outbreaks of the virus."
Drop-in vaccinations are now available in some areas for 12 to 15-year-olds, and they are being encouraged to get a second dose of the vaccine if at least 12 weeks have elapsed since their first jab.
Data released this week should give a clearer picture of the impact of the latest Covid wave on hospital admissions.
While there is evidence that fewer people become seriously ill with the new strain, the large numbers of infected people combined with staff absences could still put the NHS under severe pressure.
Ms Evans said that of those people in hospital with Covid in her region, "just over 60%" had been admitted because of the virus.
"They were severely ill enough to be in hospital with symptomatic disease," she said.
She added that even those Covid-positive patients who were primarily in hospital for other reasons would still have an impact on services as they would need to be isolated.
Health Secretary Humza Yousaf said he was in regular contact with health boards and they were working hard to increase capacity.
"There is no doubt about it that these are going to be some of the most difficult weeks ahead, frankly that our NHS has felt in its 73 years existence," he said.
Cash for culture and major events
The impact of the spread of Omicron is being felt throughout the economy.
And the Scottish government confirmed how funding for culture and major events would be distributed to the sector.
It said that the £65m previously announced would include £31.5m for cultural businesses and venues while £19.8m would go to the events sector.
National performing companies would be allocated £2m for Christmas losses and £10m would be for freelancers
Museums, galleries and heritage would be allocated £1.7m.
The Scottish government's Culture Secretary Angus Robertson said the funds would "help protect the livelihoods of the people working in the sector".