Covid in Scotland: More schools and firms 'will face Omicron closures'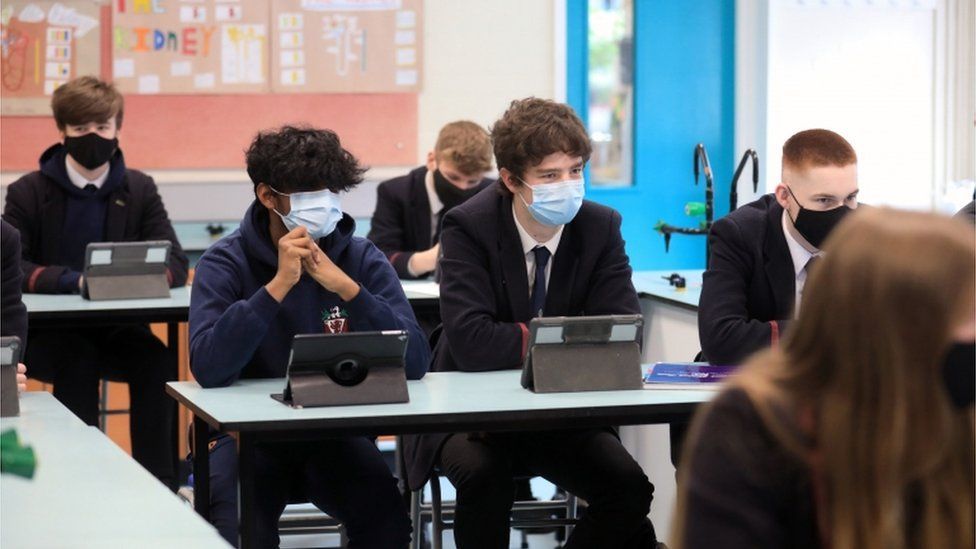 More schools and businesses will close in the lead up to Christmas as health experts "hit Omicron hard", Scotland's national clinical director has said.
Primary schools in Renfrewshire and South Lanarkshire have already been forced to close after suspected outbreaks of the coronavirus variant.
The decisions were taken because of the need for staff to isolate.
Prof Jason Leitch told the BBC he expected such closures to be repeated across the country.
Speaking on BBC Radio's Good Morning Scotland programme, he said: "This is how we've dealt with each of the variants as they have arisen.
"This is the fourth major variant and, as they become known, you have to really hit them with outbreak management techniques.
"Not whole population techniques, we put a ring of steel around those individual cases and that of course causes more isolation. We can't do that forever, and we changed it for the Delta variant eventually. But we have to do it to try and slow it down.
"That's why, unfortunately, there will be occasions where a hospitality setting or a school or an office will have to close because of Omicron for a little while until we know more."
On Tuesday it emerged St John's Primary School in Hamilton would be closed for the rest of the week.
A letter to parents and carers, seen by BBC Scotland, said NHS Lanarkshire was carrying out contact tracing after cases "which are likely to be the new omicron variant" were detected in the school community.
The school plans to reopen on Monday "subject to public health advice".
It meant all contacts of new variant cases had to self-isolate, even if fully jabbed.
First Minister Nicola Sturgeon updated MSPs on the latest developments at Holyrood on Tuesday afternoon.
Prof Leitch said: "Omicron is an unknown. We don't know if it gives you a worse disease or if it somehow escapes the vaccine a little. Therefore, health protection have been much more cautious with it.
"We already know it appears to be somewhat more transmissable - we didn't know that 10 days ago.
"We know for Delta, 3% of cases end up in hospital. Now, for Omicron, is it six or is it two or is it three? We simply do not know.
"Until we know, we can't give definitive Omicron advice to the first minister, who then can't give definitive Omicron advice to the population."
Meanwhile, a study at the University of Aberdeen suggests "mistrust" of official agencies is among the main factors influencing the low Covid-19 vaccine uptake in ethnic minority groups.
The report also pointed to "lack of culturally and linguistically appropriate information" as well as inconvenient locations and timings of vaccine appointments.
In the under-50s, the uptake is lowest in the Caribbean or Black group.
Prof Shaun Treweek, who led the study, said: "Any approach to increasing vaccine uptake in ethnic minority groups needs to consider the factors and strategies we list.
"Moreover, it is essential that organisations promoting vaccine uptake work with ethnic minority communities and organisations to tailor strategies appropriately."