Covid in Scotland: Booster jabs 'pushed back', say opposition MSPs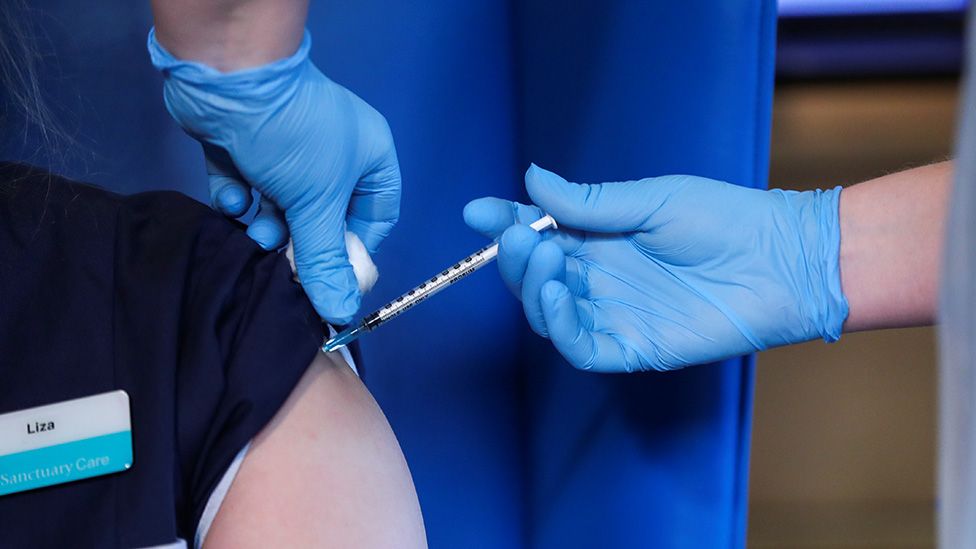 Opposition MSPs have accused the Scottish government of pushing back Covid booster jabs for some groups.
The NHS Inform website states "other eligible groups" - which includes adults over 50 - will be able to book a third dose "from mid-November".
Scotland's national clinical director Jason Leitch said the government was "on track" to get everyone boosted six months after their second dose.
"What we want to do is get everyone vaccinated six months after their second dose and we're on track to do that just as efficiently and well as we can," he said.
"The portal will be available as people reach their six-month point.
"Initially we've done health care workers, we've done care home residents, we've done the over 80s, we're working our way down through those age groups... and we'll get to people just as quickly as we can."

The "other eligible groups" category for booster jabs includes 16 to 49-year-olds who are are adult, young or unpaid carers, or those who live with someone who is immunosuppressed.
Everyone in the 16-49 age group who has underlying health conditions will also be able to book a third dose via an online portal.
The website, which was updated on 15 October, said: "A booking portal will be available from mid-November.
"Vaccinations will start from mid-November and run through December and early January."
Scottish Liberal Democrat leader Alex Cole-Hamilton accused the Scottish government of "sneaking out" the changes.
"We know that caseloads are still far too high so there can be no excuses for these delays," he said.
"The health secretary needs to tell the public what steps he will take to speed up this rollout.
The MSP added: "Last winter we were facing an unprecedented pandemic. There can be no such excuses for the health secretary this time around."
Just over 344,000 booster jabs have been given so far in Scotland, according to Public Health Scotland.
Priority is given to the over-70s, care home residents and front-line health and social care staff.
Scottish Conservatives health spokesman, Dr Sandesh Gulhane, said: "The SNP are sneakily shifting the goalposts on their own vaccination timelines. These documents show how they have quietly dropped their initial targets.
"When the SNP should be quickening the pace of the vaccine booster jag scheme at every turn, instead, they are slowing it down."