Covid: Will Scotland's teenagers buck the vaccination trend?
By Christopher Sleight
BBC Scotland news
Vaccine drop-in clinics for 12-15 year olds opened a little over three weeks ago, but more than 40% of the age group have now received at least their first dose.
With the vaccination of 16 and 17-year-olds also continuing at a reasonable rate, will Scotland's youngest teenagers end up better protected from Covid than older age groups?
What's the vaccination picture in Scotland?
Looking at first doses, there's 100% coverage of all age groups over 60 in Scotland.
There's also 99.1% coverage of the 55-59 group and 96.5% of all 50-54 year olds have received a first dose.
However, a clear trend emerges with the under 60s - the younger the age group, the lower population coverage plateaus.
As an example, the 40-49 age group reached 90% coverage on 21 July for first doses and almost three months on are now sitting at 91.7%.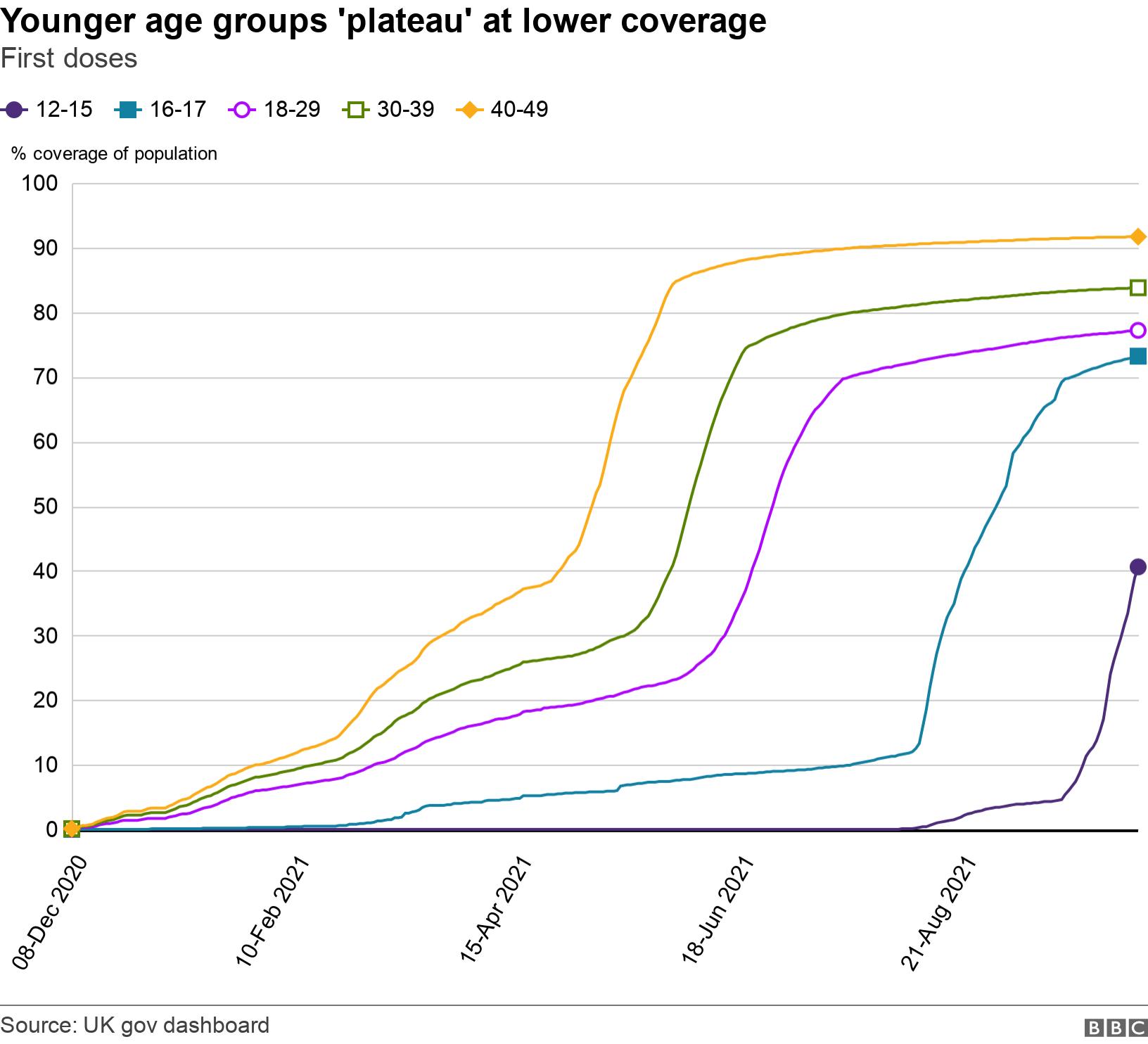 What about the youngest age groups?
It wasn't a standing start, as 12% of that age group had already received a first dose, but coverage is now at 73.2% and closing in on the 18-29 age group which has 77.2% coverage.
This age group has gone from 5.4% coverage to just over 40% in about three weeks.
If you work out how long it took each age group to get from 10% to 40% coverage, 12-15 year olds come in at 16 days - faster than any other group under 65.
However, it's important to note that the population size of the age group is a factor here.
There are far fewer 12-15 year olds (234,135) than 18-29 year olds (833,947), and only 110,139 people in the 16-17 age group.
Taking into account the population size of each cohort, 12-15 year olds are clearly being vaccinated at a faster rate than any of the other younger age groups were - and there's a big contrast with 16-17 year olds, who are at the bottom of the table.
How does Scotland compare with England?
Again, it's worth bearing in mind the vast differences in population size between England and Scotland.
The numbers are similar for 16-17 year olds - in England 771,719 have been given a first dose, almost 10 times higher than the number in Scotland.
However, in terms of percentage coverage, Scotland is doing much better in both age groups.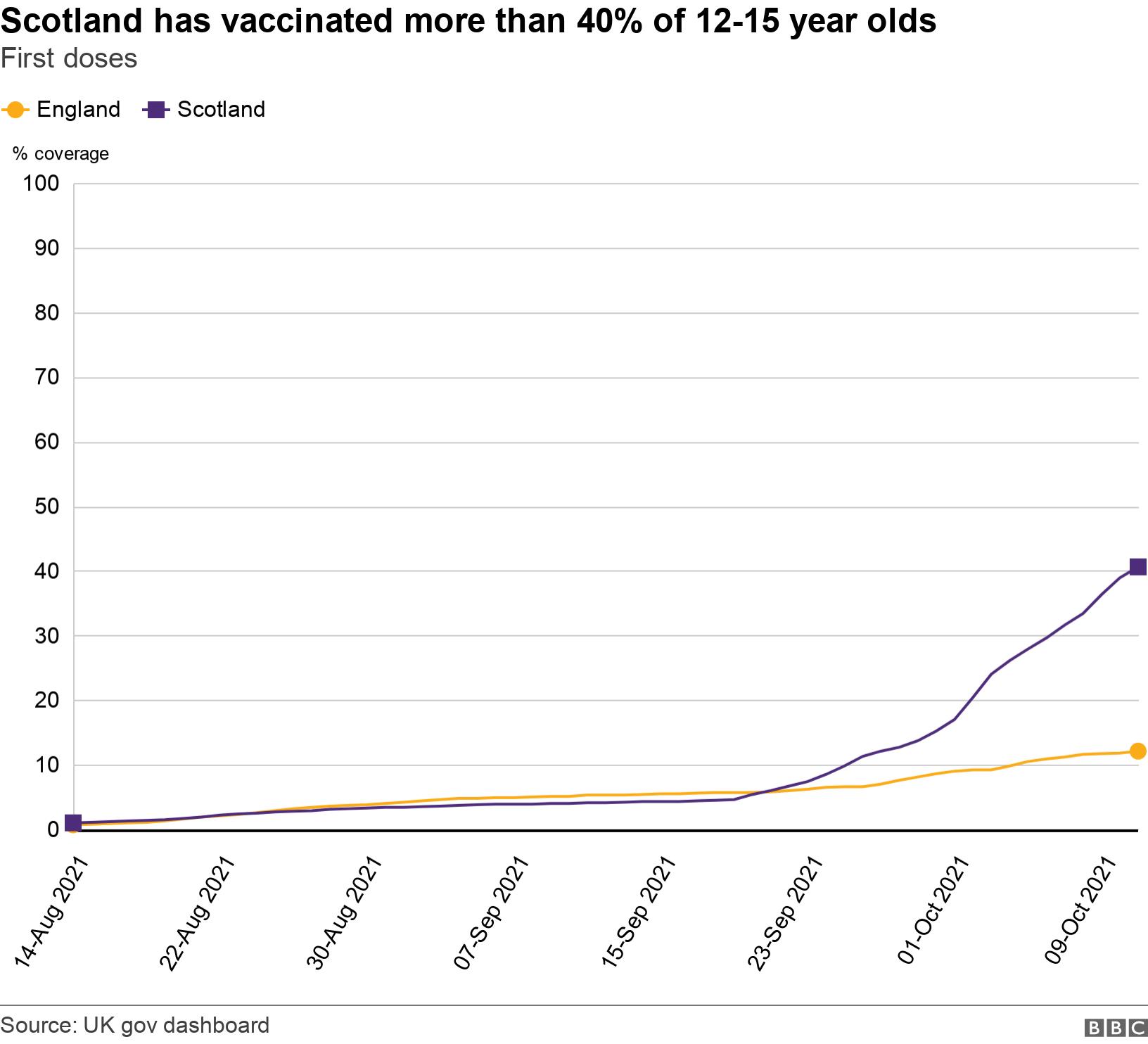 In the 16-17 age group, Scotland started from a lower base in August, but the initial pace of vaccination was steeper and has started to level off at a higher figure.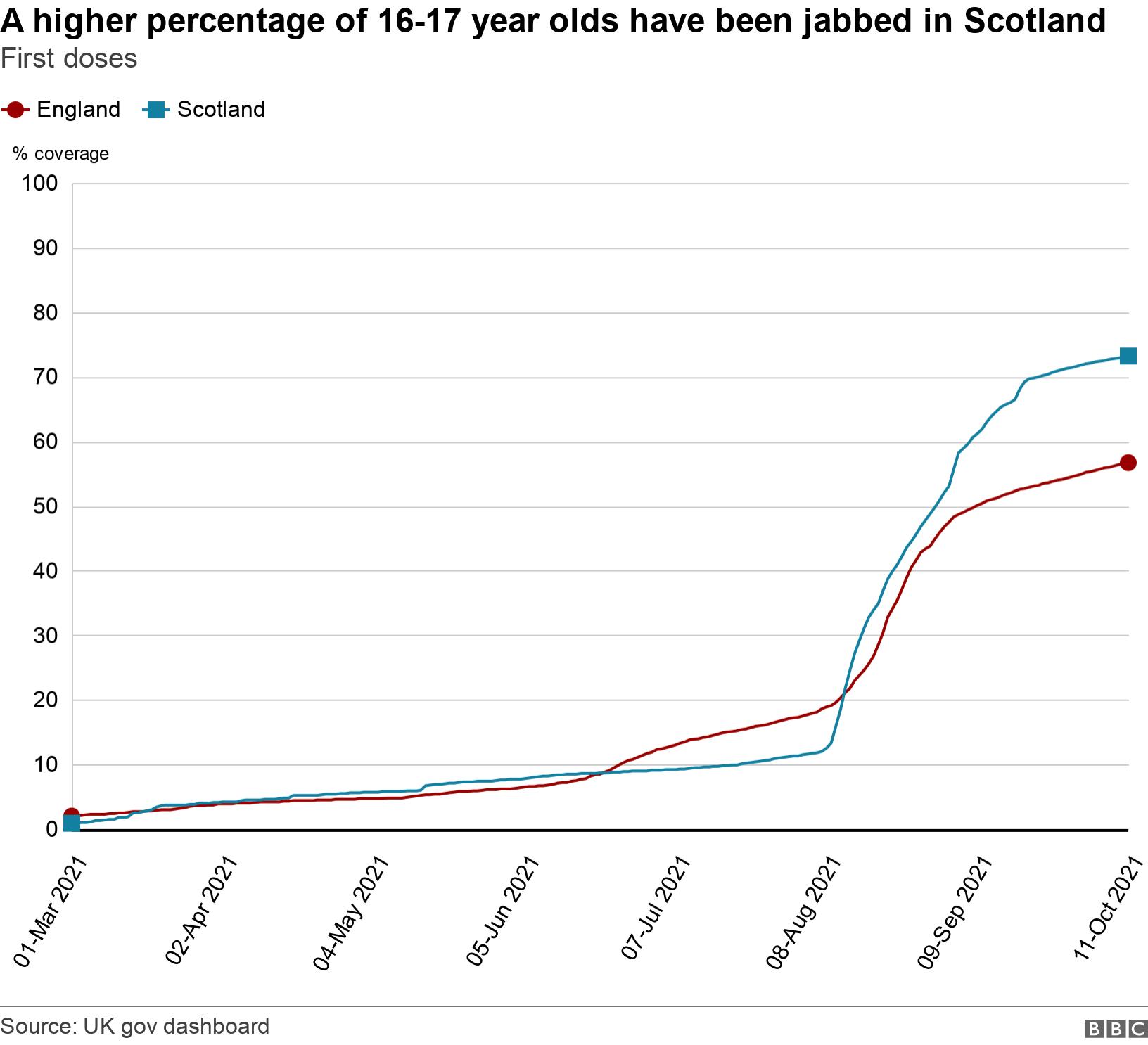 England and Scotland are following different strategies for the vaccination of school-age children.
England is vaccinating pupils in schools, whereas Scotland is mainly using drop-in centres (however, some rural areas are offering them in schools as well).
Colin Angus, a public health modeller at the University of Sheffield, said the Scottish strategy appeared to be "more effective" at getting jabs into arms quickly.
"We started very gradually vaccinating 12-15 year olds back in August and 20 September was when the government formally announced we were going to crack on and try and vaccinate as many as we possibly could," he said.
"The difference between what's happened since then in England and Scotland is really striking."
The Scottish government said it was "delighted" at the "excellent progress" that had been made in the 12 to 15-year-old age group.
"Anyone from this age group who hasn't yet been vaccinated can visit the NHS Inform website to find out more," a spokesperson added.
'Feeling safe' and 'protecting others'
Pupils who have recently received the vaccine spoke to BBC Scotland News about their experiences in both researching and receiving the vaccine.
Caitlyn, age 15, said she got the vaccine to protect her father.
"My father is immuno-suppressed so me and my sister decided to get the vaccine to protect him," she said. "Also my family are in the Netherlands so to be able to go and see them I need to be vaccinated.
"I didn't find out much about it - you hear things and people tell you things."
And 14-year-old Judyta told the BBC she felt "a bit dizzy" after getting the jag, but found the overall experience fine.
She said: "It wasn't very painful. I felt like it was going to be safer so I'd have less chance of catching it [Covid-19].
"We have been talking about it, most of my friends do want to get it. I didn't do much research, I just listened to other people and my parents recommended I get it."
Could the youngest age groups achieve 100% coverage?
The 16-17 year old age group doesn't appear to have plateaued yet, although the rate of new vaccinations has been slowing.
However, given the small size of the cohort, there's certainly a good chance this group could get very close to full vaccination coverage.
It's likely older teenagers will also have an eye on the vaccine passport situation, which will require proof of full vaccination before entry is allowed into certain venues and events.
There is some evidence that the announcement of the vaccine certificate scheme helped boost vaccination rates among 18-29 year olds for a period in September.
The rate of new vaccinations for 12-15 years has not yet started to tail off, but Mr Angus told BBC Scotland it was too early to tell if coverage would end up better in this group.
"If we follow the pattern, 12-15 year olds will level off at a lower level still but we can only hope," he said.
"Obviously it's a different group with different things going on - so we'll just have to wait and see."