Covid in Scotland: Vaccine passport app launch hit by problems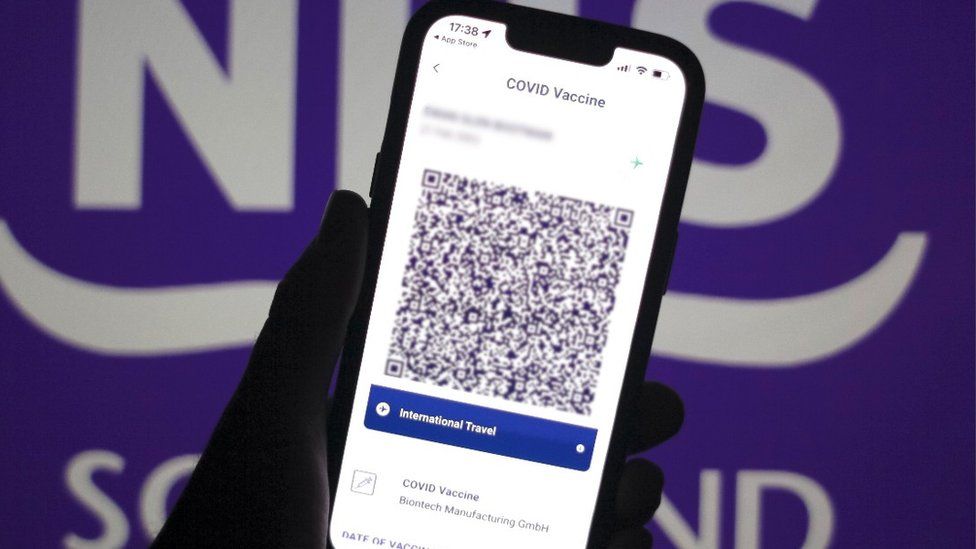 Major problems have been reported with Scotland's Covid vaccine passport app, just hours after its launch.
People now need proof they have had two doses of vaccine in order to enter nightclubs and many other large events.
But many people have said they were unable to access their vaccination status through the app.
The Scottish government said more than 70,000 people had downloaded the app on on Thursday, with a spokesman adding: "This huge demand did mean that some people experienced delays and we are sorry that happened.
"We have now increased the capacity of the NHS systems that sit behind the app - where most of the issues causing delays have occurred - in order to deal with demand and, as a result, we are seeing increasing numbers of people now able to access their records."
Anecdotal evidence on social media suggested that problems may have arisen when people tried to use their NHS CHI number to register.
This step comes after users are asked to take a picture of their passport or driving licence.
Scottish Conservative leader Douglas Ross said there should be an "indefinite delay" to the rollout of the new scheme to avoid a "weekend of chaos" at venues across the country.
He added: "Thousands of people will be at the football and going out to hospitality premises this weekend.
"This plan should really be scrapped altogether but, if the SNP insist on charging ahead, they must indefinitely delay the vaccine passport scheme until the most basic issues are ironed out."
People have been sharing their experiences of trying to download the new vaccine passport app.
Dean of the Faculty of Advocates, Roddy Dunlop QC, described the app as the "worst I have ever tried to use".
He wrote on Twitter: "I am not prone to hyperbole. I promise.
"And I instantly recognise that I was originally instructed to challenge the introduction of Covid passports and so am not neutral.
"But try the app. This is, literally, the worst app I have ever tried to use."
Another app user shared screenshots of his experience on Twitter during which he was told "no match found" followed by: "Something went wrong. We're working on it."
Others reported issues getting past the initial log in page, while a BBC Good Morning Scotland listener told the programme that he had tried twice to download the app without success.
He said: "I tried for a couple of hours last night but not joy and this morning I tried again and although I could get past the biometric part it would take me to end of the process and was still not working.
"It just isn't suitable for purpose at the moment, they should have known it was going to happen in the first place."
University of Edinburgh scientist Dr Christine Tait-Burkard said she was unable to get the app working, being told a match could not be found for her on the NHS database.
However, the academic told the programme that once up and running, the app will help "persuade some of the hesitant people [to get vaccinated] if the vaccine passport has consequences."
Mike Rhodes, of the IT firm ConsultMyApp, said he thought the servers being used for the app were being overloaded because of demand but this should have been anticipated.
He said: "It is highly likely that those developers that built the app shell also built the interface to the back-end servers that ended up failing.
"Secondly, this wasn't an unforeseen event - the developers absolutely knew this would be downloaded incredibly quickly and was likely to get hundreds of thousands of people attempting to register at the same time."
Mr Rhodes questioned why there was "so little time" between the app being launched and it being needed for entry into events.
The new rules came into effect at 05:00 on Friday - but the government announced earlier this week that they will not actually be enforced until 18 October.
Paul Banham, of Glasgow's Buff Club, told BBC Scotland's Lunchtime Live: "We'll be having a look at them over the next few weeks but we won't be refusing entry if someone doesn't have it - there's too many glitches at the moment.
"We've had a lot of students contact us and a lot of them are saying they have been vaccinated in other areas of the UK and that is not showing on their Covid status so there's a few gaps at the moment and hopefully they will be ironed out."
'Targeted and proportionate'
The Night Time Industries Association (NTIA), which represents nightclub, lost a legal bid to delay the rollout on Thursday.
It had argued that the new system was "discriminatory" and "disproportionate".
But judge Lord Burns ruled that the vaccine passports were "an attempt to address the legitimate issues identified in a balanced way", and was within the margin of what the government could decide was a reasonable response to the pandemic.
First Minister Nicola Sturgeon said the court judgement was "clear and emphatic".
She said: "This is a targeted and proportionate way to try and reduce the harm the virus will do over the winter months, to keep our economy open and fully functioning.
"We will continue to engage with businesses not just in the run-up to the enforcement of this on 18 October, we will do that afterwards as well so we are listening and understanding and working collectively to keep the country as safe as possible."
The vaccine certification scheme will require venues to put in place a "reasonable system" to check the status of customers over the age of 18, with certain exemptions on medical grounds.
Venues affected include nightclubs, unseated indoor events with more than 500 people, unseated outdoor events with more than 4,000 people, and any event with more than 10,000 people in attendance.
Northern Ireland has yet to announce a formal vaccination passport scheme.
The Scottish launch comes as latest figures show that a total of 4,189,701 people have received the coronavirus vaccine in Scotland, of which 3,837,689 people have received two doses.