Covid in Scotland: Denying 12-15s a vaccine is 'unethical', says union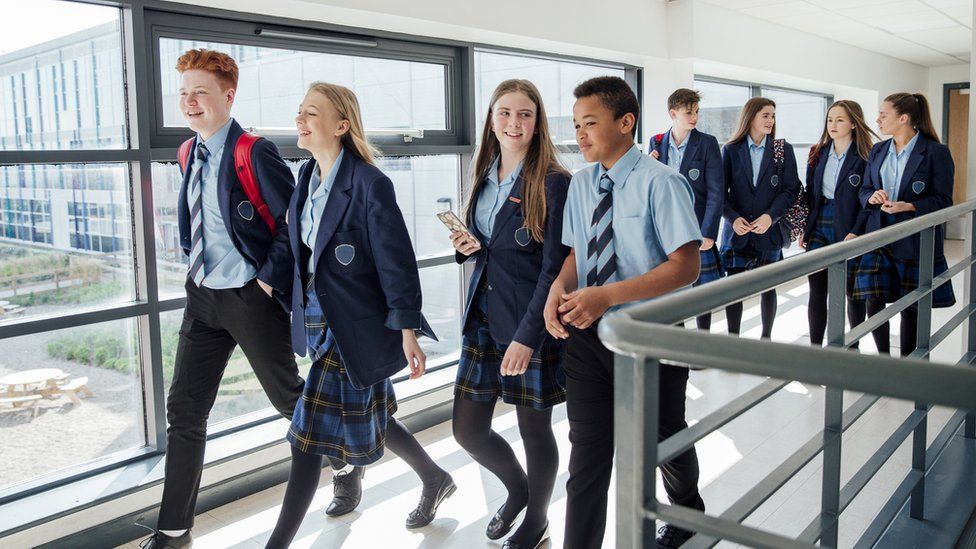 Scotland's biggest teaching union claims withholding Covid vaccines from 12-15-year-olds is "unethical".
Larry Flanagan, general secretary of the EIS union, made the statement after the Joint Committee on Vaccination and Immunisation (JCVI) stopped short of recommending jabs for young teenagers.
He said the situation in schools right now was "the most challenging" it had been during the pandemic.
He wants pupils to be given access to the immunisations in schools.
Instead, it put responsibility onto chief medical officers to consider the benefits of extending the rollout.
Mr Flanagan told the BBC the EIS backed extending the jabs programme to those aged 12-15.
He said: "We think that it is important in terms of sustaining education with minimal disruption.
"We think it would be unethical to withhold from healthy 12-15 year olds a vaccine that is available to the rest of the population. And particularly with the focus on the rights of the child we think it would be important that secondary pupils have the opportunity to have this vaccination."
'As challenging as it has been'
He said schools were at the centre of surging infection rates since they returned two weeks ago.
"It has been hugely disruptive," he said. "We have a record number of students who are infected, we have a record number of teachers and school staff who are absent because of Covid, and this is with the limited test and trace that is happening around the close contact arrangements.
"So the situation is probably as challenging as it has been and we are keen to keep schools open, we are keen to see young people in the classroom, so I think the vaccine would go a long way to actually ensuring that secondary schools at least are safer environments for all of those who are involved in the school community."
He also said that carrying out vaccinations in schools would make it as easy as possible for those who are entitled to a vaccine and want one, to access it.
Mr Flanagan's response came just a few hours after an NHS public health expert described the delay on a decision as "frustrating".
Jillian Evans, from NHS Grampian, said going ahead would help prevent transmission of the virus.
The board's head of health intelligence also said it would protect children from long Covid.
Speaking on BBC Radio's Good Morning Scotland programme, she said: "We know that the JCVI's decision is predominantly based on the individual benefits and risks to a child, and not considering some of the wider impacts, and that's what the chief medical officers will do.
"The thing about this is, it's frustrating because it just builds in further delay in a decision that we've already been pushing for, so it delays things a little bit further.
"Although I'm absolutely certain that there'll be a lot of activity going on right now and in the days ahead so we can get to a decision as quickly as possible."
She said that although the risk of long Covid in children was deemed to be small, much was still unknown about the illness.
Ms Evans added: "You might pick up this news and think the JCVI has said no.
"They haven't said no - what they've said is on the balance of marginal benefits of vaccination against the risk of severe disease we're saying no, but we're leaving it open for you to consider other wider considerations.
"So people might get confused by that."
Scotland is currently experiencing its highest level of infections since the pandemic began.
One in 75 people are believed to have had the Covid-19 virus last week, according to the latest figures from the Office for National Statistics (ONS).
This was a big increase from the previous week's estimate of one in every 140 people.
Scotland reported 6,711 new cases on Friday and 10 further deaths of people who had previously tested positive for the virus.
The reopening of schools is believed to have contributed to soaring figures.
It had been hoped vaccinating younger children would go ahead to help reduce disruption in schools and help keep infection rates down as winter approaches.
She told MSPs: "Vaccination may well be an important way of giving children greater protection, minimising any further disruption to schooling, and further reducing community transmission of the virus."
While the JCVI refused to give the go-ahead, it said wider issues could be considered, including the impact on education and protecting the whole population.
Up until now, the advice of JCVI with regard to which groups should get the Covid jab has been followed across the UK.
Chief medical officers (CMOs) from around the UK are now considering these impacts and will report in the coming days.
On Friday, Health Secretary Humza Yousaf said he had joined his counterparts around the four nations in order to ask for more advice.
He tweeted: "I thank JCVI for advice in relation to vaccinating 12-15yr olds.
"I have spoken to other Health Ministers across UK & we have asked our respective CMOs to rapidly explore wider educational & societal impacts in relation to vaccinating 12-15yr olds - as per JCVI's suggestion."
Scotland's national clinical director said there was "absolutely still a chance" that healthy children aged 12 to15 could get Covid-19 vaccines.
The JCVI's decision focused squarely on the benefits of vaccination to children themselves - not on how it helps other people.
That means there needs to be a clear and obvious advantage to giving them a jab.
Many countries have already started vaccinating all teenagers and 12-year-olds, including the US, France, Italy, Spain, The Netherlands and Ireland.