Covid in Scotland: More than 32,000 school pupils absent this week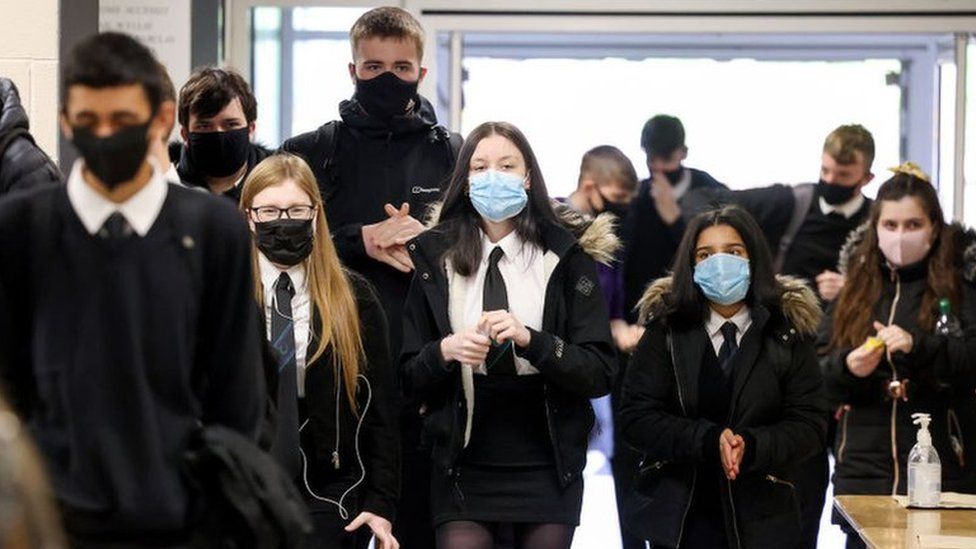 More than 32,000 pupils have been absent from school this week due to Covid-19.
The most up-to-date figures - for Tuesday - show that 6,471 pupils were not in school because they had the virus and 25,622 were self-isolating.
The number of pupils with Covid has gone up by almost 3,500 in a week, while those isolating have doubled from 12,636 the week before.
Whole classes no longer need to isolate following a positive case.
Due to the relaxation of the rules, many pupils are likely to be off school for just one or two days if their test is negative, rather than 10 days.
It was understood that more than 400 pupils did not attend the school, which has a pupil roll of 850.
Many of the pupils were thought to be isolating while awaiting PCR test results.
East Dunbartonshire Council said families had adopted a "cautious approach".
Under the new Scottish government rules, sitting next to someone in class is no longer a guarantee of being deemed a close contact.
The guidance says close contacts are likely to be parents and siblings, those who have stayed overnight, and those who have had "clear, prolonged contact".
A close contact will now only be formally notified by local public health teams.
If someone is deemed a close contact, they must isolate, book a PCR test and wait for the result. If the result is negative, they can return to school.
This can mean as little as one day away from lessons.
As was the case previously, someone with a positive result must remain at home for the full self-isolation period.
On Tuesday, Education Secretary Shirley-Anne Somerville said the new rules were based on analysis of data over the past year. She said it was a targeted approach which identified children and young people who were higher-risk close contacts.
Ms Somerville said the new approach reflected the changes in the public health impact of Covid achieved through high vaccination coverage, as well as "evidence about the risks of infection and transmission amongst children, young people and staff in schools, set against the educational harms that result from large numbers of children and young people self-isolating".
Scotland's Covid cases have been surging in the last week, with 6,400 new cases reported on Thursday and a further 17 deaths.
Case numbers doubled in a week and Deputy First Minister John Swinney said the rise was partly being fuelled by the return of schools after the summer holidays.