Scots to need vaccine passports for large events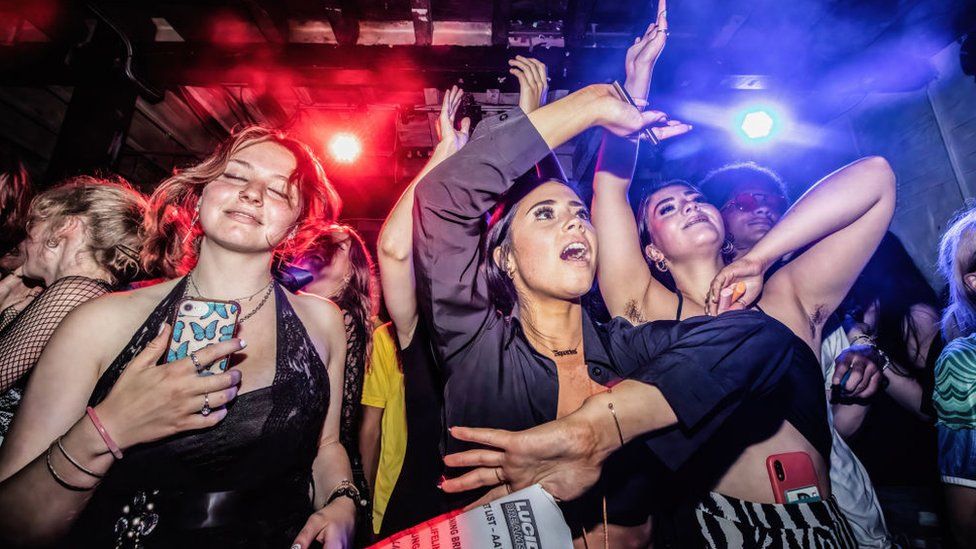 Vaccine passports are to be required for entry to nightclubs and many large events in Scotland from later this month, Nicola Sturgeon has said.
The plans will apply to indoor and outdoor events, and will need to be signed off by MSPs next week.
Ms Sturgeon said the move was needed to help stem the recent surge in the number of cases.
A further 6,107 people have tested positive, with the number of people in hospital doubling in the past 10 days.
And several areas of Scotland are among the regions with the highest rates of the virus in Europe.
The new vaccine certification rules mean people over the age of 18 will need to show they have had both doses of the vaccine before they are allowed entry to:
Nightclubs and adult entertainment venues.
Unseated indoor live events, with more than 500 people in the audience.
Unseated outdoor live events, with more than 4,000 people in the audience.
Any event, of any nature, which has more than 10,000 people in attendance.
The new rules will impact on many sporting events in Scotland - particularly football matches - as well as concerts and music festivals.
He added: "It's not clear what IT infrastructure will be in place, what time-scales clubs will be asked to work to, or what can be done for those without smart phones.
"And it's not clear if it's going to cut across terms and conditions of seasons tickets already bought by people across the land."
Ms Sturgeon said the hospitality industry as a whole would not be included in the certification scheme - although that decision would be kept under review.
And there are no plans to include key services or settings where people have no choice over attendance - such as shops, public transport, education and medical services.
Anyone who has good reasons for not getting fully vaccinated - including children and people with particular medical conditions - will be exempt.
People can already request a paper copy of their vaccination record to allow them to travel, and from Friday they will be provided with a QR code so they can download a copy of the record to keep on their phone.
A similar scheme will be introduced in England at the end of this month, with people needing to have a "Covid pass" to access "higher risk" settings such as nightclubs.
Several other European countries - including France, Italy and Ireland - have already introduced certification.
Scotland's health secretary, Humza Yousaf, said in July that he was "sceptical" about the case for vaccine passports, citing concerns that they "might increase the inequality gap, and there would be ethical issues".
The country's deputy first minister, John Swinney, also said he did not believe it was right to exclude people who do not want to be vaccinated after the UK government set out its plans to introduce passports in England.
In a statement at Holyrood, Ms Sturgeon told MSPs that the certification scheme was now needed to "help protect individuals and the country as a whole and reduce the risk of further restrictions being necessary".
The first minister added: "Many of the events and venues that are covered by the certification scheme are important - they matter to our economy, and to our cultural and social life.
"That's why we want to enable them to stay open safely - but they are not essential services.
"And the nature of them - which involves bringing many people together in relatively small areas - does mean that, despite their very best efforts, they can contribute significantly to the spread of the virus."
She also said it would be "grossly irresponsible" to rule out re-introducing further restrictions in the future.
The Scottish Greens are not keen on vaccine passports. The new minister for zero carbon buildings, active travel and tenants' rights, Patrick Harvie, has raised concerns about their introduction before.
In July he argued vaccine certification "would deepen discrimination against those who have not yet been vaccinated".
Today the party's health spokesperson, Gillian Mackay, said it was essential the Scottish government ensures the introduction of vaccine certification doesn't adversely affect disabled people, those with underlying health conditions and those from the global south who may not be able to access proof of vaccination.
But the Greens are now in government. Vaccine certification isn't specifically excluded in the co-operation agreement they signed with the SNP and so the Greens are bound by collective responsibility on this issue and will have to support it when it's put to the vote at Holyrood.
The first minister said it was a "significant move" and would need to be signed off by MSPs, with a debate and vote to take place next week.
However the SNP has a comfortable majority with the backing of the Scottish Greens - who have previously been opposed to the move - and the cooperation agreement between the two parties commits them to working together on Covid-related matters.
The Liberal Democrats were the only party to hit out directly against the plans following Ms Sturgeon's statement, with leader Alex Cole-Hamilton saying vaccine passports were akin to "medical ID cards", adding: "This is an illiberal step".
Scottish Conservative leader Douglas Ross said the Scottish government had "wasted months" that could have been spent making preparations, and was now "introducing vaccine passports at the last minute".
He added: "It's a striking u-turn from what John Swinney said last month, where he emphatically claimed vaccine passports were "the wrong way" to go.
"We need businesses to get in-depth guidance around these certificates as soon as possible. They should be involved in the process and the government needs to clarify whether they will be expected to police these new rules."
Scottish Labour leader Anas Sarwar said the virus was now out of control and Scotland - and claimed the government had no strategy to deal with it.
Case levels in Scotland are 80% higher now than they were last week, and five times higher than they were four weeks ago.
The number of people in hospital has more than doubled since 20 August, from 312 to 629.
Intensive care admissions have not risen as quickly, but have still gone up from 34 to 59 over the same timescale.
Meanwhile 4,108,804 people have had a first dose of vaccine, and 3,691,066 have had two.
That includes 95% of people over 40 who are now fully vaccinated, as well as 71% of 30 to 39-year-olds and 51% of 18 to 29-year-olds.
The Federation of Small Businesses said the many affected firms would not welcome the certificate scheme - but would accept it as an alternative to stricter restrictions.
But it said the system needed to be user-friendly for both businesses and the public, and warned against a "rush" to extend the scheme to other settings.
The Scottish Licensed Trade Association (SLTA) said the scheme was a "threat hanging over the whole of the hospitality industry", while the UK Hospitality Scotland said the move would "cause dismay amongst businesses" that had only recently been allowed to reopen.