Covid in Scotland: Warning over restrictions as cases hit new high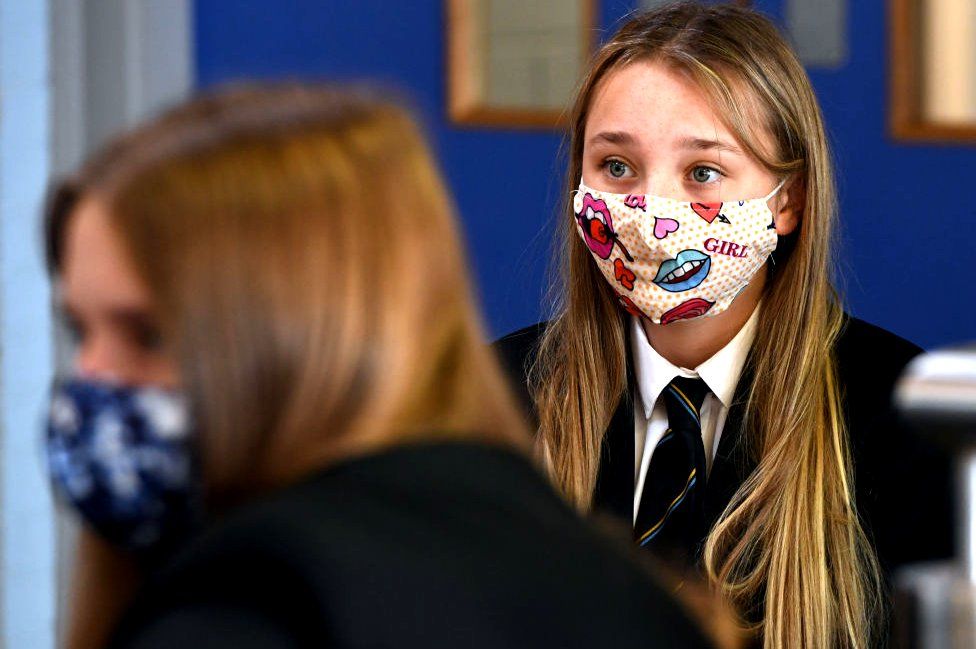 Nicola Sturgeon has said she cannot rule out the reintroduction of some Covid restrictions as the number of daily cases reached a record high.
The first minister said the country was at another "fragile and pivotal moment" in the pandemic.
She said she hopes not to have to reintroduce restrictions, and that if this happened they would be as limited and proportionate as possible.
A total of 4,323 new cases were reported on Tuesday.
The previous highest level was during the summer wave in early July, when the number of daily cases peaked at 4,234.
Ms Sturgeon told a Covid briefing that there had been a "sharp rise" in Covid-19 cases in recent days.
"New cases in Scotland have more than doubled over the past week, and that is one of the sharpest rises we have experienced at any point during the pandemic," she said.
She said the latest daily figure was the largest recorded in a single day - although more testing was now being carried out than in earlier stages of the pandemic.
The first minister said: "We always knew cases were likely to rise as restrictions eased, so to some extent what we are seeing now is not entirely unexpected.
"That said, the scale of the increase is still a cause of real concern."
Ms Sturgeon said it was a "fragile and pivotal" moment, adding: "If this surge continues and accelerates and we start to see evidence of substantial increase in serious illness, we cannot completely rule out having to reimpose some restrictions. We hope not to do that."
Ms Sturgeon said people could take steps such as getting vaccinated, sticking to the rules on face coverings, and being mindful of physical distancing, unnecessary contacts and ventilation.
The first minister said vaccination was "making a big difference" and that many of the new cases were in younger people, who were "less likely" to have had both doses of vaccine.
She said that about half of all new cases were in people under the age of 25 with 34% of Tuesday's tally in the under 19s.
An additional 10 deaths linked to Covid were reported, taking the total under the daily measure to 8,080.
The test positivity rate was 14.5%, up from 12.4% the previous day.
A total of 4,085,552 people have received the first dose of a Covid-19 vaccination, and 3,587,145 have had their second.
Most of the Covid restrictions in Scotland were lifted when the country moved beyond the level zero rules on 9 August.
Physical distancing rules and the limits on gatherings were removed, and all venues were allowed to reopen.
There were also changes to rules on self-isolation - but face coverings still need to be worn in many public spaces, including schools.
Is the first minister preparing us for the return of restrictions? Well, not necessarily.
Her now trademark cautious tone was there. She described the state of the pandemic as "fragile" and spoke about "real concern" over rising cases.
But Nicola Sturgeon was also keen to stress the impact of the vaccination programme on the number of people becoming seriously ill with the virus.
That will be a key barometer for ministers when it comes to the next steps. Further increases in cases could lead to greater pressure on the NHS - and the government may then have to act.
The door hasn't been closed on the reintroduction of Covid measures.
But today's briefing could be described as a warning shot about what might come further down the tracks, rather than laying the groundwork of an inevitable move backwards.
Scottish Conservative leader Douglas Ross said: "Nicola Sturgeon's lingering threat to impose more constraints on people's lives is unjustifiable, given the success of Scotland and the UK's vaccine scheme.
"The public want to move on but Nicola Sturgeon is unable or unwilling to give up the control she has had. Just a few weeks after most Covid rules have been dropped, she's talking of bringing them back. She seems determined to prolong restrictions, no matter the cost to jobs, our NHS or people's mental health."
He added: "This is a different phase of the pandemic, when NHS remobilisation and rebuilding Scotland's economy should be our top priorities."
Scottish Liberal Democrat leader Alex Cole-Hamilton said the rising case numbers were "troubling".
He said: "I think it is very telling that was not met with the introduction of further restrictions.
"It suggests we have moved to a different phase in Covid where we have accepted we have to live around it, and it will be a fact of life for the foreseeable future."