'Why I am giving up my home to climate activists'
By Harriet Bradshaw
BBC Scotland Climate Change reporter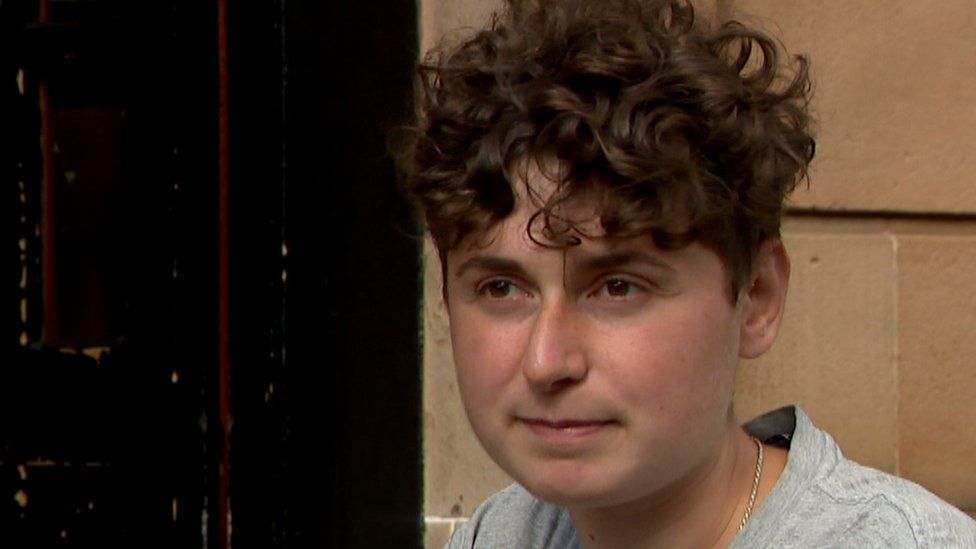 World leaders and delegates will have no problems staying in Glasgow during the COP26 summit, despite inflated prices, according to the UK government. But climate activists are having to look to a network of city residents to help them out.
Tami Pein is charging just £5 a night for the use of a spare room in her flat in the south of Glasgow. That is in contrast to hundreds of pounds for some similar properties, whose owners are looking to make extra cash from the city being the focus of the world for a fortnight at the start of November.
COP26, the United Nations climate change conference, is predicted to bring together tens of thousands of negotiators, government representatives, businesses and citizens from around the world in a bid to reach agreement on how tackle the emergency.
Tami, who describes herself as a "passionate community organiser and climate activist", says she feels like COP26 is the most important negotiation of her lifetime.
For her, it is important that people from around the world who are affected by climate change can afford to be represented in Glasgow.
"We really need to create an accessible and affordable city for these activists because they don't have the means to be able to afford such expensive hotels and B&Bs," she says.
Tami does not yet know who will be staying in her room but she will be using the Homestay Network, set up by the COP26 Coalition campaigners, which will allow her to chat with people who might need her spare room.
"I completely understand the concerns about welcoming in a stranger into your home but, for me, we have bigger fish to fry," she says. "We've got climate change to tackle here."
Martin Johnstone gave me a virtual tour around his third-floor tenement flat and the twin room that has been snapped up by two German activists - whose purse strings, like many younger people, are tighter than most.
"It is vital that those who come from the poorest countries in the world and those who represent the youngest people on our planet have a voice," he says.
"They couldn't afford to be here unless people were actually willing to open their homes to them."
"The cost of accommodation in the city for those two weeks of COP is astronomical if you are going to hotels or guest houses.," he says.
Organisers of the Homestay Network say guests and hosts are vetted and given guidance on how to stay Covid safe.
Mim Black, from the COP26 coalition, says: "People from poorer countries are totally being priced out of even being able to come to COP.
"This can't just be another jamboree for rich people from rich countries to come to another city and make decisions on the future of this planet."
The conversation about expensive rooms in the city mirrors a bigger issue that COP26 will have to deal with: inequality.
Rituraj Phukan is the founder of the Indigenous People's Climate Justice Forum.
He shows me a video taken last year, near where he grew up in the Assam region of India. It shows the devastation of flooding as villagers at Morigaon are marooned.
Assam is an early climate-impacted region, Rituraj says.
He says the Eastern Himalayas have warmed faster than most parts of the planet and the accelerated melting of glaciers has led to changes in rainfall patterns and increased the frequency and intensity of floods, particularly in the Brahmaputra valley.
"During my childhood, we used to have two waves of floods annually," he says. "Last year, we had nine waves in certain places."
He is concerned that further global heating will intensify floods, erosion and conflicts.
Rituraj wants to come to Glasgow to attend the events that will pop up around COP26 to raise awareness of what is happening in his country.
He wants to make contacts with people who may help and use the experience to empower his work back home as an environmentalist.
"For too long we have seen the negotiations happening without representation from people who are already suffering the consequences," he says.
"People's lives are changing, their culture's are being affected, biodiversity is being lost and these things are not even being documented.
"It is important that negotiators at COP26 somehow get to hear the stories of the global south."
Rituraj says his hopes of getting to Glasgow were not looking hopeful, given the prohibitive costs of accommodation. So the Homestay Network was "a blessing".
"When I come back I think it will give me more credibility and more power to continue my fight for action," he says.
A UK government spokesperson said: "As hosts of COP26, it is of huge importance to the UK there are a wide range of fairly-priced accommodation options available which suit the budgets of delegates attending from around the world. We have been working with our hotel provider, MCI, to make sure this is the case."
But as the Homestay Network is currently experiencing a shortage of hosts and a waiting list of guests, there's clearly a need for more cheaper options.