Sturgeon urges UK government to reassess Cambo oil field plan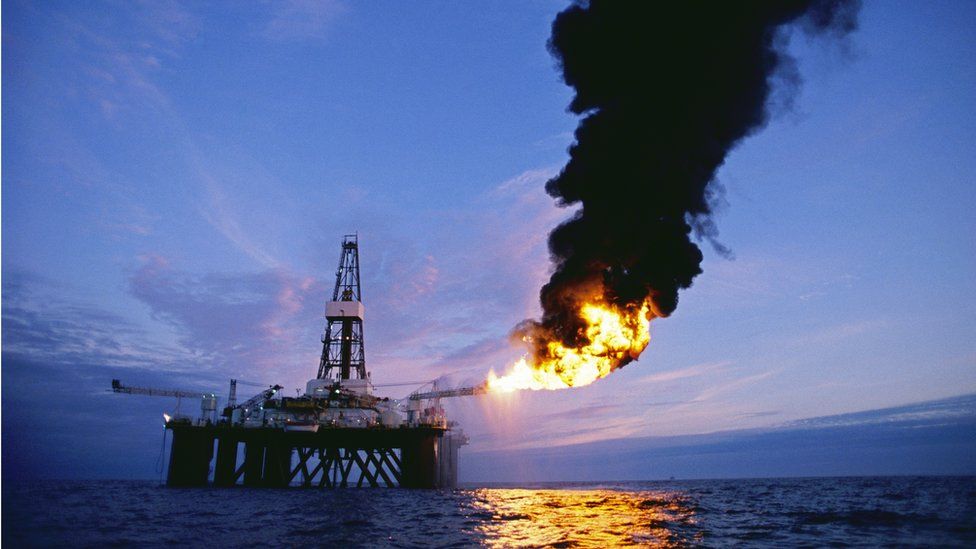 Nicola Sturgeon has written to the prime minister to urge him to reassess the development of a new North Atlantic oil field west of Shetland.
The first minister said proposals for the Cambo field should be re-examined over "the severity of the climate emergency".
The UK government wants to reduce the use of fossil fuels, but says there is still "ongoing demand" for oil and gas.
In her letter, Ms Sturgeon asked Boris Johnson to commit to "significantly enhancing the climate conditionality" associated with offshore oil and gas production.
She added: "I am also asking that the UK government agrees to reassess licences already issued but where field development has not yet commenced. That would include the proposed Cambo development.
"Such licences, some of them issued many years ago, should be reassessed in light of the severity of the climate emergency we now face, and against a compatibility checkpoint that is fully aligned with our climate change targets and obligations."
The first minister's intervention is her first on the issue.
Environmental groups have accused ministers of "hypocrisy" over the summit, after it emerged that the Cambo development could get the green light.
The oil field is situated approximately 125km (75 miles) to the west of Shetland in water depths of between 1,050m to 1,100m. It contains more than 800 million barrels of oil.
When asked about Cambo during a visit to Scotland last week, the prime minister told BBC Scotland that contracts should not be "ripped up".
But Mr Johnson added that "we need to transition as fast as we reasonably can" to renewable energy sources.
The UK government says the original exploration licence for Cambo dates back to 2001. This licence granted permission to search for oil and gas in the area.
There is then a lengthy process - involving field development plans, environmental statements and approval from relevant bodies - before production activity can begin.
If approved by the Oil and Gas Authority, drilling at Cambo could start as early as 2022. The field is expected to produce oil and gas for approximately 25 years.
Nicola Sturgeon has been sitting on the fence on Cambo and today she edged towards coming off it.
While her reassessment call is not a straightforward "no" to the new field, it does lean in that direction.
It is hard to imagine how Cambo and projects like it would pass "robust" new climate tests, as proposed by the first minister.
If that amounts to a "presumption against" new oil and gas extraction it would be a major policy shift.
It's not so long since the Scottish government endorsed plans to extract maximum remaining value from the North Sea and the SNP has championed the oil industry for decades.
But Nicola Sturgeon has stopped short of outright opposition because she knows that jobs, investments and energy security are also at stake.
Greenpeace UK branded Ms Sturgeon's letter a "PR exercise" and called on the first minister to make her "own stance clear".
Campaigner Sam Chetan-Walsh said: "The first minister must stop hiding behind Boris Johnson. If she wants to show leadership on climate she must clearly say, 'Stop Cambo'."
Scottish Labour net-zero spokeswoman Monica Lennon said the first minister had taken "a baby step" towards having a position.
She added: "Now is not the time to reassess. It's time for Nicola Sturgeon to firmly and loudly oppose Cambo, once and for all."
Scottish Green environment spokesman Mark Ruskell said: "It is welcome to see the Scottish government start to come off the fence when it comes to the Cambo oil field.
"But it is clear there are still far too many hopes pinned on the oil and gas industry to get us out of the climate emergency."
The Scottish Conservatives said the first minister was putting a "nationalist alliance with the Greens" ahead of the economy.
Scottish Conservative Net Zero spokesman Liam Kerr added: "The oil and gas sector supports over 100,000 Scottish jobs and the development of the Cambo field could create thousands more.
"It's a real shame the SNP government are too busy virtue signalling to work with the industry on the transition to renewables, as the UK government are doing."
Industry body Oil and Gas UK (OGUK) said the sector was "committed" to the Scottish and UK climate targets.
OGUK energy policy manager, Will Webster, added: "Regarding Cambo and other future oil and gas investments, it is already demonstrated in projections by government and independent agencies that these are compatible with net zero."
A UK government spokeswoman said it was supporting the oil and gas industry's transition to green energy by 2050.
She said: "Even though demand for fossil fuels is falling and we continue to break records on our use of renewable energy, the advice of the independent Climate Change Committee is that we will continue to need oil and gas in the coming years as it is still vital to the production of many everyday essentials like medicines.
"We have already ended support for fossil fuels overseas, and are already designing a climate compatibility checkpoint which will ensure any future licences will only be granted if they are aligned with the UK's climate change objectives."