Fort Augustus Abbey school was 'haven for paedophiles'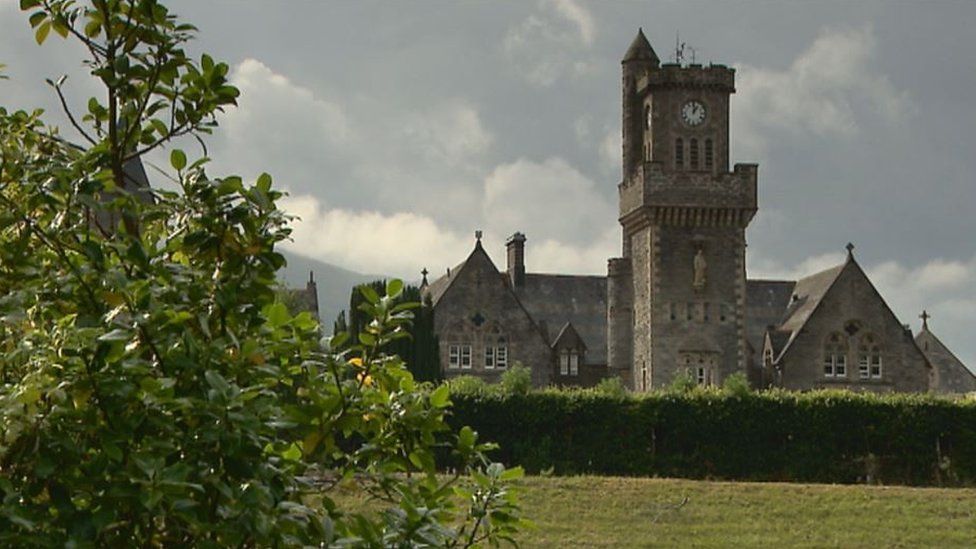 It said that sexual abuse by monks at Fort Augustus Abbey, which closed in 1993, was a "desecration of their vows".
The report came after the inquiry heard evidence of physical, emotional and sexual abuse over many years.
It praised the BBC for bringing the issue into the public domain.
It was a BBC Scotland documentary in 2013 that first raised the issues of abuse perpetrated by Benedictine monks in Scotland.
The inquiry report said a number of the former pupils who provided evidence spoke positively about their involvement with the "Sins of Our Fathers" documentary by Mark Daly.
In June of this year, one former monk at the school - Fr Denis "Chrysostom" Alexander, who is now 85 - admitted two charges of lewd, indecent and libidinous practices against two boys between 1973 and 1976.
Alexander, an Australian national, was first named as a paedophile by BBC Scotland in 2013.
One of his victims was Hugh Kennedy, now aged 58. He was in court and afterwards said his nightmare was "now finally over."
If any of the men who first told the BBC of the horrors of Fort Augustus and Carlekemp needed any vindication, then this surely is it.
After months of evidence, inquiry chairwoman Lady Smith has laid bare the evil carried out by monks who were supposed to be caring for young boys.
What they did behind the ancient stone walls of this monastery is aptly described by Lady Smith as a "desecration of their vows" as holy men.
They beat, bullied, raped and emotionally tortured children as young as five.
When producer Murdoch Rodgers and I started investigating this place in 2012 for our documentary Sins of our Fathers we could hardly believe what we were hearing.
Victims were carefully selected and groomed. The monks would use increasing levels of violence against the boys until they were nearly helpless - then the sexual abuse would start, coming almost as a relief against the constant beatings.
The boys would sometimes tell their parents, even their headmaster what was going on. But their pleas would fall on deaf ears and often result in more abuse.
Occasionally a monk would cross a line and need dealing with, but police were never called. The problem monk would just be shifted to another monastery or country, with no warnings given, sometimes to reoffend.
Some have called into question the validity of inquiries such as Lady Smith's. Perhaps they should read her report.
The Benedictines have apologised, and some monks have been convicted in criminal courts. But this falls well short of repairing the lasting damage caused to countless children, some of whom did not live to see the publication of this report.
The brave men who brought this issue to the fore do not crave vindication; but they deserve our respect and sincere gratitude.
The report also looked at Carlekemp Priory School in North Berwick, which was associated with Fort Augustus.
Lady Smith, who chairs the Scottish Child Abuse Inquiry, said: "Children were sexually abused at both schools. A number of monks were serial sexual predators and, because of the movement of monks between Fort Augustus and Carlekemp, they were able to target victims at both schools.
"Children were cruelly beaten by sadistic monks at both schools, and some beatings had sexual overtones. Children were humiliated and punished inappropriately and excessively.
"Some children complained to monks in positions of responsibility about being abused. They received either non-existent or inadequate responses."
Lady Smith said the children knew they would not be believed so refrained from complaining about abuse.
"Complaints made to devout Catholic parents were rejected because they would not accept it was possible that Catholic monks would abuse children," she said.
"The emotional scars caused by the trauma associated with sexual abuse, physical violence, and the denigration of children, were, for some, long-lasting and debilitating, blighting their adult lives."
Hearings in this part of the inquiry took place between 18 June 2019 and 1 October 2019, during which time it heard evidence from 43 witnesses.
A representative for the English Benedictine Congregation told the inquiry the religious order offered an "unreserved apology" to everyone affected by the abuse.
The congregation said it accepted that children had been "robbed" of their childhoods and the schools had caused lasting damage
Lady Smith added: "The monks were not trained to look after children on a residential basis. They lacked the capacity and ability to do so. The notion that untrained monks could care for school-aged children was seriously flawed."
Lady Smith will take these findings into account when she analyses all the evidence gathered by the inquiry and decides what recommendations to make in her final report.
Related Internet Links
The BBC is not responsible for the content of external sites.