Sea eagles at Loch Lomond for first time in 100 years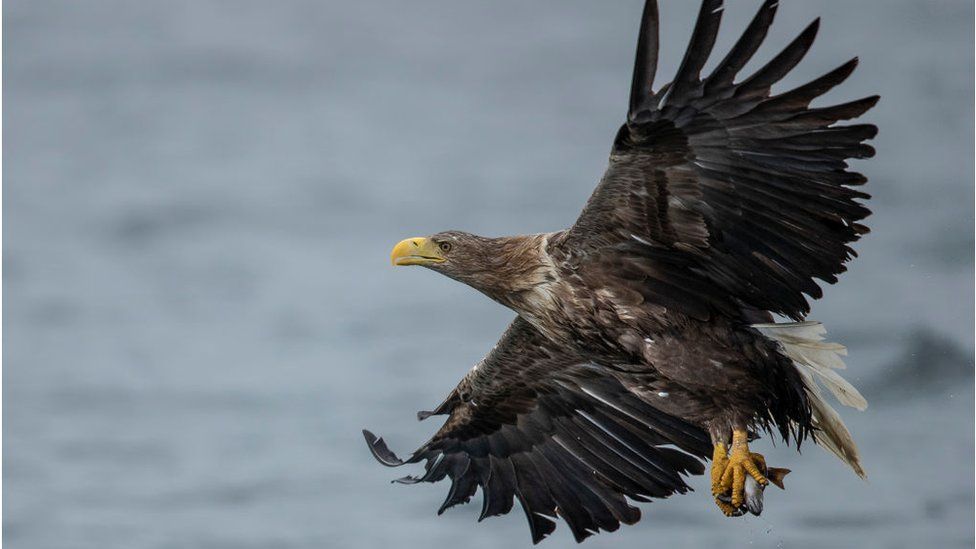 White-tailed eagles have appeared on Loch Lomond for the first time in more than 100 years.
A pair of the sea eagles, as they are more commonly known, were first spotted in early March.
The eagles, the UK's largest bird of prey, have since been observed searching for suitable nest sites, suggesting they intend to stay.
It is believed that this is the first time sea eagles have settled at Loch Lomond since the early 20th Century.
Persecution and habitat changes led to their extinction across the UK some time soon after 1918.
Their reintroduction to Scotland, first in the 1970s and again in the 1990s and early 2000s, has been a conservation success. There is now estimated to be more than 150 breeding pairs.
However, the appearance of a pair of sea eagles close to Scotland's busiest loch has led nature organisations to work together to protect them.
NatureScot, Loch Lomond and Trossachs National Park Authority and RSPB Scotland are monitoring the birds' behaviour and have put in place protection to ensure the birds are not disturbed by other loch users.
This includes an exclusion zone, signs asking visitors to keep their distance and monitoring of the area during regular Ranger patrols. Police Scotland are also aware of the presence of the sea eagles.
NatureScot's Paul Roberts told the BBC it was "fantastic news" that the sea eagles were back on the loch.
"Sea eagles were extinct throughout the whole of the UK 100 years ago and now here they are within 30 miles of the centre of Glasgow," he said.
Mr Roberts said the birds were "enormous".
"They have a 2.5-metre wingspan so they are like a flying barn door," he said.
He said the birds were protected by law but it was also important to put measures in place so they were not disturbed.
However, because of their size they can be seen from a distance, he said.
Mr Roberts said the loch area had been quieter than usual because of lockdown restrictions but it was now getting much busier and there was a far greater chance of disturbance.
He said Balmaha on the east side of the loch was a good place to spot the birds without disturbing them.
The natural prey of the sea eagles includes seabirds, fish, hare and geese and they are also known scavengers.
There have been no reported livestock predation issues related to the sea eagles at Loch Lomond. However, in some locations, sea eagles can impact farming and crofting by predating lambs.
NFU Scotland president Martin Kennedy said the arrival of the sea would be a big concern for sheep farmers in the area.
"Knowing about the serious impacts that territorial pairs of eagles have already had on some of the West Coast's farms and crofts, Loch Lomond farmers had hoped it would have been a few more years before they would start to nest in the Loch Lomond area.
"It will now be a case of watching and monitoring any impacts the birds may have on sheep flocks in the area and whether their numbers continue to grow."