Parents question fairness of Scottish exam assessments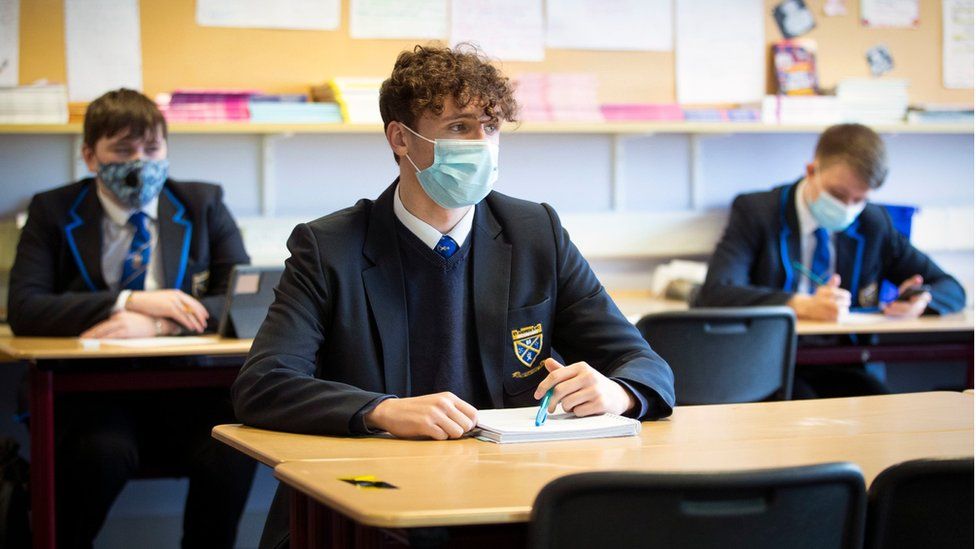 Scotland's largest independent parents group has challenged the fairness of the assessments which have replaced the Covid-hit exams diet.
Connect has warned schools are taking "different approaches" across the country due to the pandemic.
The Scottish Qualifications Authority said results will be based on "demonstrated attainment".
Connect, which represents almost 2,000 parent councils, said it had understood that the system to help decide grades, after formal exams were cancelled, would be a combination of course work and teacher judgement.
Instead the group says the process "simply mimics the very worst elements of the inequitable system it replaces".
In an open letter to the first minister and the SQA, Connect executive director Eileen Prior said young people are doing assessments which are, in effect, exams "within school time".
She warned pupils face "an even more challenging timetable than SQA exams" and, with no study leave, have been driven to "cram for tests rather than to learn".
Ms Prior said young people have been negatively impacted by factors outwith their control, such as having to self-isolate, and are suffering from social isolation.
She added: "We also understand that these tests, with answers, are being circulated on TikTok.
"How can there be any hope of this being a fair system, when indeed different schools are adopting different approaches?"
Connect also called for personal circumstances to be taken into account in the estimated grade from schools in light of the "exceptional times".
The letter continues: "It is through no fault of their own that young people have had to cope with an extremely difficult year, with interrupted learning, health and wellbeing impacts and challenging family circumstances for many."
Meanwhile, the group highlighted a parent/carer survey, conducted during the spring.
It found 56% of those responsible for S4-S6 pupils said their child was not doing enough school work and struggling with remote learning.
In addition, 80% had concerns about coursework and assessments for qualifications.
An SQA spokesman said: "We fully appreciate that this is a challenging time for learners across Scotland.
"There is no requirement to replicate a full formal exam or prelim diet this year and that results need to be based on demonstrated attainment by assessment in a flexible way to suit local circumstances.
"SQA has provided a flexible and consistent framework for schools and colleges this year, including detailed guidance, material and support, based on assessment standards that teachers and lecturers are familiar with."
The Scottish government acknowledged lockdown and remote learning means pupils are doing assessments over a shorter period than was anticipated.
A spokeswoman added: "To help address this, coursework has been reduced for most subjects and schools have been given flexibility around the timing and nature of assessments to ensure that, as far as possible, there is maximum opportunity for learners to undertake the required learning and to have the best chance to succeed.
"Teachers, who know their learners best, will use their professional judgement to judge demonstrated evidence of learning and skills and set provisional grades."
She also confirmed a "later certification" contingency plan has been agreed for pupils who have experienced severe disruption.
Related Internet Links
The BBC is not responsible for the content of external sites.