Fresh bid to capture emissions from Peterhead power station
By Kevin Keane
BBC Scotland's environment correspondent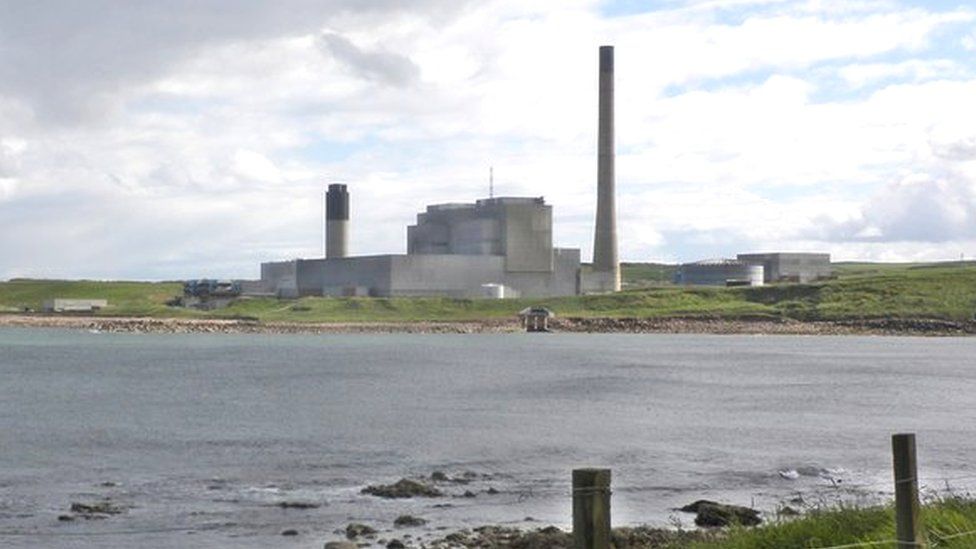 Carbon capture and storage technology will be installed at a rebuilt gas-fired power station at Peterhead by 2026, SSE Thermal has said.
The energy company has agreed a deal with Norwegian firm Equinor to capture 1.5m tonnes of carbon dioxide (CO2) annually and store it under the North Sea.
Peterhead is the last power station in Scotland to run off fossil fuels.
Some environmentalists have criticised the carbon capture technology.
They fear it gives big companies a licence to continue burning fossil fuels instead of phasing them out.
SSE has been attempting to install carbon capture technology at Peterhead power station since 2006 but no scheme has come to fruition so far.
Equinor is the Norwegian state-owned multinational energy firm.
SSE Thermal's managing director Stephen Wheeler said: "Through cutting-edge carbon capture technology, we can decarbonise this vital flexible power generation, as well as heavy industry and other hard-to-reach-sectors of the economy, which will be crucial in Scotland transitioning to a net zero future."
Carbon capture and storage takes CO2 emissions from industrial processes and turns them into liquid which can then be injected into rocks.
The technology is a vital part of the calculations made by government advisors on how our greenhouse gas emissions can be reduced to "net-zero" by 2045 in Scotland and 2050 for the whole UK.
But previous efforts to develop it have repeatedly failed.
An initial £500m venture with BP to create "the world's first CCS power plant" was scrapped after a year because of government delays over support.
A similar plan was revived in 2011 in a partnership with Shell which would have seen the CO2 sent to its Goldeneye field.
It was down to the final two - along with the White Rose scheme in North Yorkshire - of a UK government competition to stimulate investment in the technology worth £1bn.
But the competition was cancelled in 2015 after £100m had been spent on it.
Previous attempts to use the technology at the now closed Longannet coal-fired power station in Fife were also cancelled.
'CCS is not vital to meet net-zero'
Chris Stark, chief executive of the Climate Change Committee,said: "I think it's very likely to happen this time around and the reason for that is because ministers at UK and Scottish level have been very clear that they want to see carbon capture technology developed."
But Jess Cowell, from Friends of the Earth Scotland, said: "CCS is not vital to meet net-zero if we have the right policies in place to decarbonise.
"If we're going to pursue net-zero what we need to see is just a managed phase out of high polluting fossil fuels."