Scottish election 2021: Does Scotland's future lie in or out of the Union?
By James Cook
Chief News Correspondent for The Nine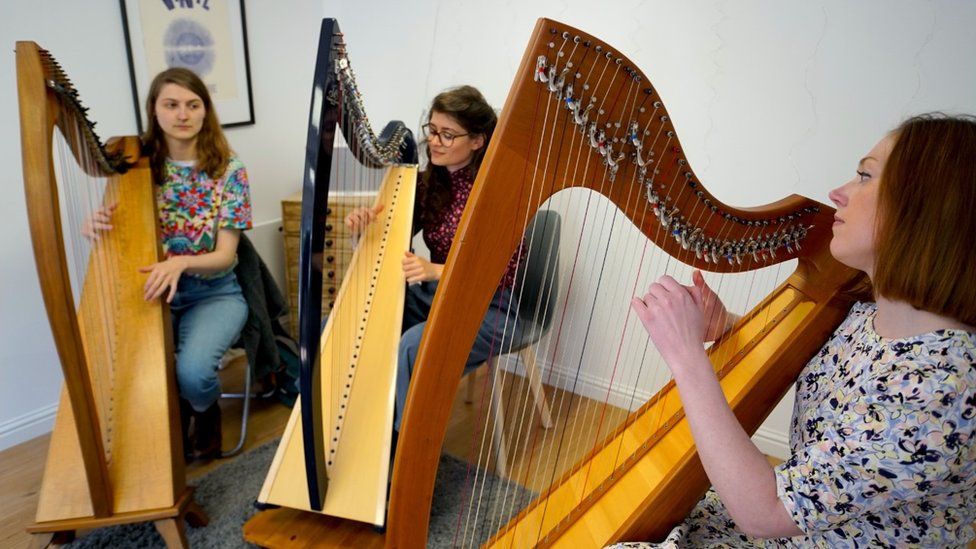 Sweet sounds are tripping down a potholed lane in Glasgow's wealthy west end.
It is the music of the clarsach, the old Gaelic harp, which ripples over the air and down the ages.
From Viking raids and Wars of Independence, to Union and Enlightenment, Empire and oil, Scotland has sung many songs.
Now, says Sophie Rocks, leader of clarsach group The Willow Trio who are rehearsing in a garage studio, it's time for a new tune.
She reckons the "divide between Scotland and England" is more prominent now than when she, and a majority of her fellow Scots, opposed independence in 2014.
First she points to the contrasting styles during the pandemic of first minister and SNP leader Nicola Sturgeon and prime minister and Conservative Party leader Boris Johnson.
Then, Sophie adds, there is Brexit, which has left the UK "isolating itself from a greater community" while Scotland retains "a sense of a collective that makes the 'we' more important than the 'I'."
There is no doubt that the UK's 2016 vote to leave the European Union despite the opposition of 62% of voters in Scotland has breathed new life into the old constitutional debate.
What are the parties promising you?
Use our concise manifesto guide to compare where the parties stand on key issues like Covid-19, independence and the environment.
Opinion polls suggest support for independence rose above 50% to its highest ever level last year.
It has since fallen back somewhat but there are clearly underlying reasons why so many voters still want to leave the UK.
Many nationalists say Brexit is just one example of a "democratic deficit" — in the 11 general elections since the Conservative Margaret Thatcher became prime minister in 1979, Scotland has returned a majority of MPs from the party which formed or led a government on just three occasions.
Sophie's fellow musician Sam MacAdam did vote Yes in 2014 and says she still supports the concept although she is now more cynical about politics.
"We were promised," says Sam "that if we remained in the union, we would stay in the EU, we would get 'devo max' [expanded powers for the Scottish Parliament] and yet the next day they stood up in Westminster and said "English votes for English laws" and started this very anti-Scottish campaign."
Still, the pandemic and Ms Sturgeon's daily briefings during it have highlighted the extent to which power over domestic affairs such as health and education has shifted from London to Edinburgh since the establishment of a devolved parliament and executive in the Scottish capital in 1999.
Observers have also noted a decline in a general sense of "Britishness" in Scotland, fading along with memories of the unifying experiences of running and supplying an Empire and fighting for survival in the Second World War.
In the place once known as the Second City of the Empire, Oona Miller, who works for a charity which aims to widen access to education, dismisses the idea that national identity should matter in the constitutional debate of 2021.
"It just doesn't feel like a driving factor for me," she tells me in the back garden of her home in Glasgow.
Oona describes Brexit, which she opposed, as "utterly devastating," arguing that it has led to political instability and serious economic problems.
But, she says, she can't understand how anyone could look at that "instability" and decide the solution is to leave another "more entrenched, more complicated union".
"My core concern," she adds, "is that we will be subjected to a decade or more of austerity and recession," if Scotland leaves the UK.
Her view is supported by the Institute for Fiscal Studies which published a report last week predicting that an independent Scotland would need to bring down its deficit with "some combination of tax rises or spending cuts" in the absence of a "probably unlikely" rapid increase in economic growth, a warning rejected by Ms Sturgeon who says the SNP will publish updated economic projections closer to a referendum.
"I care about education inequality," says Oona. "I care about poverty. I care about disability rights. I care about a lot of things and I feel like we don't really get to talk about them because we've spent seven years talking about a constitutional issue that I wish we could move on from."
Some independence supporters have related concerns. For example, before casting a second vote in favour of independence Sam MacAdam says she wants to know more about the terms on which an independent Scotland would be able to trade with the EU and the rest of the UK.
But will there even be a referendum?
Last time both sides accepted both that the SNP's majority victory in the Holyrood election of 2011 was a valid trigger for one and that it needed the consent of the UK Parliament.
The timing, question and franchise were negotiated by the Conservative/Liberal Democrat coalition and the SNP Scottish government in a deal called the Edinburgh Agreement which was signed on 15 October 2012.
Now though the stated policy of Mr Johnson's government is to refuse to hold another referendum even if voters again send a majority of pro-independence MSPs to Holyrood.
The Scottish Conservative Party leader Douglas Ross has said any attempt by the Scottish government to hold its own referendum would be "illegal" although his party appeared to muddy the waters earlier this week by tweeting "An SNP majority is a guarantee of another independence referendum."
Denying Scotland a referendum would be extraordinary, argues Professor Ciaran Martin of the Blavatnik School of Government at Oxford University, who, a decade ago, was the senior UK civil servant responsible for the Edinburgh Agreement.
"In effect, it would change the union from one based on consent, to one based on the force of law...the most profound transformation in the internal governance of the United Kingdom since most of Ireland left almost exactly a century ago," said Prof Martin in a lecture last month.
All three members of The Willow Tree, say they would prefer a referendum to take place in a negotiated manner, partly to ensure that any vote for independence would be accepted by the international community, a necessity, argues the Institute for Government think tank, for Scotland to be able to rejoin the European Union.
Polls suggest most people in Scotland do want to return to the European fold but in the fishing communities of the North East Euro-scepticism remains alive and well.
In Fraserburgh, John Stephen, skipper of the white fish trawler "Sunrise" is disappointed by Brexit but even more concerned about recovering from the pandemic.
"A sea of opportunity ended up being the tide half in," he says of promises that Scottish fishermen would thrive after leaving the EU and its Common Fisheries Policy, "but if you're asking me, 'would I like for Scotland to be independent and go back to Europe?' I think that would be the final nail in the coffin for the fishing fleet."
"Instead of harping on about another independence referendum," he adds, "how about we get the country back up and running?"
Louise Leach agrees. She is a sales designer for a company that supplies fitted wardrobes and other furniture based in Edinburgh but working throughout central Scotland.
She insists the 2014 referendum was a once-in-a lifetime vote during which "the whole country was set up against each other. Many families were destroyed, fighting."
"The independence voice is very loud," adds Louise. "It can be very mob-like. If you are not of the independence movement, you are often vilified and isolated.
"I lived through the miners' strike in Fife and I thought things couldn't get any more vitriolic than that and I was wrong."
SCOTLAND'S ELECTION: THE BASICS
What's happening? On 6 May, people across Scotland will vote to elect 129 Members of the Scottish Parliament (MSPs). The party that wins the most seats will form the government. Find out more here.
What powers do they have? MSPs pass laws on aspects of life in Scotland such as health, education and transport - and have some powers over tax and welfare benefits.
Marjory Smith, a legal secretary in Nairn and former SNP member who has now resigned and switched her support to Alex Salmond's Alba Party, rolls her eyes when I tell her about Louise's concerns.
"Well, I just think that's ridiculous because they won the last time. And who was rioting in George Square? It was all the people with the Union Jacks," she says.
Marjory says she is not going to sit around waiting for a Tory prime minister to tell her when she can vote again on the future of her country. Nor does she have confidence in Ms Sturgeon's leadership of the SNP.
"I don't think she has confidence in her own ability to deliver independence," she says, "I think she's frightened of it.
"I just don't think she's got the substance, the strength, the vision and the guts to actually go for it."
Marjory is supportive of Alex Salmond's Alba Party which she believes is more willing to "have a go".
Her fall-out with the SNP is not just about the strategy for independence, it's linked to the issue of gender which she says is tearing the party apart.
In 2019 Marjory was reported to SNP headquarters for alleged "transphobic" and "hateful" remarks although she insists the comments were taken out of context and defends them as a legitimate expression of women's rights in the face of what she claims was aggressive provocation.
Marjory would rather the SNP focused solely on independence but she does not think another referendum is necessary for Scotland to leave the UK.
Rather if there is a pro-independence majority after the election, she says, Scotland should just start negotiating with Westminster to secede.
And if Westminster simply says no and refuses to engage?
"Well, tough," says Marjory, "because Scotland's people have just said yes. Is the UK government a dictatorship, that's just going to keep Scotland locked up in the basement and just try and impose its will on us? That's not acceptable."
Seven years after the referendum the political landscape has been transformed.
The independence movement has fractured with two of its leading figures at odds.
Brexit has driven up support for independence while also complicating calculations about its economics.
The pandemic has shone a light on political decisions in Edinburgh and London while also throwing the public finances into turmoil.
The future of Scotland, and the future of the United Kingdom, remains messy, uncertain and divisive.