Covid: Encouraging first week for retail and hospitality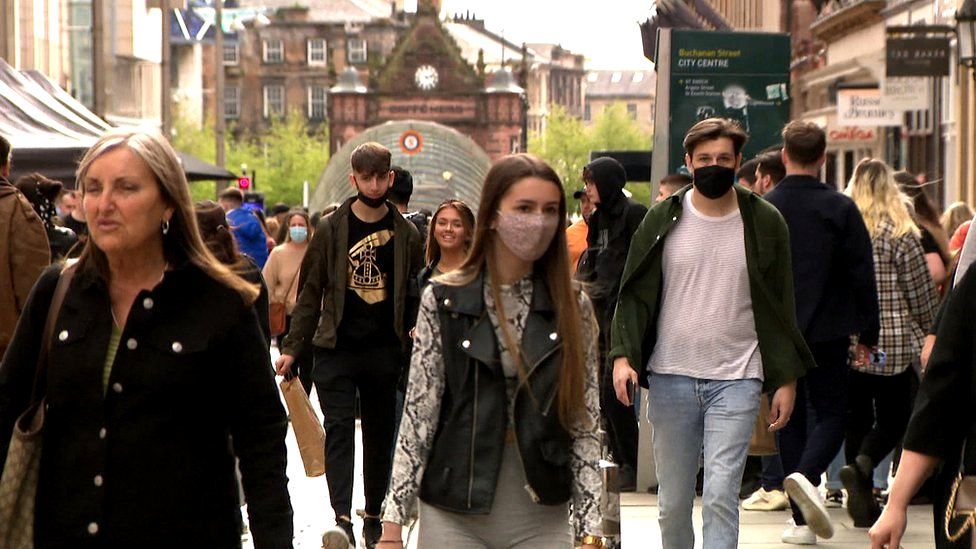 Scotland's retail body has hailed the first week of reopening a success after a four-month-long winter lockdown.
The Scottish Retail Consortium (SRC) said Scotland had performed better than stores in England and Wales after opening the doors on Monday.
Last Monday saw the return of non-essential shops, gyms and limited hospitality in Scotland, two weeks after England.
However, businesses still want clarity on when restrictions will ease further.
Shoppers queued from early morning when retailers opened up on Monday.
But the big test was how shops and bars would fare over the bank holiday weekend.
Ewan Macdonald-Russell from the SRC said it was good news.
"Shops bars and restaurants have had a good week," he said. "It's been a positive start for Scotland and figures have been better than England and Wales. It was up 167% on the week before and nearly in line with what we'd have expected to have seen in 2019 before the pandemic started.
"So, really positive that customers have come out and we hope sales will reflect that."
He said shops would be hoping this trend would continue in the coming weeks.
He added: "What we've seen in England and Wales is an initial pent-up demand for things customers haven't been able to buy. But then that seems to fall away. That would be really concerning after a difficult year."
Shops and bars have been shut for 122 days since they closed for lockdown on Boxing Day.
Natalie MacCallum is manager of Sloans bar in Glasgow city centre.
The venue's outdoor space was buzzing with activity on Saturday.
She told BBC Scotland that within six minutes of its online booking system going live, it had thousands of bookings.
She said: "It's been amazing. We didn't know what to expect at all. It has been really busy and the weather in Scotland has not put people off either - they've been coming out.
"The staff have adapted so quickly after being off for so long. I think it's been one of our best weeks ever."
She did say there were concerns about making the social distancing rules work and she had wondered if people would want to be indoors at all.
She said operating in the conditions was difficult.
"Hospitality has been battered over the course of the pandemic so we had no idea what to expect when bookings went live, but we have been very lucky. The customers have been just so happy to see us open. "
But, she added: "What would help us more is a lot of the restrictions being lifted."
The Scottish government said restrictions could be eased as the most vulnerable people had been offered their first vaccine dose.
But strict distancing measures are still in place, and bars cannot sell alcohol inside.
Mr Macdonald-Russell said the current measures presented a challenge.
"We have incredibly strict measures to keep people safe in shops - 2m distancing and queueing and a whole plethora of other measures. That's fine now, but we don't understand how long these are going to continue.
"Are there going to be any changes in the future? It is very hard to run a shop under these conditions and certainly to make it profitable."
Shops are not the only ones concerned about continued Covid measures.
Night Time Industries Association (NTIA) Scotland announced a bid to end limits on venue capacity and opening hours.
It said the curbs were "no longer justifiable or proportionate".
The Scottish government said it wanted to get back to normal "as soon as it is safely possible" but it had to move carefully to "ensure continued suppression of the virus".
In a statement, it said: "The Strategic Framework Business Fund provided grants to businesses that were required to close by law or to significantly change their operation due to Covid-19 restrictions from November 2020.
"Nightclubs were eligible and will have now received restart grants of up to £19,500, equivalent to more than six months support provided by SFBF every four weeks."
It said it was also extending rates relief for hospitality businesses and highlighted that one-off grants of up to £50,000 were available for nightclubs in October from the Covid-19 Contingency Fund.