Covid in Scotland: Cross-border travel allowed from Monday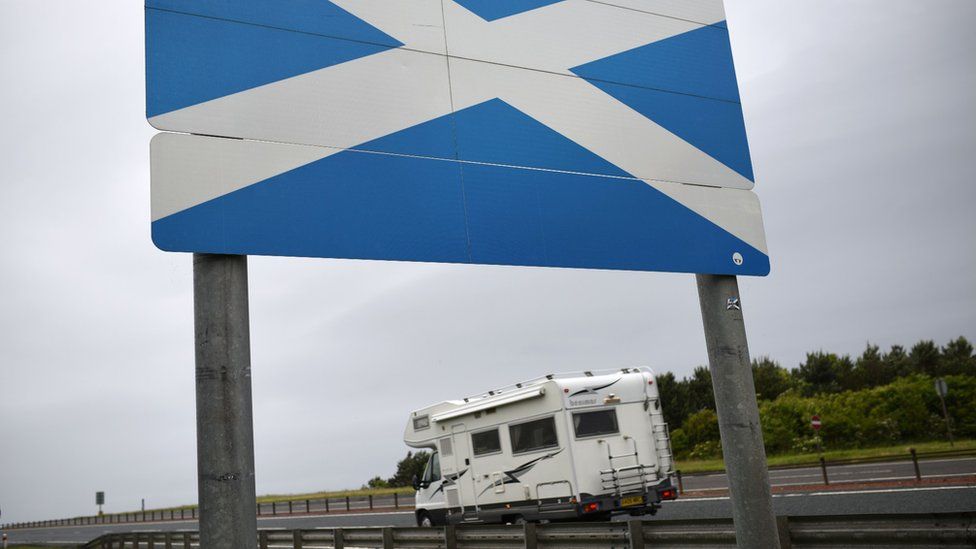 Travel around Britain will be allowed from Monday after the Scottish government announced the lifting of restrictions on cross-border journeys.
First Minister Nicola Sturgeon said the ban on non-essential travel to England and Wales would end on 26 April.
"From Monday you can travel anywhere across Britain for any purpose," she told a coronavirus briefing.
Restrictions on travel to Northern Ireland, the Channel Islands and the Isle of Man will also be lifted.
However, people are urged to check the rules on entry before travelling.
Most travel restrictions within Scotland were lifted last Friday.
Lateral flow tests will be available to anyone in Scotland from Monday, and anyone travelling to the islands is being urged to take two tests before their journey.
One should be taken three days before departure, and one on the day. If a positive result is returned from the initial test, people are encouraged to take a more sensitive PCR test before making a final decision on whether to cancel their visit.
"This is potentially an important way we can minimise the risk of bringing Covid into island communities, while nevertheless allowing our island communities the benefit of opening up again to visitors," said Ms Sturgeon.
The lifting of travel restrictions with the rest of the UK will also take effect from Monday.
National clinical director Prof Jason Leitch said people should not be crossing borders to do things that they could not do in their own country.
"People from Cumbria should not come to the indoor hospitality in Dumfries, and people shouldn't go the other way to do stuff that they cannot do (in Scotland)," he said.
"But of course they should do it to visit family outdoors in their gardens, because that has not been possible."
The Scottish government also stressed that international travel for non-essential purposes was still not permitted.
Ms Sturgeon said this was "difficult" for the aviation and tourism sector, and for those with family overseas.
"We want to restore normality on international travel as quickly as possible," she said.
"But we must be sensible in light of the risks we face. We are continuing to work with the UK government to agree a common approach to international travel after 17 May."
From Friday anyone travelling to Scotland from India must quarantine for 10 days in managed accommodation in the place where they first arrived back in the UK.
Meanwhile, train operator ScotRail said ticket checks would resume on its services from Monday.