Covid in Scotland: New draft hospitality guidance a 'bombshell'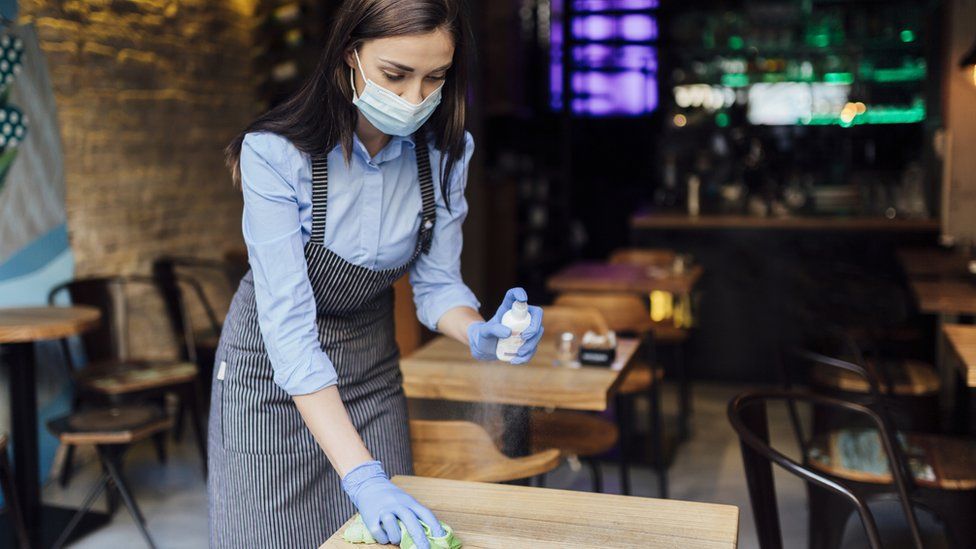 A Scottish restaurant owner has described new draft hospitality Covid guidance as a "bombshell".
The sector had expected that 1m (3ft) social distancing would apply between tables when it reopens next Monday.
But the new proposals state people from different households will now have to observe social distancing at tables.
The government said it had worked with industry and unions to ensure its guidance was "evidence-based, fair and ethical, clear and realistic".
When Scotland moves to level three next Monday the hospitality sector will be able to sell alcohol outdoors to a maximum group of six people from six households.
The sale of alcohol indoors will not be permitted, however, a maximum of six people from two households will be able to meet indoors and premises will close at 20:00.  
Carina Contini, co-owner of Cantini restaurants in Edinburgh, said she was feeling "really optimistic" until the new guidance was published at 18:00 on Friday.
She told BBC Radio's Good Morning Scotland programme: "They have thrown us an absolute bombshell, an absolutely impossibility in terms of reopening.
"The bookings that we have already got we will have to phone up and say 'I'm sorry we can't honour your booking because we can't host this level of capacity'."
Ms Contini said she would also have to let down suppliers and her staff.
She added: "It is absolutely going to be crippling for the sector."
She said the rules were completely impractical.
"If I was catering for six people at a table, I would have to have a table that is 3.5m (11ft) long," she said.
"There is not a restaurant supplier in the country that makes tables that are 3.5m long.
"Elderly couples who may be hard of hearing are going to have to FaceTime themselves over lunch because the distance is so far away."
Ms Contini also criticised the short notice, ahead of the sector's planned reopening next Monday, and urged the Scottish government to reconsider.
She added: "These regulations are now more harmful, more dangerous to our business than Covid itself."
Linda Bauld, professor of public health at the University of Edinburgh, emphasised that the guidance was draft.
She told Good Morning Scotland: "It is extremely important that the sector have the opportunity to comment, to express their concerns and to see what is feasible for them.
"I imagine the reason the 1m requirement between different household members is in place is to provide additional protection but the government has to balance up additional harms at the moment."
Meanwhile, the Night Time Industries Association (NTIA) has warned of an "impending unemployment tsunami" and said a majority of businesses had run out of money to pay furlough contributions and fixed costs.
It also highlighted a recent survey of its members which found the average Covid-related debt was £150,000 or more per premises.
'Crippling financial losses'
NTIA spokesman Gavin Stevenson said: "Many of our members have been closed for over a year now, and virtually all have suffered crippling financial losses.
"In short, the money going out every month has been far greater than the money coming in, and government support has typically covered less than a quarter of this deficit."
"To add insult to injury government support has now ended while there is no end date to forced closure and other restrictions."
He called on the Scottish government to provide "substantial and immediate" additional support for as long as businesses remain closed and operate under "unviable" restrictions.
Alternatively, he said his members needed a "clear route map" with target dates for the end of all legal restrictions on capacity, activity and opening hours.
The Scottish government said the draft guidance "may be amended subject to comments received to take into account engagement with stakeholders."
A spokesman added: "The requirement to physical distance has been established for some time and businesses are already following existing sectoral advice on this. The draft guidance builds on that but does not introduce significant change."
He added that it would help businesses due to open next week do so "as safely as possible" and provided guidance on how business owners could calculate maximum capacity on their premises.
And they warned that waiting two weeks before reopening would come at a cost to Scotland's economy of £20m.
South of the border people can now visit bars and restaurants outdoors but must either follow the rule of six, or be in a group of any size with no more than two households present. Tables must be socially distanced.
The First Minister is set to confirm what she's been signalling for some time - hospitality will re-open in Scotland next Monday, April 26.
There will be restrictions on the industry, and one measure that many owners find frustrating is one metre social distancing.
This is the same rule that was in place last year. It means there should be one metre between any customers who are not part of the same household, even if they are at the same table.
It's not hard to work out why this isn't popular with some industry figures - social distancing (even at one metre) means fewer customers can fit in.
But the virus is still circulating, and measures like this are designed to lower transmission risk.
Other changes scheduled for April 26 should go ahead as planned. Gyms and shops will re-open, and travel between Scotland, England and Wales should be possible. But it's unlikely further changes will be accelerated.
Related Internet Links
The BBC is not responsible for the content of external sites.