The full picture of Covid-linked deaths in Scotland's care homes
By Andrew Picken & Marc Ellison
BBC Scotland News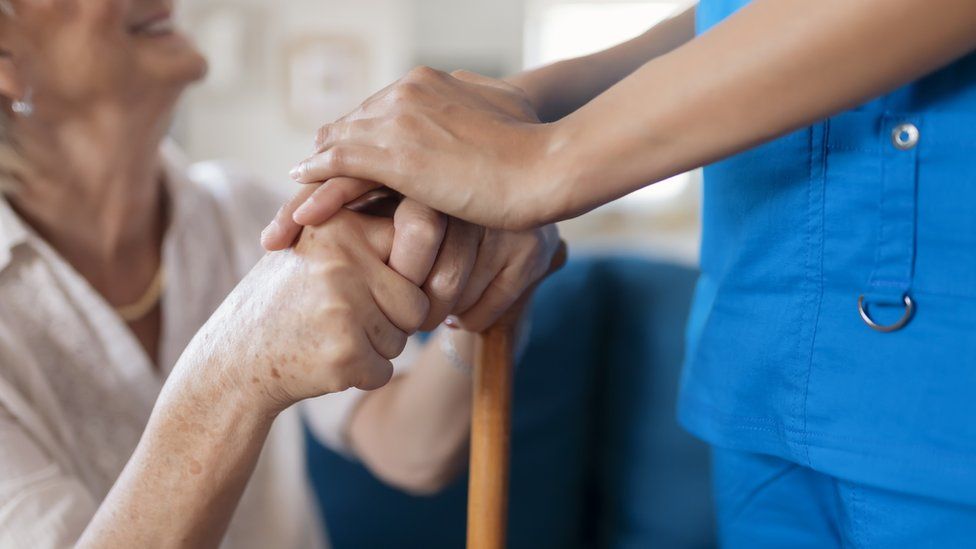 A full breakdown of Covid-linked deaths in every Scottish care home has been published for the first time.
The data was released to BBC Scotland by the Crown Office unit set up to gather information on the circumstances of all Covid deaths in care homes.
It shows which homes and operators have been worst hit by the virus.
The care home industry claims it was "let down" at the start of the pandemic but the Scottish government said saving lives had always been its priority.
The Crown Office data, released under freedom of information laws, has been fed into this interactive dashboard to show every Covid-linked death by individual care home in Scotland.
The dashboard also allows people to view the homes with reported Covid deaths by council area and filter the affected homes by operator, and view contextual information such as historical complaints.
There have been more than 10,000 Covid-related deaths in Scotland and about a third have occurred in care homes.
The Crown Office has published a breakdown of every presumed and confirmed Covid death in a care home that has been reported to them.
It shows the prosecution service was considering at least 3,400 deaths linked to the virus as of 8 April.
National Records of Scotland (NRS) recorded 3,292 care home deaths over the same period.
The Crown Office's data - part of wider investigation to determine if the deaths should be the subject of a fatal accident inquiry or prosecution - is collated from a wider number of sources than the NRS figures.
The Crown Office data shows the Erskine Home facility in Erskine Ferry Road, Bishopton, recorded the largest number of Covid-related deaths (32).
The data also showed that some individual facilities accounted for a significant proportion of a council area's Covid-linked care home deaths.
For example, the 21 Covid-linked deaths at HC-One's Orchard Care Centre in Clackmannanshire account for 19% of that council area's total fatalities (110) for all residents.
Unsurprisingly the larger providers - operating more homes often with more beds - reported larger numbers of deaths.
However, an analysis of the data shows death rates for the bigger operators fall when averaging out the fatality count across the number of facilities they operate.
Death rates in fact appear to be higher on average in homes where the provider owns one facility rather than a chain.
For example 25 deaths were reported in the one home operated by BUPA Care Homes, whereas the 195 deaths across Advinia's 11 homes averaged out to roughly 17 per residence.
Similarly there were 24 deaths in the one home run by Priory (Prestwick), while the 62 deaths across Erskine Hospital's four homes averaged out to approximately 15 per residence.
'There's no transparency'
"I said I thought my mum was dying but they said they didn't think it was anything acute," says Ruth Gibson.
"I could see on our daily Skype calls that she was looking terrible - I don't know how they could have missed it."
Ruth's mum Anna Gibson was a resident at East Kilbride's Meldrum Gardens care home.
The 94-year-old died on 14 November last year - the day after testing positive for Covid as part precautionary testing undertaken in the home after a staff member caught the virus.
"I highlighted my mum wasn't well the week before she died but nobody was listening," says Ruth.
Meldrum Gardens is run by South Lanarkshire Council and Ruth feels her complaints to them have been "brushed under the carpet".
Ruth said she had no idea five other residents had died from coronavirus at Meldrum Gardens until the release of the data to the BBC from the Crown Office.
"There's no transparency, and no one wants to get involved - they're hiding," she adds.
Val de Souza, director of health and social care at South Lanarkshire Council, said: "Mrs Gibson appears to have been very happy while living at Meldrum Gardens and we are clear that she received very good care there.
"Mrs Gibson was 94 and despite her positive Covid result her death was unexpected - indeed just two days earlier she was visited by medical staff who reported no concerns about her health.
"Following a complaint by the family, a full investigation was carried out in line with the Social Work Resources Complaints Handling Procedure. This found no issues with the level of care provided".
The breakdown of care home deaths
The full picture on how many Covid-linked deaths there have been in each Scottish care home had been unclear since the start of the pandemic.
There is no statutory obligation for homes to notify residents, or their families, of an outbreak or deaths.
Some operators, such as HC-One, released details proactively but others, both public and private, did not.
Industry regulator the Care Inspectorate also refused to release a breakdown, citing the "significant impact" on the commercial prospects of the operators if it did so.
This meant some families where not aware of deaths in the homes where their loved ones lived.
In May last year, the Crown Office set up the Covid-19 Deaths Investigation Team (CDIT) to gather information on the circumstances of all deaths in care homes.
Since then, all Covid-linked deaths of care home residents are reported to CDIT but the unit is also considering reports of deaths prior to May.
The reports come from a number of sources including GPs and Police Scotland.
Crown Office figures released to BBC Scotland show its CDIT team was considering 3,202 reports of confirmed and presumed Covid deaths as of 8 April.
For a further 198 care homes, the data shows between one and five Covid deaths have been recorded but the exact number has not been revealed for confidentiality reasons.
If it is assumed there is at least one death in these 198 homes then the tally comes to 3,400, but it could be higher.
Over the same period, NRS reported 3,292 deaths of care home residents.
The data shows that the worst affected homes are located in parts of Scotland which had high transmission rates of the virus during the pandemic.
Separate Crown Office data shows that 824 of the reports relate to deaths which occurred before the creation of CDIT in May last year.
This was a period when elderly people were being discharged from hospital to care homes, a robust testing system was not in place and there was not a full understanding of asymptomatic transmission.
On Sunday, Nicola Sturgeon called for a UK-wide public inquiry into the pandemic by the end of the year, adding she would move ahead with a Scottish-only probe if that can't be agreed in good time.
A spokesman for Scottish Care said the data "demonstrates the terrible toll" which has been felt by residents, families and care home workers over the past 13 months.
He added: "We have heard in recent days acknowledgement that 'mistakes' were made in ensuring that care homes were as ready as they could be to receive the hundreds of people who were discharged from NHS hospitals.
"We very much regret that insufficient attention was given to the needs of the care sector when compared to the preparation given to and focus upon the NHS.
"Social care as a whole was let down in the early stages of the pandemic, not least by the failures to introduce testing of staff and residents earlier."
A Scottish government spokeswoman said the Crown Office data was "consistent with the findings" of a Public Health Scotland report which "did not find statistical evidence that hospital discharges of any kind were associated with care home outbreaks".
She added: "We mourn every death from Covid and express our sympathy for all those who have lost loved ones, and for the distress and grief experienced by individuals and their families.
"As the first minister and health secretary have previously said the Scottish government will continue to learn lessons from the Covid-pandemic and, subject to the outcome of the election, intends to have a full public inquiry which considers all aspects of how the pandemic has been handled, including the impact on care homes and their residents."
The spokeswoman added that "saving people's lives has been and continues to be the priority of the Scottish government" and the prioritisation of the vaccination programme in care homes means that since the peak in late January, deaths in care homes have fallen by 95%.
A spokesman for the Crown Office said: "CDIT is working together with other agencies including the Health and Safety Executive, local authorities and the Care Inspectorate to ensure that appropriate investigations are undertaken in relation to these deaths.
"These arrangements will ensure that the circumstances of each death can be fully considered by this dedicated team, and appropriate decisions made about any further investigation required, whether criminal or non-criminal."
What do the care home operators say?
A spokeswoman for Erskine said the charity has "operated within Scottish government guidelines and spared neither effort, nor resource in our whole team's valiant, year-long battle against this terrible virus."
Robert Kilgour, chairman of Renaissance Care, pointed out his homes locked down two weeks ahead of the Scottish government's ordered closure.
He said: "Since the middle of March last year, over 300 hospital patients have been discharged into our care, scores of whom were not tested for Covid in advance.
"That we have lost so many beloved residents, despite the many safeguards taken by staff and management, underlines how devastating Covid can be once it enters care homes."
A spokesman for HC-One said it held different figures to those released by the Crown Office about Covid-linked deaths in its homes.
He added: "We have worked tirelessly to protect our residents and colleagues, and took steps to lead on transparency throughout the pandemic.
"When little was known about the virus, HC-One published daily case numbers and death figures for its Scottish homes, and engaged at length and in detail with health and care officials, our families, and the media."
A spokesman for Advinia pointed out its facilities are often more than four times larger than the average Scottish care home.
He added: "All of our homes were as well prepared as they could have been at the time the pandemic started, and forward planning meant that we never faced a shortage of PPE."
A spokeswoman for the Four Seasons Health Care Group said the virus "quickly created immense challenges for all health and social care providers and while we acted immediately to protect everyone in our homes, it took time for the healthcare community to fully understand the characteristics of the spread of this infection".
A spokeswoman for Barchester said the "teams within our homes have very high standards, and they are continuing to work tirelessly and relentlessly to do all they can to keep residents and staff safe from the virulent disease that is Covid".
Related Internet Links
The BBC is not responsible for the content of external sites.