AI technology used to track asbestos cancer tumours
By Laura Goodwin
BBC Scotland Innovations Correspondent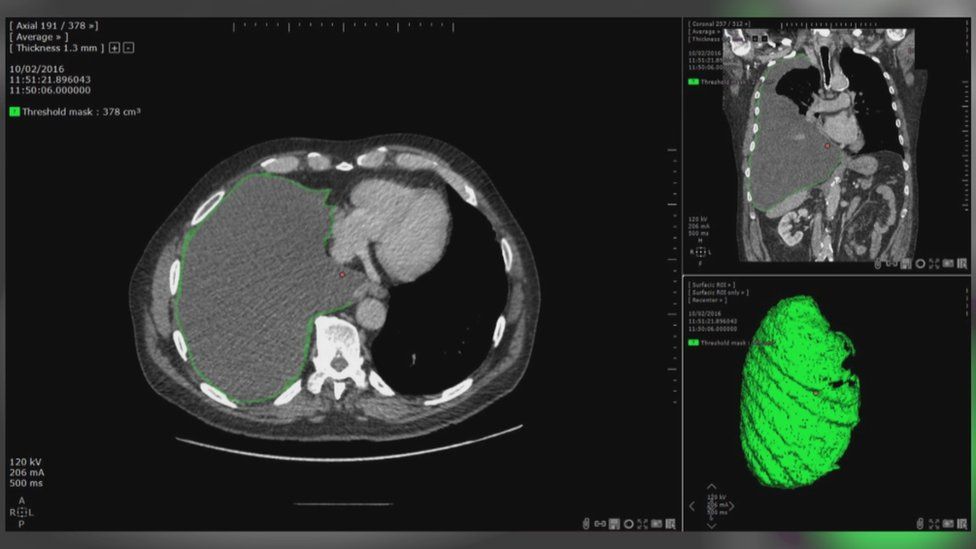 Patients receiving treatment for a rare cancer linked to asbestos exposure are being assessed with artificial intelligence in a pilot project.
Scotland has the highest incidence of mesothelioma in the world, connected to traditional heavy industry, but options for treating it are limited.
Researchers have created a prototype artificial intelligence system able to recognise the tumours.
It is hoped the technology could speed up clinical trials of new treatments.
Scottish medical imaging software firm, Canon Medical Research Europe, has been working with the University of Glasgow on a study of the new AI cancer assessment tool.
Chemotherapy does not work as effectively on mesothelioma as it does on other cancers and because of how the tumours grow, it's hard to monitor if treatments are working.
'I cut asbestos pipes in the shipyards'
Three and a half years ago, 72-year-old Tam Mooney was diagnosed with mesothelioma.
"I knew there was something wrong with my breathing, but you don't like to worry the family," he said.
When Tam was diagnosed, the doctor asked him if he had worked in the shipyards and if he had been exposed to asbestos.
Tam had worked in Glasgow's shipyards for more than 20 years.
He added: "One of the ships, it was a repair, and there were pipes covered with it. Well if you need to cut off a pipe, you are cutting through asbestos."
Prof Kevin Blyth, who runs a specialist clinic for mesothelioma patients, said most cancers grow in sphere and to measure that is "relatively straightforward".
He said: "Mesothelioma is almost like the peel of an orange, it forms like a rind around the lung and if you take a scan of that tumour, it is a very complex shape. To measure changes in that shape is very difficult."
The AI prototype, developed by researchers to recognise the tumours, was shown more than 100 CT scans which a clinician had already assessed - it was then able to find and measure tumours without human input.
Keith Goatman, principal scientist at Canon Medical, said: "The speed and accuracy of the AI algorithm could have a wide-reaching impact on mesothelioma treatment.
"Accurate tumour volume measurements are much too time-consuming to perform by hand.
"Automating these measurements will open the way for clinical trials of new treatments, by detecting even small changes in the tumour size."
The project was funded by the Cancer Innovation Challenge, led by the Data Lab.
Steph Wright, director of health & wellbeing engagement at The Data Lab, added: "The work to develop this world-leading tool represents an incredibly exciting healthcare innovation.
"Not only does it have the potential to revolutionise mesothelioma cancer care through more targeted treatment, but it may also be able to be applied to a number of other cancer types in the future."