Covid: Travel ban in Scotland to be eased from Friday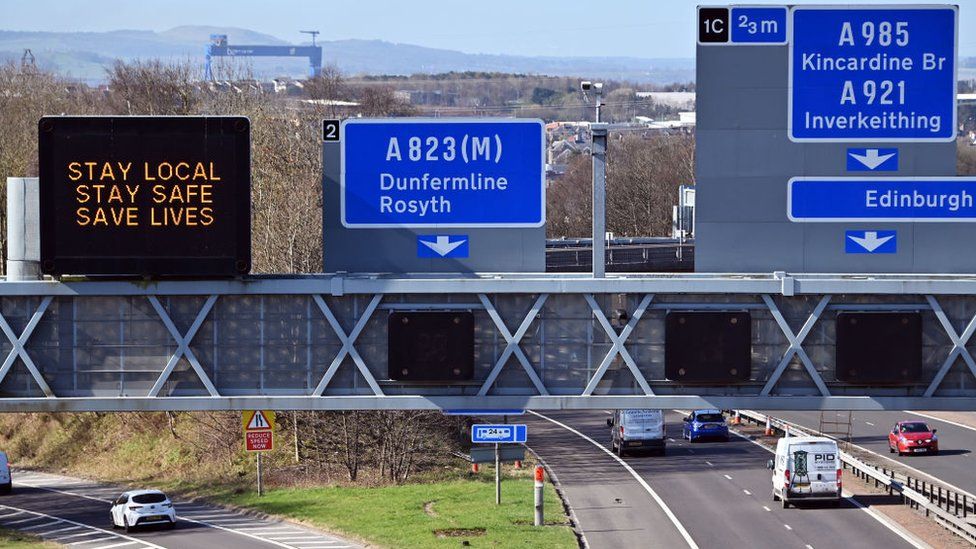 The Covid-19 restriction on travelling around Scotland are to be relaxed from Friday, while people are to be allowed to meet up in larger groups outdoors.
First Minister Nicola Sturgeon said measures were being eased earlier than planned to help people's mental health.
People will be allowed to meet in groups of up to six adults from six households in outdoor settings.
And they will be permitted to travel across Scotland to do so, as long as they do not stay overnight.
Other restrictions are expected to be eased from 26 April - with premises including shops, gyms, pubs and restaurants due to reopen on a restricted basis.
Hospitality businesses will need to close their doors at 20:00 indoors and 22:00 outdoors, with alcohol only allowed to be served outside.
Groups of six people from six different households will be allowed to meet in outdoor hospitality.
Restrictions on travel from Scotland to other parts of the UK are also expected to be lifted from 26 April.
From 17 May, pubs will be able to open indoors until 22:30 and contact sports, cinemas, and some small scale events will be able to take place.
Also from that date in May, up to four people from two households will be able to meet indoors.
Emma McClarkin, chief executive of the Scottish Beer and Pub Association, said Ms Sturgeon's announcement "falls short of what is required to make licensed premises viable".
She added: "We desperately need a return to licensing hours indoors, as well as allowing alcohol to be sold indoors from 26 April.
"The first minister points to indoor reopening being ahead of England, but without alcohol service it is meaningless to licensed hospitality businesses and little comfort to Scottish brewers and other parts of the supply chain who will see no benefit."
However, Ms Sturgeon warned that "we do still need to be cautious" to keep case numbers down and to prevent new variants of the virus from being imported.
The changes were announced as the first minister confirmed that Scotland has "effectively met" its initial vaccination target of offering a first dose to all over-50s, unpaid carers and adults with particular underlying health conditions.
Ms Sturgeon said infection rates had been higher in Scotland than other parts of the UK in recent weeks, but were now "falling more markedly and more consistently".
The first minister said this meant she could confirm a "very significant re-opening of the economy" from 26 April, when the whole of Scotland will move into level three of the Covid-19 restrictions system.
Scotland's island communities - which have been in level three for some time - will stay in the same level as the mainland in the immediacy, to allow people to travel between areas.
Ms Sturgeon said she expected the whole of Scotland to then move to level two on 17 May - allowing people to meet up indoors - and to level one and then zero in June.
And she said some changes to the travel restrictions that had not been due to come into force until 26 April would be made earlier than originally planned in an effort to boost people's mental health and wellbeing.
The first minister insisted the move had nothing to do with the ongoing Holyrood election campaign, saying there was "a bit of limited headroom" to make changes due to the fall in case numbers and progress in vaccination.
It means that people will be allowed to travel across Scotland from Friday of this week, though people are still being urged to stay local for non-essential shopping.
In addition, people can meet in groups of up to six adults outdoors from Friday.
Ms Sturgeon said this would allow "long awaited and much-anticipated reunions" of families and friends.
People are currently not allowed to leave their local authority areas for anything other than essential travel, and only four adults from a maximum of two households are allowed to meet up outdoors.
However, the first minister urged caution over the possibility of foreign travel.
Governments across the UK are attempting to agree on rules for international travel on a four-nations basis, but Ms Sturgeon warned that it "remains a significant risk" given the spread of the virus elsewhere in the world.
She said a ban on international travel could be "the price we pay for greater normality here in Scotland" and necessary to "protect our progress here".
Scotland recorded just 199 new cases of the virus on Monday - the lowest daily total for seven months - although the figure increased to 221 on Tuesday, with the deaths of a further three people who had previously tested positive also being recorded.
Scottish Conservative leader Douglas Ross welcomed the move to ease travel restrictions earlier than planned, having previously said the emergence from lockdown was too slow compared to England.
He said: "Scotland's hospitality sector is on its knees and that is compounded by seeing equivalent businesses across the border reopening sooner. Every day that doors stay closed, more jobs are lost.
"This positive direction of travel is possible thanks to the immense sacrifices people continue to make but the game-changer is the UK's extraordinary vaccine programme."
And Scottish Labour leader Anas Sarwar said the changes were a "welcome announcement for many who have been separated from loved ones for so long".
He added: "We need to ensure that this lockdown is our last. We need to continue, and improve the pace of, the vaccine roll out and ensure the testing and tracing infrastructure is in place to support a return to normal."
The Scottish Greens welcomed the announcement, but said that caution was needed if the country was to avoid another wave of the virus.
The party's Mark Ruskell said: "We probably don't want to replicate the images of large groups gathering that we saw in London. A surge in gatherings could create a surge in the virus and avoiding that is hugely important to avoid the risk of a third lockdown."
Scottish Liberal Democrat health spokesman Alex Cole-Hamilton said he was concerned that the Scottish government had "consistently acted too late on testing and tracing".
He added: "With hospitality businesses in other parts of the UK now open, the Scottish government must now make sure that financial support is now available to ensure that Scottish businesses don't lose out."