Scottish election 2021: The voters the parties are vying to win over
By Mary McCool
BBC Scotland news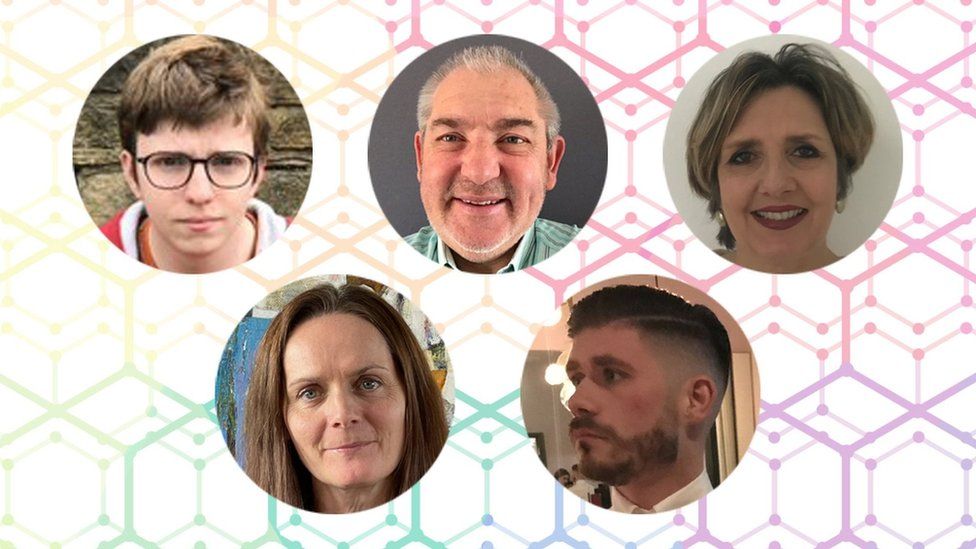 They are the voters all the parties want to win over - "the undecided".
The BBC spoke to five people from our voter panel who are still working out who to vote for in the Scottish election - and asked what issues matter to them.
Casting his vote for the first time, Euan is interested to hear which party policies will have an impact on climate change - having seen the "shocking" effects first hand when he lived in Australia as a child.
"In Australia we used to drive down the coast through large areas of bushland affected by fires. It was always very green and vibrant but to see areas of burned nothingness with the occasional burned wreck of a house at age 10 was very shocking."
Euan has taken an active interest in politics in school by taking part in model UN programmes, both when he lived in Denmark and after moving to Scotland last year.
"I'm very keen on confronting the world's issues and making it a better place," he said.
He believes climate change is actively being discussed in schools - but "there is a very big difference between teaching climate change and doing something about it".
"We need to look at the use of cars in this country - Nicola Sturgeon said she was looking to nationalise the railways but you do need to focus on sustainable transport, which although linked to climate change, is a separate issue.
"Edinburgh the most congested city in the UK and it's not just Edinburgh - we should look at why people feel the need to have two or three cars when they could get around with one."
Prior to the last few months, Wendy admits she had no significant interest in politics - and even now after researching party policies, she said 6 May will be an "election of personalities" for her.
She said: "Because I'm mother of two children who are students, I think it's the first time I've really thought about the Scotland they deserve to live in - it's not just my vote."
With more time to digest news in the latest lockdown, Wendy has become concerned by a number of issues.
"I think what's happening in the judiciary is appalling. The Scottish legal systems used to be envy of the world."
She has been following debate over controversial policies like the Gender Recognition Act and the Hate Crime Bill
"They have huge impact on how we're going to be living lives in this country."
Wendy believes the current government has a "poor record of deliverance" but none of the other main parties have swayed her vote.
On independence, she says: "I'm keen to see how the books would balance and whether it can work economically".
"I'm very confused and conflicted but for me it's personal integrity and personality that I'm going to be influenced by this time round," she adds.
SCOTLAND'S ELECTION: THE BASICS
What's happening? On 6 May, people across Scotland will vote to elect 129 Members of the Scottish Parliament (MSPs). The party that wins the most seats will form the government. Find out more here.
What powers do they have? MSPs pass laws on aspects of life in Scotland such as health, education and transport - and have some powers over tax and welfare benefits.
Having left his job due to ill health, David now helps out at his local foodbank and has been struck by the number of people in need in his area.
"There are people who are homeless or can't put food on the table. I think it's appalling when we're one of the richest countries in the world."
Scotland's economy continues to be a concern for David, who initially trained as a draughtsman for manufacturer Toffolo Jackson before joining the civil service.
He said: "I would like to see that we're able to support the industries within our own country and create employment within Scotland and the UK.
"A few years ago a company outside Campbeltown was manufacturing wind turbines and a contract went to a Spanish company. It's a rural economy and it would have been a great boost to that local area."
In the past David has voted in favour of Scottish independence, then in favour of leaving the EU - but having spoken with his sons, an architect and a civil engineer, he has changed his mind on the latter.
"I couldn't understand why if you didn't want to be controlled by Westminster you'd want to be controlled by Europe.
"But my sons said 'name one bad thing the EU have done to you' - and I couldn't. They see the benefits for their future."
With two children in school and one at university, education has been a regular source of concern for Ali during the pandemic.
She believes pupils who were due to take exams have been "completely let down" over issues with "transparency" over assessments - which some have described as "exams by another name".
"I cannot believe how kids have suffered," said Ali. "I hear from friends whose kids are really struggling with not seeing people, feeling isolated and two who are now refusing to go to school. I can't imagine what's that's like as a parent.
"I'm really lucky because my children are really responsible, but had I been required to get involved with home schooling I couldn't have done my job properly."
A chartered accountant, Ali has previously voted SNP but is worried about the impact Scottish independence could have on her firm.
She said: "Scotland's not in a position to leave the UK, we don't have the jobs out there and we don't have the businesses."
Having worked in car sales for much of his adult life, Alasdair was not surprised when he was placed on furlough - nor when he was let go by email.
Prepared for the worst, he applied to university to retrain in accountancy one month before his employer cut jobs - but he worries about people who may not have had the same foresight.
He said: "One important thing to me is the recovery from Covid in terms of jobs and giving people the same opportunity to have the same level of job they had before.
"I've taken an opportunity to retrain - but there will be thousands of people like me wondering if they have to take a job far lower paid just to put food on table."
Mental health is another top priority for Alasdair, who was diagnosed with bipolar disorder at age 16.
He asked to be put on a waiting list for counselling in January 2020, but has still not been approved for the treatment - instead making do with an online cognitive behavioural therapy (CBT) course which he said was a "sticking plaster".
"It's been impossible," he said. "I've been trying to contact my GP for the last few months and got nowhere.
"You're only being allowed to book an appointment on the day but it's a very busy surgery and if you're not on the phone early you won't get an appointment.
"Mental health is a much, much bigger issue due to lockdown."