Covid in Scotland: Health chief 'wholly confident' in AstraZeneca jab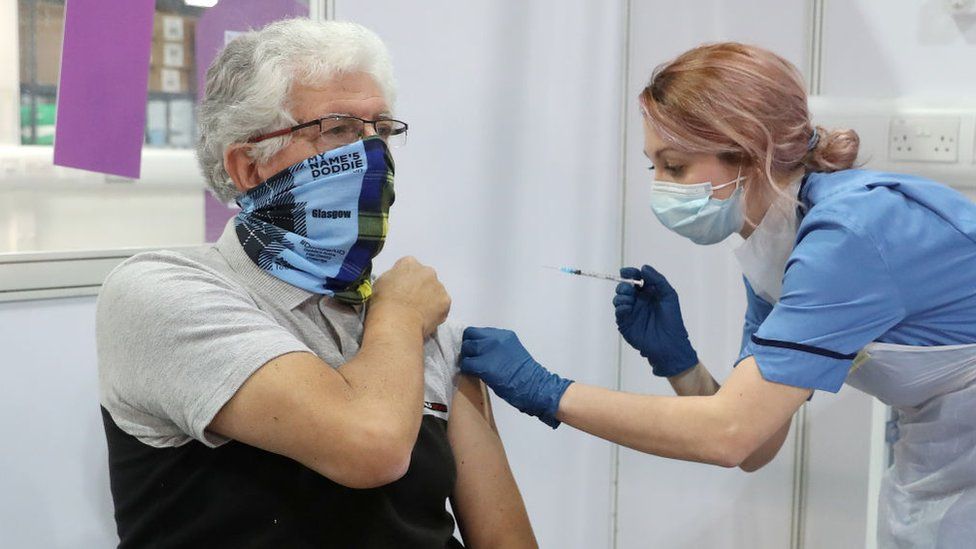 Scotland's chief medical officer has said he is "wholly confident" in the Oxford-AstraZeneca Covid-19 vaccine.
A number of European countries have suspended use of the vaccine amid fears that it may cause blood clots.
However, watchdogs including the World Health Organisation have found no link between the jab and an increased risk of developing a clot.
Dr Gregor Smith said he would "categorically state that we remain confident" in the vaccine programme.
And First Minister Nicola Sturgeon urged people to continue to come forward for appointments when invited, saying they provide "significant protection" against the virus.
There have been about 30 cases in Europe of "thromboembolic events" - people developing blood clots - after the vaccine was administered.
However, with almost five million people having been given a first dose of the vaccine across Europe, AstraZeneca said this number of clots was "significantly lower... than would be expected among the general population".
Both the WHO and the European Medicines Agency have said there is no indication that the jab was causing the blood clots.
The use of vaccines in the UK is governed by the Medicines and Healthcare Products Regulatory Agency (MHRA), which has backed the continued use of the AstraZeneca jab.
At the Scottish government's daily Covid-19 briefing, Dr Smith said there had been "no causal link between any of these incidents and the AstraZeneca vaccine".
He said: "What we can say at this point in time is that looking at the data about blood clots both in Europe and the UK, it is no more common to have an episode of a blood clot than you would see in the general population - in fact it is somewhat less.
"Between one and two people in a thousand would suffer a blood clot in any given year. Among the 17 million or so vaccinations given with the AstraZeneca vaccine so far, we have not seen any signal coming through whatsoever to suggest there are any more blood clots than expected in that population.
"People in that population are going to continue to become ill anyway - they will have events that they would have had whether they had had the vaccine or not.
"What we are looking for in this data, what the MHRA will be looking for, is any signs of those events being over or above what is expected - and they are not seeing that."
Ms Sturgeon said she would be happy to be given the AstraZeneca jab, and urged others to continue to come forward.
The first minister said she was in the age group that should be given a first dose of the vaccine by mid-April, saying she was "hoping to see my blue envelope appear at some point in the next couple of weeks".
She added: "As soon as I get that, I will be there without hesitation, regardless of which of the vaccines I am being offered. And I would urge everybody getting an invitation to be vaccinated to be vaccinated, because it provides you and people you live with significant protection."
Ms Sturgeon said "virtually all" Scots over the age of 65 had now had a first dose of vaccine, as had 53% of 60-64 year olds, 41% of 55-59 year olds and 33% of those aged 50 to 54.
She said the pace of vaccination should "pick up significantly" in the coming days, with supplies expected to be available for 400,000 doses to be administered over the course of the week.
This is projected to continue into next month, with the government "on track" to hit its target of completing all priority groups - including over-50s, unpaid carers and adults with underlying health conditions - by mid-April.
Ms Sturgeon said: "That will be a really significant milestone, if and when we meet that target. It provides all of us with firmer grounds for hope for the months and weeks ahead."
The first minister will set out plans for further easing of lockdown restrictions at Holyrood on Tuesday, with moves to re-open shops and hospitality venues and lift the "stay at home" order expected to be scheduled through April and into May.
In his speech to the Scottish Conservative conference, leader Douglas Ross challenged Ms Sturgeon to "stop putting Scotland's future on hold" and "publish the full plan that we're all waiting for".
He said: "The Scottish people expect to be treated as adults, and honestly told - here's what to expect. They know that dates aren't chiselled in stone - but they deserve more clarity."
Scottish Labour leader Anas Sarwar called for a "balanced" approach, saying: "We have to make sure this is the last lockdown."
He added: "Let's not just think the silver bullet is the vaccine - it is one part of trying to drive down the virus, but if we are going to truly have an elimination strategy we have got to suppress the virus to next to zero levels and isolate it at those small levels.
"In order to do that we've got to up the level of testing, and then alongside that we need to isolate the virus using our tracing system in a more effective way."