Dunblane 25th anniversary: US campaigner 'given hope' by UK gun laws
By Connor Gillies
BBC Scotland news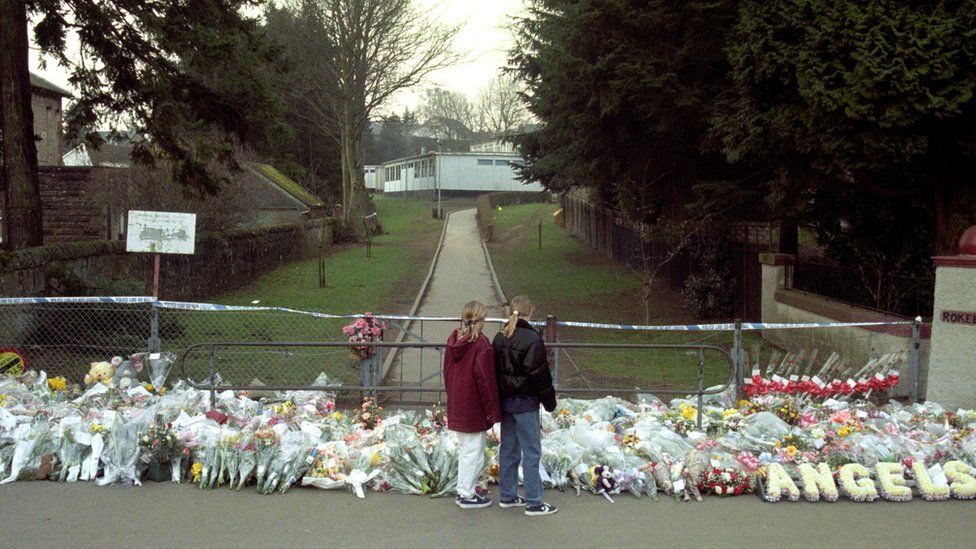 The father of a teenager killed in a Florida school shooting says UK gun controls introduced in the wake of the Dunblane massacre give him "hope".
This weekend marks 25 years since teacher Gwen Mayor and 16 pupils were killed when Thomas Hamilton opened fire on them.
The mass shooting was the worst in British history and led to the UK enforcing some of the strictest firearms legislation in the world.
Jack Crozier, 27, is the brother of Emma Crozier who was killed, aged five, in the tragedy on 13 March 1996.
He has remained in contact with Parkland relatives ever since, including the family of teenage victim Joaquin Oliver.
Jack's aim is to urge campaigners to unite and force strict sanctions like those following Dunblane.
Joaquin's father, Manuel Oliver, has been pushing for gun violence reform in the US.
Mr Oliver told BBC Scotland: "I can see myself in the future not worrying anymore about gun violence in my country.
"I am receiving that energy from Jack every time I speak to him."
He says the UK response to Dunblane gave him hope. He added: "Knowing this is possible in other countries and nations, I have to bring that knowledge here."
The Gun Control Network was founded in the aftermath of Dunblane, with the Snowdrop Petition launched to rally support for a crackdown on handguns in the UK.
Withinn a year of the tragedy, John Major's Conservative government introduced legislation to ban handguns over .22 calibre. In 1997 the Labour government extended this ban to cover all handguns.
Jack Crozier said: "The anniversary is going to be difficult for my parents.
"We never forget the loved ones we lost. We take this as an opportunity to remember them.
"For me the most important part is to make sure that this never happens again."
Mr Crozier said it was not "a straight change" in the UK to pass stricter firearms legislation.
He said: "It took over a year of work from my parents and other campaigners from Dunblane to make the changes we needed.
"All we can hope to offer is that onus to keep going.
"Anything they (US relatives) can bring from what we've done and learned, then please take that".
In a statement, First Minister Nicola Sturgeon said: "The Dunblane tragedy is one of the darkest days in Scotland's history.
"The local community has shown great resilience in the years since - however, as we mark this anniversary, all my thoughts are with the families and those most directly affected, all of whom should be allowed the time and space to commemorate in their own way."
In a statement, Prime Minister Boris Johnson said: "Twenty-five years have passed since the Dunblane tragedy, but it still feels raw, a terrible part of our recent history. I remember when I first heard the news. It seemed unbelievable, but as we sadly know, it was all too real.
"The campaign to ban handguns in the UK, which rose from the Dunblane tragedy, is still a key part of keeping our communities safe."