Covid in Scotland: Restrictions on outdoor meetings to be eased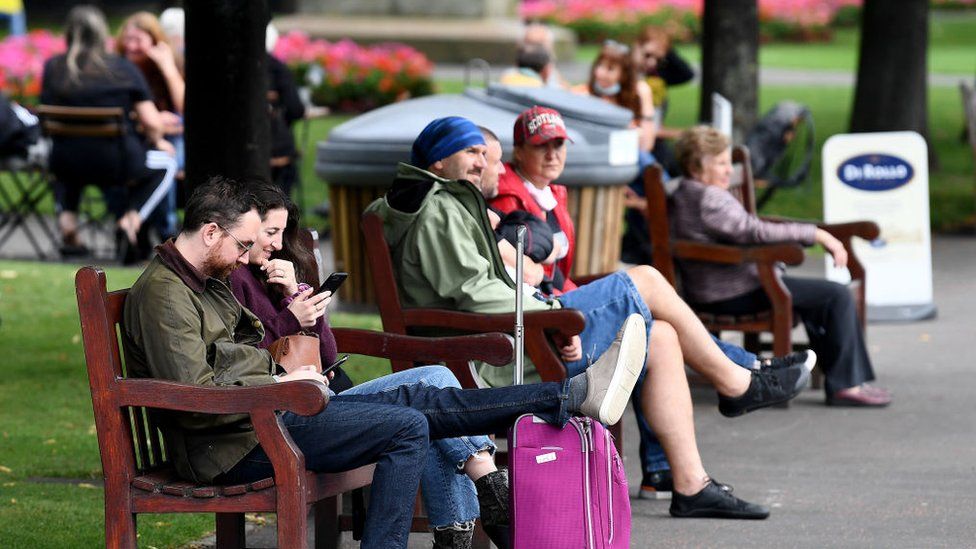 Covid-19 restrictions in Scotland are expected to be eased slightly to allow more people to meet up outdoors.
First Minister Nicola Sturgeon will update MSPs about the state of the pandemic and lockdown at Holyrood.
On Monday, her deputy John Swinney said "the data is going in the right direction" and that ministers were "hopeful" that measures could be eased.
However the overall "stay at home" order is expected to remain in place for some weeks to come.
Mr Swinney said changes would have to be made in a "sustainable" manner so that transmission of the virus does not run out of control again.
At present, only two people from two households are allowed to meet outdoors in Scotland.
This was due to increase to four people from two households from 15 March, but this is expected to be brought forward as a result of progress in suppressing new cases.
More pupils are expected to return to classrooms from next Monday, including remaining primary school years and some secondary students.
By late April, the government hopes to move back to a local "levels" system of regional restrictions across Scotland, albeit with tougher rules than before.
Ms Sturgeon will review the latest advice and data with her cabinet ministers on Tuesday morning, before announcing their decisions in the Holyrood chamber in the afternoon.
On Monday, Mr Swinney said there were "a lot of grounds for optimism" - but warned that changes would have to be made carefully.
He said: "The number of cases is falling, the test positivity rate is low, the vaccination programme is going well and the pressure on our hospitals, while still significant, is not as grave as it was earlier on.
"The first minister has been clear that we will try to relax lockdown as quickly as we possibly can do, but we have to do it in a sustainable manner.
"That means taking the appropriate steps in the appropriate sequence to make sure we don't risk the virus running away from us again."
The Scottish Conservative have welcomed the easing of restrictions on outdoor meetings but want to see ministers "move faster".
Their public health spokesman Miles Briggs told BBC Radio's Good Morning Scotland he wanted to see gyms reopened before the scheduled date of 26 April.
Scottish Labour education spokesman Michael Marra told the programme the public need a "proper plan" that delivers hope.
He also highlighted the mental health impact of the pandemic and added: "Everybody is incredibly frustrated."
Ministers have stressed that their approach will be dictated by the latest data and scientific evidence about the pandemic.
On Friday, Ms Sturgeon said that the progress of the vaccination programme and declining number of people falling seriously ill "should give us all real encouragement that greater normality is firmly on the horizon".
Mr Swinney reiterated this on Monday. He said: "We will be driven by the data. If the data suddenly - because of all of that commotion at the weekend - goes in the wrong direction, we will have difficult decisions to make. There are consequences that flow from these events."