Covid in Scotland: Visitors and hugs return to Scottish care homes
Care home residents in Scotland have been reunited with their loved ones as restrictions on indoor visiting are relaxed.
For the first time in almost a year, a small number of visitors have been welcomed inside care homes and allowed to hug their family member.
However some care home owners have chosen not to fully loosen the rules.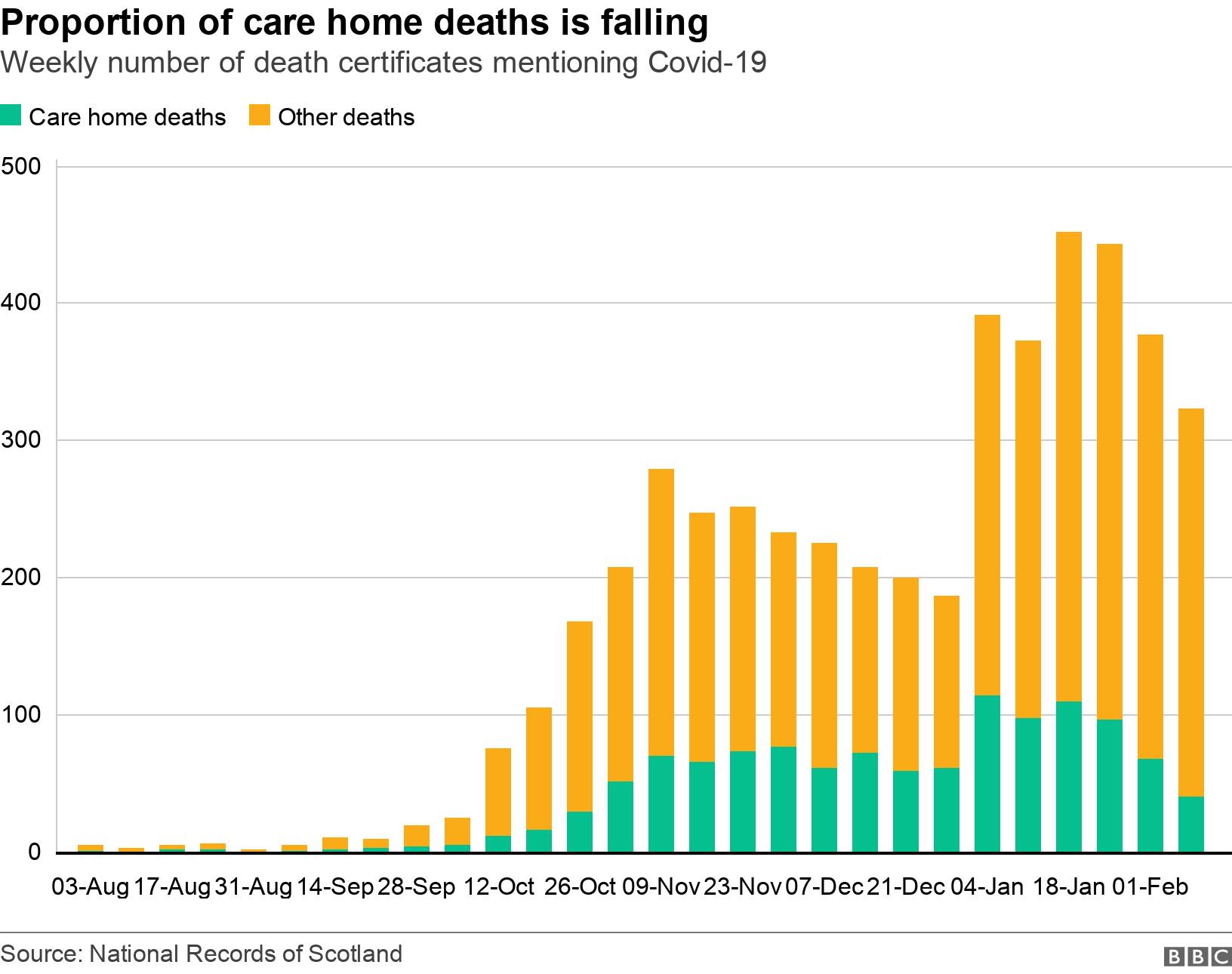 The government believes that with the extra protection in place, the greater risk to residents' wellbeing is from a lack of family contact.
Visitors are "strongly recommended" to take a coronavirus test on site and will have to wear PPE.
One of the first care homes to reintroduce indoor visiting was Queen's House in Kelso, where 90 year-old Mary Cook had a visit from her daughter Fiona Scott for the first time in three months.
She said: "It's hard to put into words, you don't feel as separate. It's just normal isn't it?
"I just feel very sorry for all the folks that cannot get together like this."
Ms Scott added: "The touch and feel, it can speak a volume of words.
"A hug's a gesture that you can't put into words but it conveys so much to the person.
"Let's hope that this is the start of more hugs for many, many people."
Cathie Russell, who has been campaigning with the Care Home Relatives Scotland group, said she was "cautiously optimistic" that meaningful visits would be restarting across the country this week.
She said: "We look forward to working with care home providers, public health and oversight teams to ensure that the new guidance allows residents to enjoy meaningful contact with their closest relatives and friends once more.
"It has been a very difficult year. The deepest ties of love are important and we can never thrive without them."
She said that it was reassuring that many of the major providers such as HC One and Renaissance Care as well as smaller independent providers were moving with the guidelines however, she said it was "sorely disappointing" that the Balhousie Care group were only offering 30-minute distanced visits.
Balhousie has decided to limit visiting to just one person, for half an hour once a week.
Suzanne Eadie, whose father is in one of the group's homes, told the BBC: "With the new guidelines we looked forward to spending a bit more time with Dad, be a bit more meaningful, with more contact. But they do not go far enough."
Her father has Parkinson's and dementia and Suzanne has only been able to have short window visits where she cannot hear him speak due to his condition.
The proposed visits will be in full PPE but as the home is imposing two metre distancing, there will be no physical contact.
Suzanne said: "I am gaining nothing from the changes except I will be standing inside not outside. He won't see me because I have a mask on. I still won't be able to hear anything he says.
"It would mean the world to be able to sit and hold my dad's hand and give him a bit of reassurance, a bit of contact and a conversation.
"It feels like we will not get any meaningful contact until it's almost too late."
A spokeswoman for Balhousie said: "We are of the firm belief that having one visit and one designated visitor a week is the safest, fairest and most manageable way of welcoming relatives back quickly. Balhousie's guidance will, of course, change as transmission risks reduce. In the meantime we're excited about this major step forward for our care home families."
'Increase frequency of visits'
Launching the new framework on visits, Health Secretary Jeane Freeman said: "New guidance supports care home residents to resume meaningful contact with their loved ones. It provides for residents to have up to two designated visitors, and a total of two visits a week.
"This guidance means such contact will become normal practice in adult care homes in all but exceptional circumstances, such as a Covid-19 outbreak. We hope to gradually increase the frequency and the number of people who can visit."