Covid in Scotland: Indoor care home visits to resume in March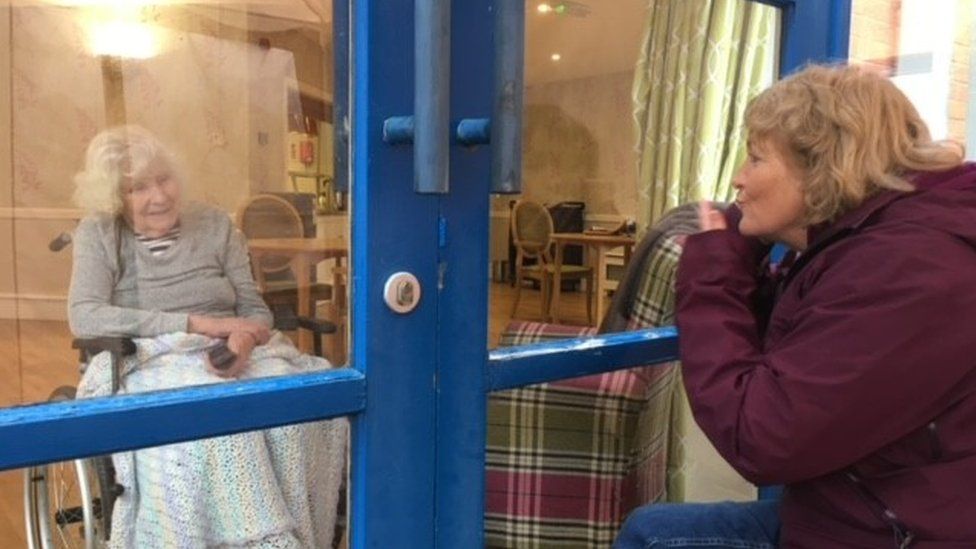 Families will be able to make regular indoor visits to loved ones in Scottish care homes from early March.
The Scottish government confirmed residents in both older and younger adult homes will be allowed two designated visitors.
They will be able to visit once a week, wearing PPE including face coverings.
All residents in older adult care homes have received the first dose of the vaccine and the latest data shows that Covid deaths in these areas are falling.
Scotland's Health Secretary Jeane Freeman said while protection was in place, people must remain "vigilant about the risks".
As well as wearing PPE, visitors will be "strongly encouraged" to take a Covid test before entering homes.
Visiting may be restricted in certain circumstances, for instance if there is a Covid outbreak in a care home.
Guidelines will be published on Wednesday which will set out an expectation for care providers to facilitate visits.
'We are not just footfall'
When Cathie Russell visits her mother, Rose Hamilton, in her care home they would normally sit in her room, chatting and listening to her favourite music.
But once Covid restrictions were introduced they became "more like prison visits" where they were kept apart during outdoor meetings by "police tape".
Ms Russell, a member of Care Home Relatives Scotland, said despite the best efforts of staff some care home residents were left confused and others "felt like they were on death row".
She believes visitors should have been allowed into care homes since last May when the "PPE situation was sorted out".
"I would have gladly have gone in and spent time with my mum and not left her alone for all that time," she said. "I feel it was always possible to do it safely with good PPE and normal protection control measures.
"It might not always have stopped Covid but, to be honest, keeping relatives out didn't stop Covid either."
She added: "I believe the strategy was always wrong - we are not just footfall. It's very important for people in care to see the people they love most and at least one essential care-giver should always have been available to them."
Ms Russell said restrictions were eased last October but very few homes went on to allow indoor visiting, partly due to local lockdowns.
However she said she was "more optimistic" that care homes would now begin to open up to visitors.
Scottish care homes were first advised to close to visitors at the beginning of the pandemic in March 2020.
Only essential indoor visits are currently permitted, with many people only able see their loved ones through windows or outside, if at all.
The Scottish government said it was aware that restricted contact between residents and their families could contribute to loneliness, isolation and "worsening physical and mental health".
It also confirmed visiting is not conditional on whether a resident has received the vaccine.
"With the range of protections in place against Covid, the bigger risk now is the continued separation of residents from loved ones," it added.
Statistics published by the National Records of Scotland show that Covid deaths in care homes are falling as a proportion of the total number of deaths.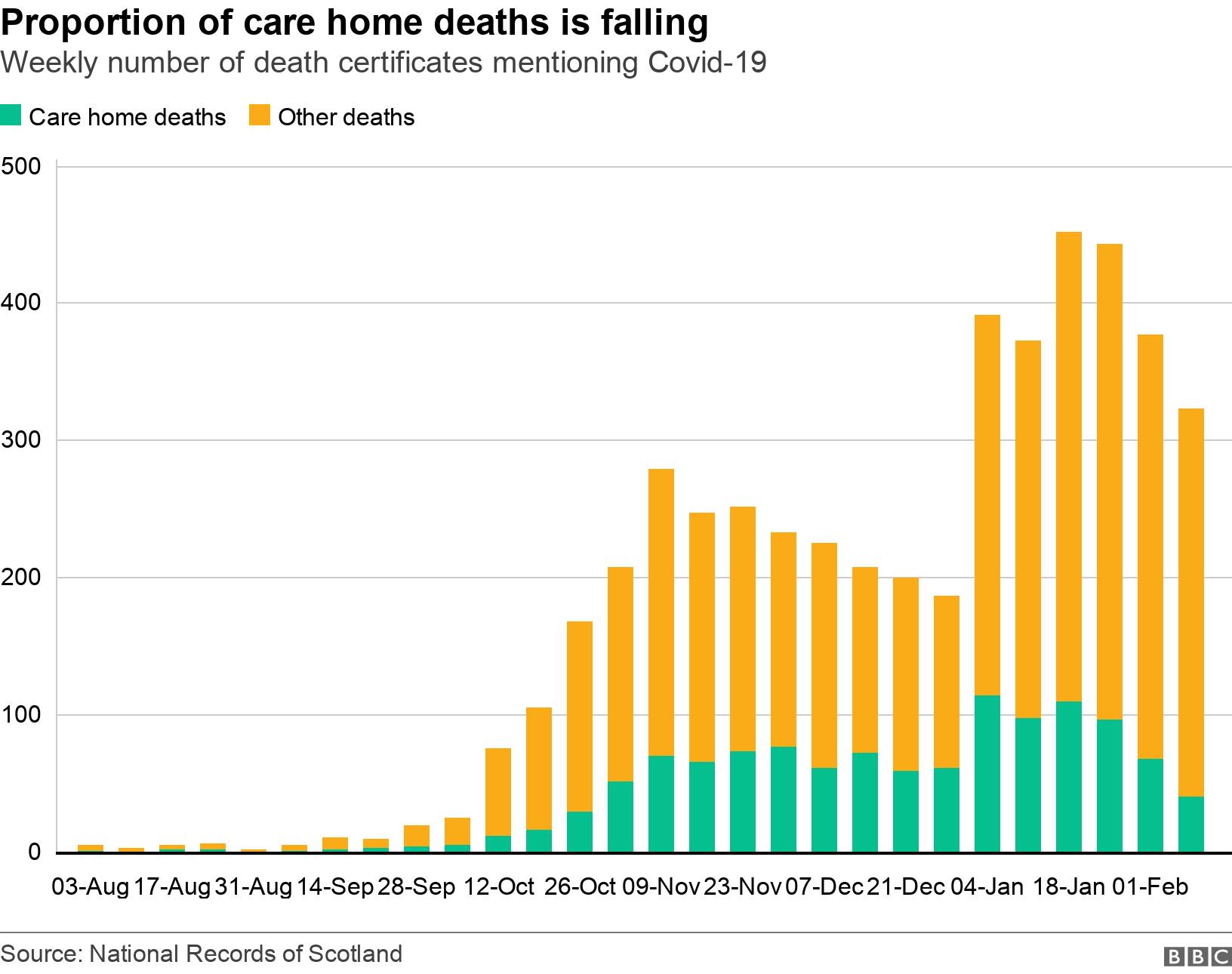 Ms Freeman, the health secretary, said: "We deeply regret the deaths and other harm caused by coronavirus in our care homes, but we also recognise the harm caused to the wellbeing of residents and families as a result of an inability to see those they love.
"We must remain vigilant about the risks but with multiple layers of protection now in place the balance is in favour of allowing visits.
"Everyone, including visitors, has a responsibility to ensure that visits take place as safely as possible by continuing to follow safety advice."
She said she expected all care home to have "embraced" the updated guidance by the middle of March.
'Painful period of separation'
Donald MacAskill, chief executive of Scottish Care, said the pandemic has presented frontline care home staff and managers with "many challenges", but "undoubtedly the hardest has been keeping residents apart from family and friends".
He said: "We commit to working together to overcome any challenges and difficulties we might face and to support those who may still be anxious and fearful, so that together we can ensure that a painful period of separation can be replaced by greater togetherness."
Earlier this month Scottish Liberal Democrat leader Willie Rennie pushed the first minister to confirm a date for the reintroduction of care home visiting.
On the latest announcement, he said: "The challenge now is to make it happen after so many false dawns when families were promised access only to be denied later. I will be watching very closely to make sure this promise is kept."
Scottish Conservatives shadow health secretary Donald Cameron called on minister to ensure the guidance is "clear and practical" so the return of visitors can "operate as smoothly and safely as possible."
Scottish Labour's shadow health secretary Monica Lennon said the isolation of residents who were in some cases at the end of their lives was a "human rights scandal".
She said: "This is a welcome step in the right direction. Guidance, however, has fallen short before. Too many care providers and public health directors have brushed it aside. This can't happen again."