Covid in Scotland: Is vaccination cutting the death rate?
By Christopher Sleight
BBC Scotland news
First Minister Nicola Sturgeon says that falling Covid-19 deaths in care homes and among the oldest Scots is the first "hard evidence" the vaccination programme is working. So, can this drop in deaths be attributed to the vaccine?
Vaccination coverage among the elderly is good
First, it's worth looking at the progress made in vaccinating the oldest people in Scotland.
And in short, progress has been good.
All residents in care homes for older people have now been vaccinated with a first dose - more than 30,000 people - according to Scottish government figures.
First doses for this group were completed last week, with the bulk of the vaccinations being done in late December and the first half of January.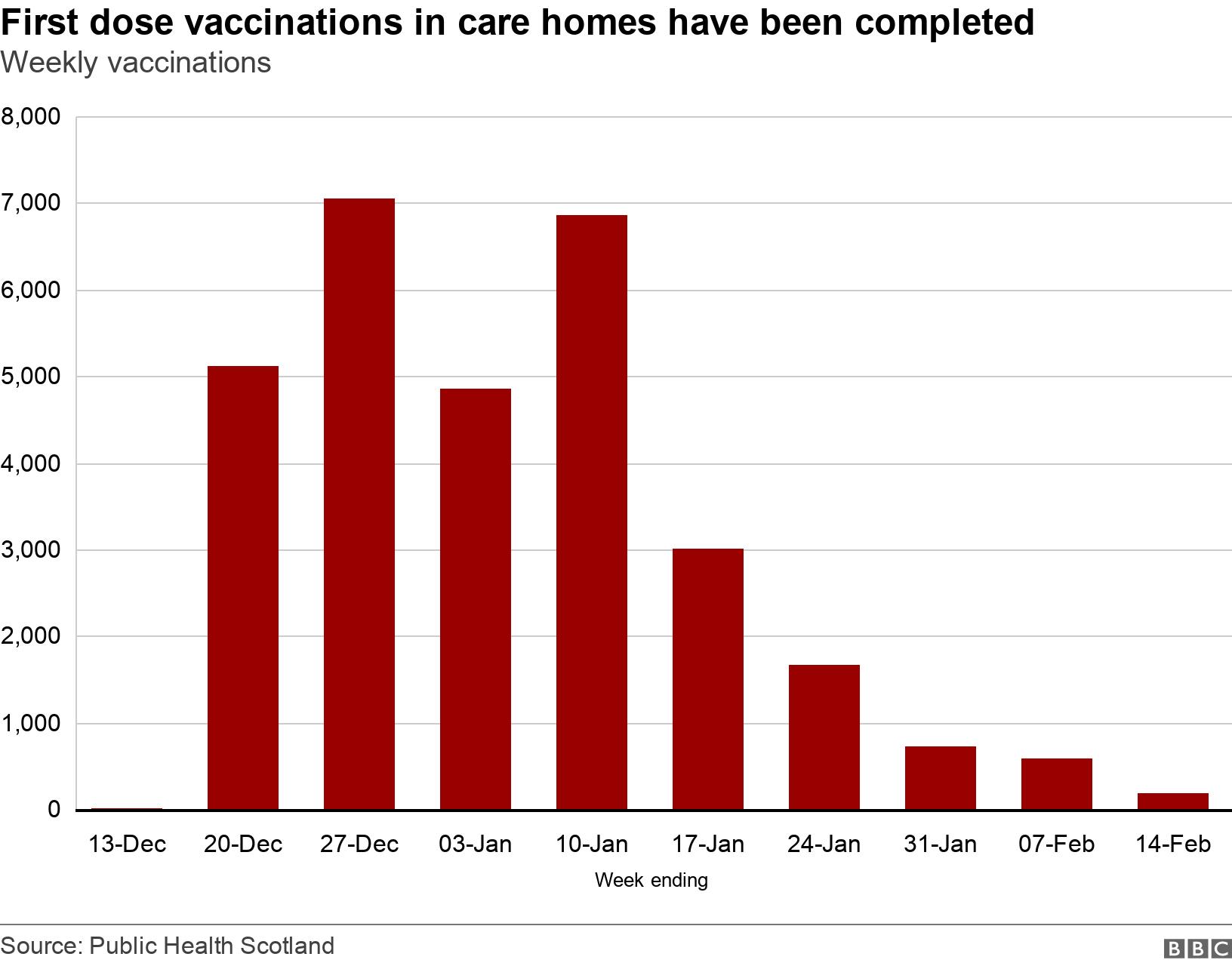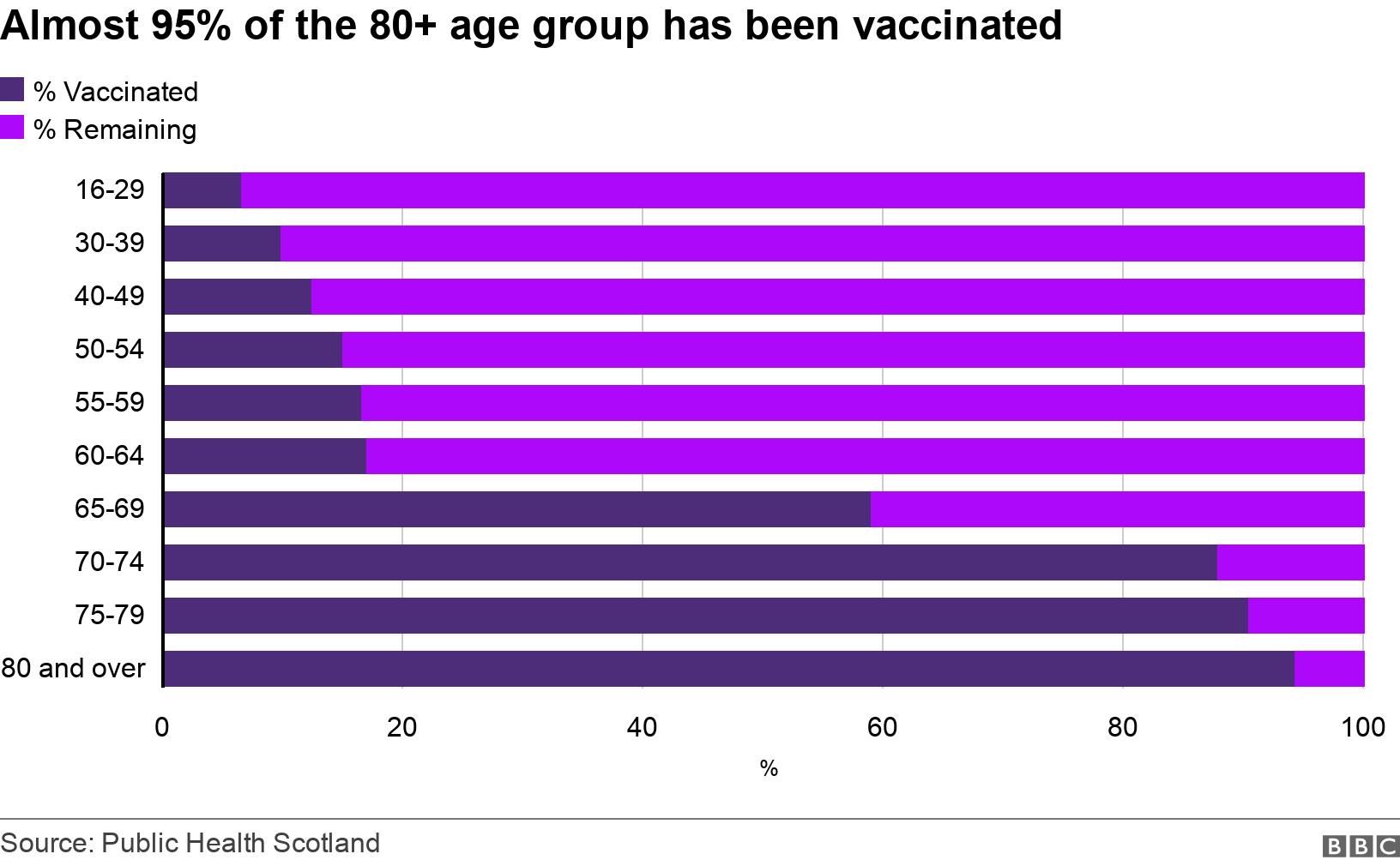 Care home deaths have started to fall
Neither the Pfizer nor Oxford-AstraZeneca vaccine have an immediate effect.
The jabs will take two to three weeks to provide some level of protection, with maximum protection following administration of the second dose several weeks later.
Because of that, an instant drop in care home deaths would not be expected.
However, the latest National Records of Scotland data shows that Covid deaths in care homes are falling as a proportion of the total number of deaths.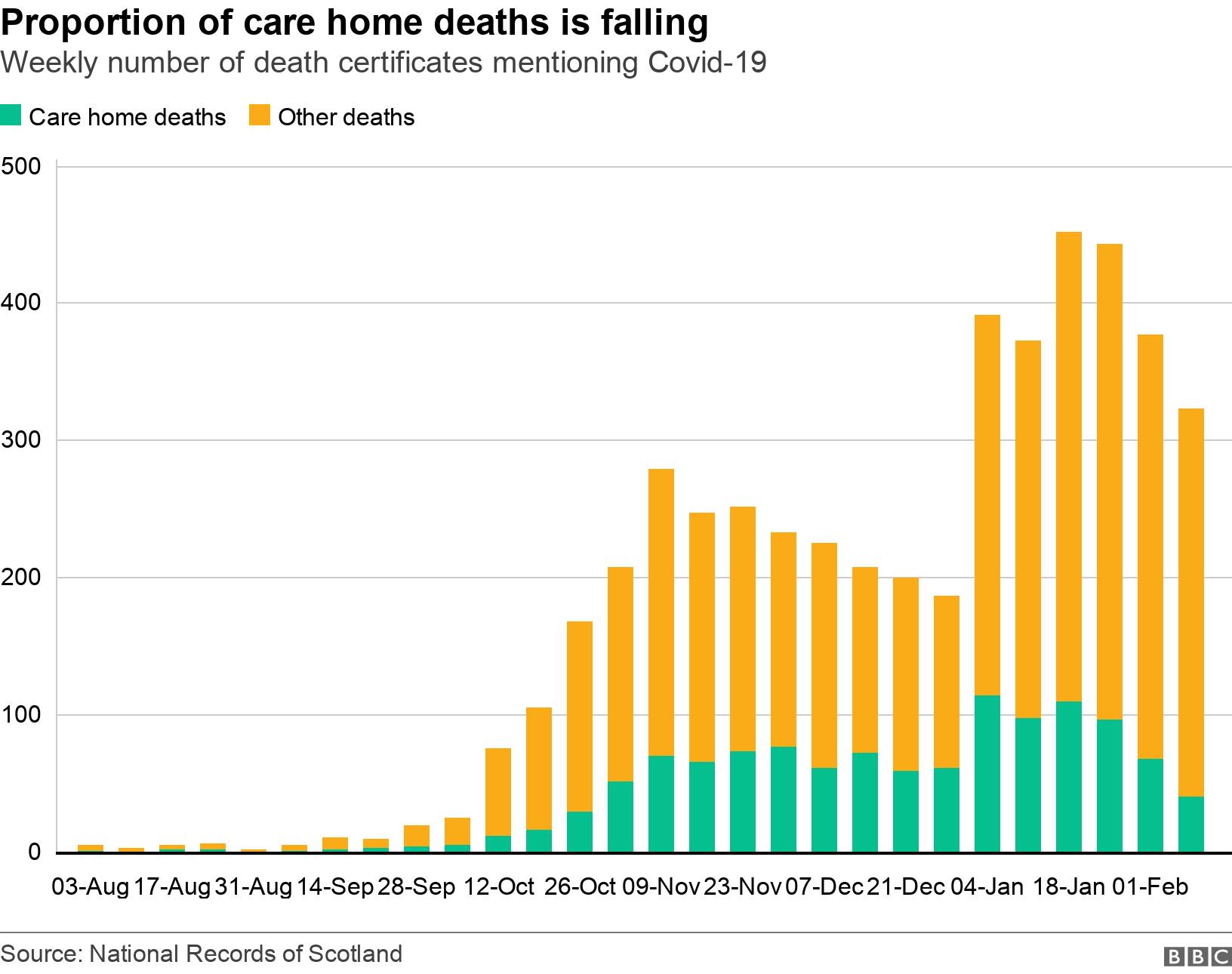 In the week beginning 28 December, 33% of all Covid deaths were in care homes. This figure has fallen every week since and last week reached 13%.
There were 42 Covid-19 deaths in care homes between 8 and 14 February, out of a total of 323 deaths.
Deaths among the oldest age group are falling at a faster rate
Using NRS data, we can also see the number of deaths in each age group.
Looking at the older age groups only, there are rises across all ages from late December, with a marked decline in deaths in the oldest age group towards the end of January.
The NRS counts all death certificates that mention Covid-19 and weekly deaths seem to have risen to a peak in mid-January.
Since then, weekly deaths have fallen by about 29% overall, whereas deaths in the 85+ age group have seen a 45% cut.

What's happening in England?
Coronavirus deaths are falling faster for vaccinated than unvaccinated groups.
On average, deaths of over-80s fell by 53% between 28 January and 11 February, compared with 44% for under-80s.
What about the lockdown?
At this stage, it's difficult to say for certain if the data shows "hard evidence" that the vaccination programme is working.
Referring to the English figures this week, Prof Chris Whitty, the UK's chief medical adviser, said: "The earliest indications would imply there is some effect.
"But I think it's too early to put a number on that. We would expect to see some evidence that is strong enough to put into the public domain in the next few weeks."
Scotland's national clinical director, Prof Jason Leitch, strikes a similar note of caution.
"The care homes data is really good. It's the first signs that the vaccination is doing in the wild, what it did in the trials," he told BBC Radio's Good Morning Scotland.
"It's a little bit too early to say that's going to happen across all ages and all populations. So we have to be cautious."
The vaccine effect
The suppression of the virus by the current lockdown will undoubtedly be having an effect on the number of deaths. As the number of cases goes down, so the number of hospital admissions and deaths will fall.
This is exactly what happened in the spring, when deaths reached very low levels following the restrictions introduced in March.
Since most of Scotland has been in full lockdown since the beginning of January - with a corresponding cut in case numbers - it is hard to disentangle this from the vaccine effect.
But the marked fall in care home deaths and in the over-85 age groups is encouraging, and as in England, gives some indication the vaccination programme is working.