Emails reveal Celtic overseas trip assurances
By Chris McLaughlin
BBC Scotland sports news correspondent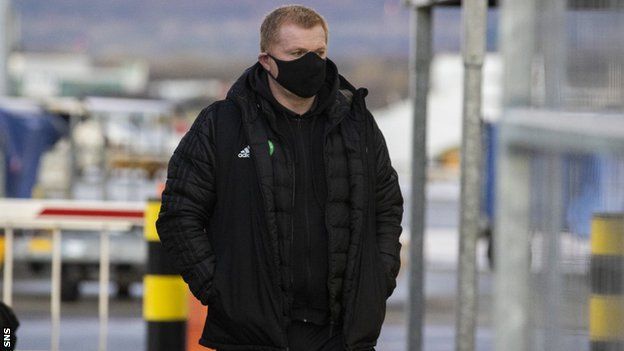 Emails relating to Celtic's controversial training trip overseas have revealed how the club was told in November the visit was permitted.
In one, a Scottish government official was "pleased to say" the proposed training trip complied with Covid travel rules governing elite sport.
The emails show how the SFA passed on a request seeking elite athlete exemption for a possible trip to Turkey.
The destination of the trip was later changed to Dubai.
First Minister Nicola Sturgeon criticised the club for going ahead with the trip in early January.
At the time a more infectious strain of the virus was spreading in the UK.
The training camp led to a total of 16 players and coaching staff having to self-isolate because of a positive Covid-19 test.
The email chain was obtained by BBC Scotland following a Freedom of Information request,
It shows how the SFA passed on a request from Celtic for a possible winter training trip to Turkey.
On 12 November, a government official whose name was redacted wrote: "I am pleased to say this is covered.
"Domestic and elite sportspersons can attend elite training overseas in a non-exempt country, and be exempt on return to Scotland.
"This is on the basis that you will be continuing activities as an elite sportsperson operating under the relevant resumption of performance sport guidelines on return to Scotland.
"All will need written evidence from the governing body confirming that they are an elite sportsperson."
The destination was later switched to Dubai after Turkey was placed on the quarantine list.
The initial request from Celtic promised "suitably robust control measures, comparable to those applied when we compete in European competition matches" during the warm weather training camp which was designed to "set the team up" for fixtures later in the season.
It assured the government that "bio-protected bubble protocols" would be observed, namely private club charter flights, private transfers, restricted areas within hotels - and a choice of hotel with on-site training facilities.
Celtic flew out to Dubai just days before Scotland's coronavirus restrictions were tightened and a "stay at home" message was issued following an upsurge in confirmed infections.
While they were abroad photos emerged on social media showing manager Neil Lennon and other players on sun loungers beside a pool, apparently failing to observe social distancing guidelines.
Another picture apparently showed some players gathered around a table in a hotel bar.
At her daily on briefing on 11 January, a few days after Celtic's return, the first minister said: "I really hope Celtic reflect seriously on this.
"You should be asking yourself whether going to a training camp, and what you do at that training camp, is necessary."
The criticism of the trip led to an explosive media conference where the Celtic manager, Neil Lennon, said the fallout was politically-motivated and that there was an agenda against the club.