Air pollution within legal limit 'for first time'
By Kevin Keane
BBC Scotland's environment correspondent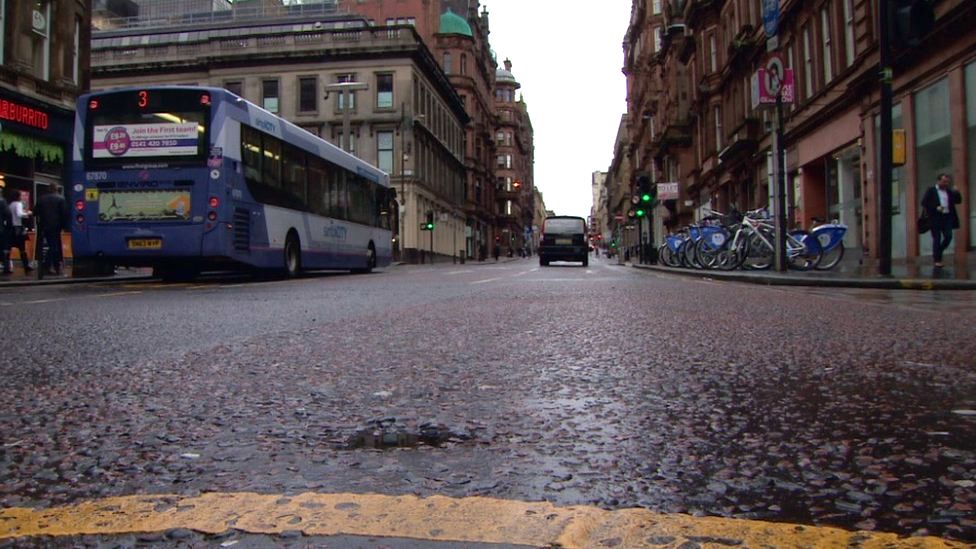 Air pollution in Scotland has remained within legal limits for the first time, according to environmental campaigners.
Friends of the Earth Scotland (FoES) say effects of the March 2020 lockdown were enough to keep overall pollution levels low for the entire year.
They are urging ministers to work with councils to ensure the reductions can be maintained sustainably.
The Scottish government says air pollution levels had been improving even before the pandemic.
The sudden fall last year came when the first lockdown removed most vehicles from city centres where air quality levels are monitored.
But the easing of restrictions quickly brought traffic back to near normal levels.
Hope Street in Glasgow remains the most polluted street for nitrogen dioxide (NO2) at 36 micrograms per cubic metre (mcg/m3).
The legal limit set by the European Ambient Air Quality Directive is 40 mcg/m3.
Salamander Street in Edinburgh is the dirtiest street for levels of particulate matter, which is another measured pollutant.
But at 16 mcg/m3 they are just below the legal level of 18 mcg/m3.

FoES air pollution campaigner Gavin Thomson said: "Temporary improvements in air quality arrived at an enormous cost to our communities and societies. There was no intention or concerted political action to reduce emissions, which is why the falls were not maintained when restrictions eased.
"We need a just and green recovery, including investment in our public transport and more options for safe walking and cycling, to improve the air we breathe permanently."
Last year NO2 levels on Hope Street in Glasgow were 60 MCG which is 1.5 times the legal limit.
Some charities have criticised the Scottish government's 'Cleaner Air for Scotland' strategy which they feel contains very few ideas for reducing pollution.
Low Emissions Zones (LEZs) are still to be expanded in Glasgow and introduced in Edinburgh, Dundee and Aberdeen.

A Scottish government spokeswoman said: "The LEZs will set the highest emission standard possible for diesel vehicles within our cities and will lead to a significant reduction in emissions of harmful air pollutants.
"Our recent programme for government committed over £500m for large-scale active travel infrastructure projects and, as part of our Climate Change Plan update we have committed to phase out the need for new petrol and diesel cars and vans and reduce car kilometres by 20% by 2030."